Stoke City should be aiming for Premier League top four - Shaqiri
Stoke City ace Xherdan Shaqiri believes that the Potters can push for a Champions League spot if they can maintain their current form.
The Swiss international capped an excellent display in Stoke's 4-3 win over Everton on Monday with a fine goal, and is refusing to place any limit on how high Mark Hughes' team -- currently ninth -- can climb the table.
"You never know with football. The Premier League this season is so all over the place," Shaqiri told the Star. "Some teams are really down and some are really up like Leicester. Anything can happen in this league.
"We must work like this, play good and at the end of the season we will see where we are.
"For us it is important to play as a team, we can win only as a team. If we can keep going like this anything can happen."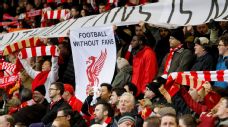 Shaqiri has urged his team to continue their impressive run when they take on West Brom at the Hawthorns on Saturday, saying that any sort of mental slip in the Premier League usually results in a loss.
"We are beating the big teams but we have to do it against the teams who we are expected to beat too," he said.
"Maybe it is mentality but also the smaller teams are good now, they have new players. Every game is tough in the Premier League."