Lionel Messi fit for Barcelona but Neymar out against Malaga
Lionel Messi is fit and ready to play for Barcelona in Saturday's La Liga clash at Malaga, but Neymar will miss out after feeling "muscle pain" in his left leg.
Messi was substituted at half-time in last weekend's 6-0 home La Liga win over Athletic Bilbao and was then rested for Wednesday's 2-1 Copa del Rey win against the Basque side, although Barca were keen to play down any idea that the Argentine had picked up a serious problem.
The recently crowned 2015 Ballon d'Or winner looks sure to return to the starting XI for the mid-afternoon kickoff at La Rosaleda, and his Blaugrana coach told a news conference ahead of Friday's pregame training session that he did not foresee any problems now.
"Messi and Mathieu have recovered. In theory there is no reason they can't play" - @LUISENRIQUE21 pic.twitter.com/OiLw1eQcoW

- FC Barcelona (@FCBarcelona) January 22, 2016
"[Messi] has recovered, has trained and today we will see how the session goes," Luis Enrique said. "I don't believe there will be any problems."
Meanwhile, Neymar did not train with the club on Friday because of a hamstring problem which was not serious, but not worth risking club, Mundo Deportivo reported.
Barcelona then left him off the squad to face Malaga on Saturday.
Malaga have only won one of their last 22 meetings with Barcelona, but have impressed each time the teams have met since former Spain under-21 teammates Luis Enrique and Boquerones coach Javi Gracia took their current jobs in summer 2014.
Barca's only goal across those three La Liga meetings came from ex-Arsenal defender Thomas Vermaelen in a 1-0 home win at the Camp Nou last August.
"Malaga are one of the opponents who have made it hardest for us," the Barca coach said. "Javi Gracia knows perfectly how to affect our style of play. Their numbers could be better this season, but at home they have beaten Atletico Madrid and Celta Vigo. It will be a difficult game."
Centre-back Gerard Pique is suspended for Saturday's game, while first choice left-back Jordi Alba is out injured. Their likely replacements are Vermaelen and fit-again Jeremy Mathieu.
Javier Mascherano and Neymar -- who are both on four yellow cards and therefore a booking away from missing next weekend's top-of-the-table clash with Atletico Madrid at the Camp Nou -- are nevertheless set to start, Luis Enrique said.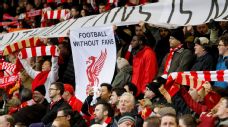 The Asturian coach would not talk directly about reported transfer targets Nolito of Celta and Denis Suarez of Villarreal, while saying whether new players came in or not would not affect his targets for the end of the campaign.
"I am zero worried and zero concerned," Luis Enrique added. "We already know what we want. If it can happen then perfect, and if not, we will not change at all what we want to achieve."
Dermot Corrigan is a Madrid-based football writer who covers La Liga and the Spain national team for ESPN FC. Follow him on Twitter @dermotmcorrigan