Keylor Navas: Real Madrid 'better' with Zinedine Zidane than Rafa Benitez
Real Madrid goalkeeper Keylor Navas admits that "things were not being done well" during Rafa Benitez's short-lived spell in charge of the club, but says the squad is now united under new coach Zinedine Zidane.
Benitez was sacked in early January after a disappointing six months in charge of the Bernabeu club, with B-team coach and former Galactico Zidane promoted to take over the Madrid senior team.
Zidane's first two games in charge have brought two wins and 10 goals, and senior dressing-room figures including Cristiano Ronaldo and Luka Modric have since spoken about how the change has helped to improve the atmosphere around the team.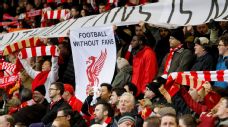 Costa Rica keeper Navas was one of the few Madrid players to consistently impress earlier in the season, but he told Spanish TV talk show El Hormiguero that he had not been happy with how things were progressing under Benitez.
"We are all aware that a breather was needed," Navas said. "We are at Real Madrid, a team which has to win trophies. We were not doing things well, and that was reflected in the games.
"Now we are doing things better. Now we feel that we all win together, or all lose together. We have to fight until the end and we will get there with a chance to win trophies."
Navas played down the idea that training sessions were now more fun and the mood more relaxed under Zidane.
"You have to respect every coach and when there is a change you have to give everything you are asked for," he added.
"Zidane is a respectful person, he knows what he wants and we are there to obey and to the best we can. He has his sense of humour, but when he needs to be serious he is serious."