Luis Enrique: Neymar's style of play not 'offensive' ahead of Athletic clash
Luis Enrique says that Neymar's style of play is not "offensive" and has warned Sunday's opponents Athletic Bilbao that any retribution for the Brazilian's flick over Unai Bustinza's head in the closing stages of the 2014-15 Copa del Rey final won't be tolerated.
The Barcelona manager also said that his team's loss to Athletic in the Super Cup to start the 2015 season will serve as motivation when the two teams meet in their Spanish Primera Division match.
Barcelona
Athletic Bilbao
Game Details
"I'm going to give [Neymar] advice that he should continue enjoying football," Luis Enrique said. "He's not doing anything offensive, it's his way of playing and people can no longer use being chipped or getting nutmegged by Ney as an excuse.
"There's no disrespect. If there's an opponent who doesn't understand that then there's a referee who can send him off."
The Super Cup loss prevented Barca from winning a "sextet" of titles last season, but regardless of his team's desire to win Luis Enrique knows it's never easy going against Ernesto Valverde's side.
"Athletic were the team who prevented us from being able to get the 'sextet' last year, so we already have a motivation,'' the Barca boss said at his pre-match news conference on Saturday.
"I'm expecting the same as always [from Athletic]. Zero rest, zero concession and a lot of intensity. It's a difficult game for both teams. The players already know what type of game it's going to be.''
"[Valverde] has a footballing idea similar to ours, which I like a lot. He's shown a great level both here and abroad. He's passionate coach who loves good football.
"I'm braced for anything, he's faithful to a style of play but, for example, in the Super Cup he surprised us with individual marking. It's a challenge.''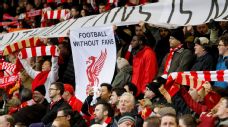 Asked how he'd advise La Liga rivals Real Madrid and Atletico Madrid in handling the recent transfer bans the teams were handed from FIFA, the Spaniard was coy.
"I have the same opinion that I had about our own sanction. But I don't remember it, so you'll have to pull it out of the archives," said Luis Enrique, whose team just emerged from a similar ban in January.
"I don't know -- there's not only one single key [to getting through the ban]. It's so complex and there are so many factors that you cannot say."