Cristiano Ronaldo: Ballon d'Or rival Lionel Messi has a better left foot
Cristiano Ronaldo admitted rival Lionel Messi has a better left foot than he does before the Barcelona man accepted his fifth Ballon d'Or on Monday.
The comments came as he, Messi and fellow nominee Neymar spoke to reporters ahead of Monday's gala awards ceremony in Zurich.
Messi won the Ballon d'Or for the fifth time in his career, reclaiming his place as the world's best player after Ronaldo won the prize in 2013 and 2014.
Asked whether there was anything about Messi's game that he envied, Real Madrid galactico Ronaldo said he was a fan of the Argentine's left foot.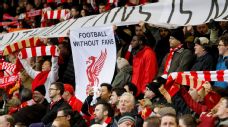 "His left foot is pretty good -- better than mine," he said. "I'd like to have his left foot."
At the other end of the stage, Messi's Barca teammate Neymar interrupted. "I'd take both of his feet," the Brazilian said amid smiles from all three superstars.
Messi, asked the same question, replied: "Envy is a very negative trait. Cristiano has many great qualities which every player would like to have. We each have our individual styles."
Ronaldo had earlier acknowledged that it was unlikely he would take the Ballon d'Or this year as his club had not won any major trophies while Barcelona had taken five including the Champions League and La Liga titles.
"Obviously it is not surprising to me that Leo might have better chance," he said. "But I am here for a reason, because of the votes from national coaches and captains.
"It is not a surprise to me if Leo or Neymar wins, as on a collective level they won many trophies.
"But all three of us are here on our own merits. I am happy with my season -- we did not win many trophies, but it was another great year [for me]. So I am very happy to be here for an eighth time."
Messi said just being back at the event was enough for him and that he did not mind who won. "Just like Cristiano was saying, just to be here is a pleasure," he added. "I'm here to enjoy it, if I win or if others win.
"Just to be here for a ninth time is truly amazing."
Neymar said he was delighted to be alongside two personal heroes and added: "I don't know if I'm up to their level. These are two idols -- it is difficult to think of yourself as equal or better than them.
"I admire them both tremendously, I have done for many years, and it is a big honour to be here with them. I hope to be back, I hope my team goes on winning, and that I may be back another time."
An open questions session saw Ronaldo asked about FIFA corruption. He said: "Corruption anywhere is bad, in life and in football. We avoid these matters, and concentrate on playing and competing."
And Messi appeared slightly uneasy when asked whether he would give up his Ballon d'Or awards to win a World Cup with Argentina.
"What a tough question," he said. "But the World Cup is the highest thing you can reach as a player. So the World Cup, definitely."