Atletico Madrid president Cerezo sorry for insulting Rayo Vallecano fans
Atletico Madrid president Enrique Cerezo has apologised for directing offensive gestures at Rayo Vallecano fans before a recent La Liga game between the teams.
As he took his seat before Atletico's 2-0 win at the Estadio Vallecas in late December, Cerezo was barracked by Rayo fans.
The 67-year-old responded with a number of offensive gestures and remarks before being persuaded to sit down by security personnel.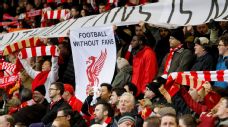 Ahead of Atletico's return to Vallecas to face their Madrid rivals in Wednesday's Copa del Rey round-of-16 first leg, the film producer told reporters he was happy to return to the stadium and apologise in person to those who had been involved.
"The tone I employed was not my usual tone, nor were my actions my usual actions," Cerezo said. "I am delighted to go back there as I will apologise personally."
Cerezo took control of Atletico alongside Jesus Gil in 1987.