Real Madrid have to learn Barcelona lessons from Copa defeat ... and fast
Having ended Real Madrid's chances of winning the Copa del Rey on Wednesday, and improved their own chances of claiming a third Treble, Barcelona now have an opportunity to definitively erase their rivals from the title race and create all-time Clasico history too.
The greatest fixture in the history of club football is 90 years old this month -- for the record, it's tied at 95 league wins each -- but in all those years neither side has gone to the other's stadium twice in three days, let alone win in enemy territory twice in the space of 72 hours.
Whether Ernesto Valverde's side manage to do those two things depends partly on Real boss Santi Solari, his analysts and his players paying absolutely no attention to the one-dimensional "I-never-want-to-learn-anything-so-long-as-there's-a-cheap-and-quick-opinion-which-sounds-good-readily-on-hand" nonsense which has been spouted since the final whistle went on Wednesday night.
- Barcelona ratings: 8/10 Suarez at the double
The overwhelming reaction, from the media, fans and a number of ex-players or coaches, was that Barcelona could finish and Madrid couldn't. While those remain facts on the night, that diagnosis is fatuous, ignores the evidence of the last 16 years and seems to me to be wilfully blind.
What happened as Madrid turned the advantage of a 1-1 first leg away draw into humiliating 3-0 defeat on home soil was that a finely honed, long-learned system kept doing the right things over and over again, while a collection of star players accustomed to the philosophy of producing great individual moments were worn down and then exposed.
A classic example came in the first goal. As Barcelona passed it around the back, midfielder Luka Modric took the unilateral decision to hare off and press centre-back Clement Lenglet. It was the wrong decision but, typically for Madrid, it's something that just occurs to them.
Lucas Vazquez, nominally the forward player on the right, should have been the one to try and close down the defender, but as the 33-year-old Modric was drawn out of position, Ousmane Dembele dropped into the open space and a combination of passing and good movement then saw Dani Carvajal and Lucas eliminated from the play.
Dembele's cross saw Luis Suarez produce a world-class volley for the goal but it was only possible because the striker was in the space where Modric should have been protecting his central defenders. Barcelona's systematic play does what it's designed to: drag opponents around, allow for quick, one-touch, effective passing. And Madrid fell for it.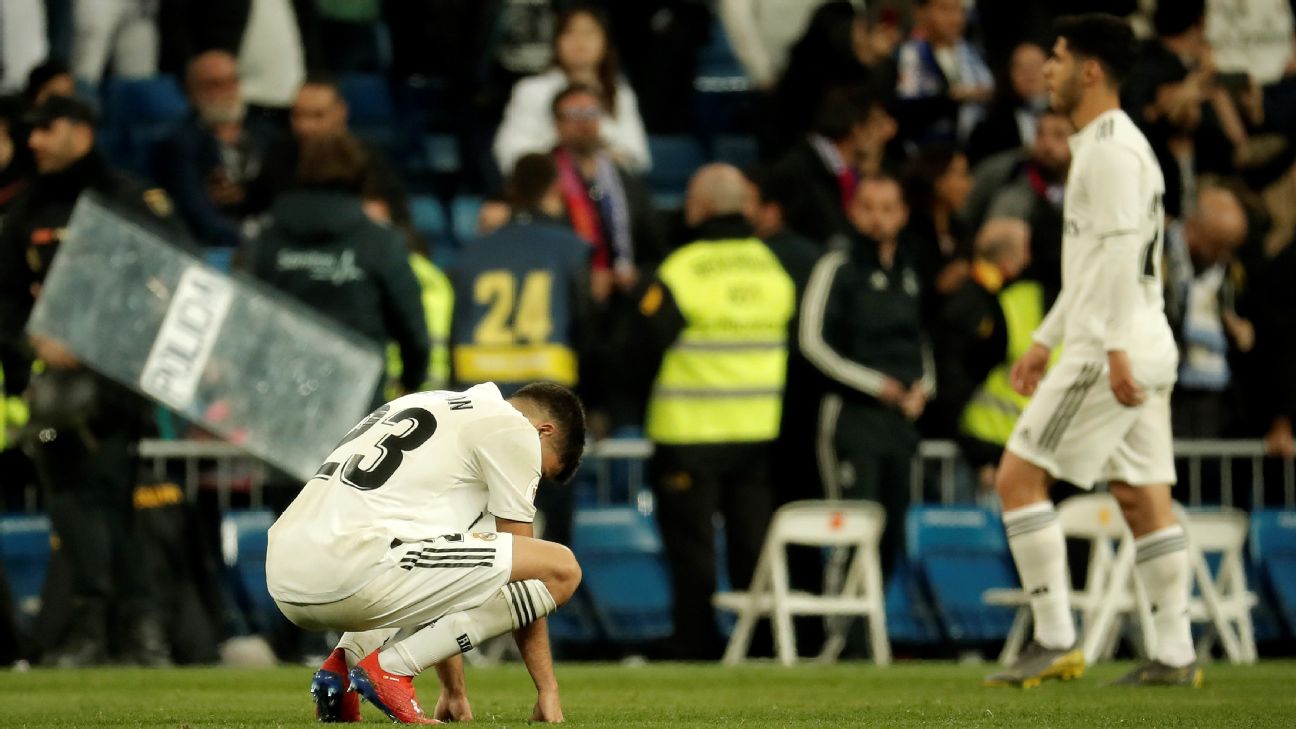 If Madrid can learn quickly and avoid the same mistakes again on Saturday then they can keep the title chase alive into March and avoid the historic low of two home defeats to their greatest rivals within 72 hours. But it's a tough ask: Barcelona have been doing this for years.
Look at it like this: Before the Johan Cruyff coaching philosophy was reintroduced at Camp Nou via Txiki Begiristain, Joan Laporta, Frank Rijkaard and, in due course, Pep Guardiola, Barcelona had won 13 out of 74 visits to the Bernabeu. Since 2004 they've won 12 times in 17 trips to Madrid's stadium in La Liga, cup and Champions League action.
Since Laporta was first named club president in 2003 and the Cruyff system once again dominated either the club's or the squad's thinking, Barcelona have shrugged off generations of football inferiority and turned that into historic domination.
They do that because of better passing, better possession, better positional play -- with the filigree on the top being that they often have utterly outstanding players to do magical things, like Lionel Messi. But those superb footballers make themselves subservient to the concept that if they do the right things (the things which they've been taught to do until they become automatic) then it's a simple matter of percentages that they'll win far more than they lose.
- Real Madrid ratings: Carvajal run ragged, Vinicius a rare bright spot
The fact that Madrid had been notably the better, sharper and more dangerous team in the first half on Wednesday remains a hard truth. They were tighter in their marking and pressing; clever down the left where Sergio Reguilon and Vinicius Jr. created chances. However, Barcelona goalkeeper Marc-Andre ter Stegen really only produced one save of excellence, one-on-one against Vinicius in the first half. (His second half leap to parry Reguilon's diving header was vital, but within regulation saving distance for a good keeper.)
Yet Madrid weren't humbled because they flopped in front of goal and Barcelona didn't. They lost because Barcelona's system, as it has been doing at the Bernabeu for the last 16 years, pulled them around, teased them into positional errors and used their passing to make deadly incisions just when Madrid couldn't afford to bleed more goals.
The definitive goal for 2-0 in the 68th minute is another case in point. Once again, Lenglet and Gerard Pique were passing the ball about in their own half before midfielder Toni Kroos decided to wander towards them. It wasn't a press, in fact it wasn't anything except dereliction of duty.
And, just like Modric's earlier excursion, Kroos' absence in midfield opened up space for Barcelona to probe. Sergio Busquets this time was the beneficiary as Sergio Ramos sprinted wildly out of position to cover him -- the midfelder waited and then released the ball to Nelson Semedo, who had the right touchline to himself, and he fed Dembele who crossed for Raphael Varane to slide into his own net under pressure from Suarez.
By the time Madrid knew they were defeated there was some striking human emotion on display. The helpless, frustrated, hurt expression on Casemiro's face having conceded a 73rd minute penalty (which Suarez netted with an impudent "Panenka" to make it 3-0) was something that a portrait artist would kill to be able to capture across six or seven sittings.
After the final whistle there was desolation. Reguilon, having given many indications that he's a clever, determined, athletic left-back who will be a blessing for his club when he gains more knowledge and experience, cried. He leaned on Lucas Vazquez's shoulder and cried.
Both of these are emotions which can be learned from and need not scar. Football tells us, unequivocally, that even a thumping, horrible, painful defeat like Madrid just suffered does not in any way rule out the possibility of them winning El Clasico this weekend. It's just an immutable rule that the last result, however bad, doesn't dictate what'll happen next.
But learning does. Learning and avoiding the wrong conclusions that "it's ONLY about our finishing" are the medicines which can help Real Madrid's rehabilitation. They have another chance to put things right on Saturday and Solari must formulate a plan to stop Barcelona doing what they do best.