As majestic as Messi: La Liga basking in golden age of goalkeeping
All the headlines following this weekend's La Liga football will be hogged by Lionel Messi's lofted, Phil Mickelson-like goal at Girona, or by the Pied Piper performance through which Karim Benzema inspired Real Madrid to thrash Espanyol. "Karim The Magician," blared Marca's Monday morning front page.
Athletic's continuing Harry Houdini act under Gaizka Garitano, Valencia suddenly bristling with confidence, Sevilla scoring their seventh unanswered home goal in two home matches, Thomas Partey's Marcel Desailly-esque dominance for Atletico Madrid against Getafe -- take your pick. All of these, and many more, will obscure two unbelievable moments brought to us by the men who are still, unfairly, the hidden geniuses of European soccer: the keepers.
My contention is that what Diego Lopez did in the 71st minute against Madrid and Sergio Asenjo's brilliance far earlier in Villarreal's dismantling at the hands of Valencia are little diamond pieces of evidence that we are probably living in the most exceptional era for goalkeeping in living memory. That's certainly the case in Spain.
Just in case you didn't feast on the astonishing moments that lit up the Spanish weekend, let me fill you in.
Lopez -- the guy who Fabio Capello wanted to use to oust Iker Casillas, in his prime, from the Real Madrid first team -- certainly produced the more high-profile stop.
Situation: Espanyol are getting a horrible run-around from Real Madrid, 4-1 down at home and it's before Raphael Varane's red card offers Rubi's team even a hint of redemption in the match. Benzema, on the edge of the box, pulls the ball back, tempts Roberto Rosales to try to block him and the Frenchman cheekily rolls the ball through the Venezuelan's legs. Dani Carvajal, running on to the succulent chance, is one on one versus Lopez.
While it's not in that territory of "He can't miss, he surely can't miss," it's still a gilt-edged chance and the full-back, a little bull of a football player, lets rip with a diagonal shot off his right boot. The ball seems on a laser-guided path to the far panel of Espanyol's net.
Now, Lopez is 37. In past eras, that's an age when he'd be lucky to still be employed at a top club organising their kit, driving the bus or collecting the spare footballs at training. He's also nearly 6-foot-5 and 90 kilos. It may be naive of me, but I base the first part of my admiration for the jaw-dropping save he made on the idea that it should be physiologically impossible, given those statistics, for him to drop like a stone, react like a ninja and use a rock-solid right hand to somehow glance the ball's trajectory past the far post.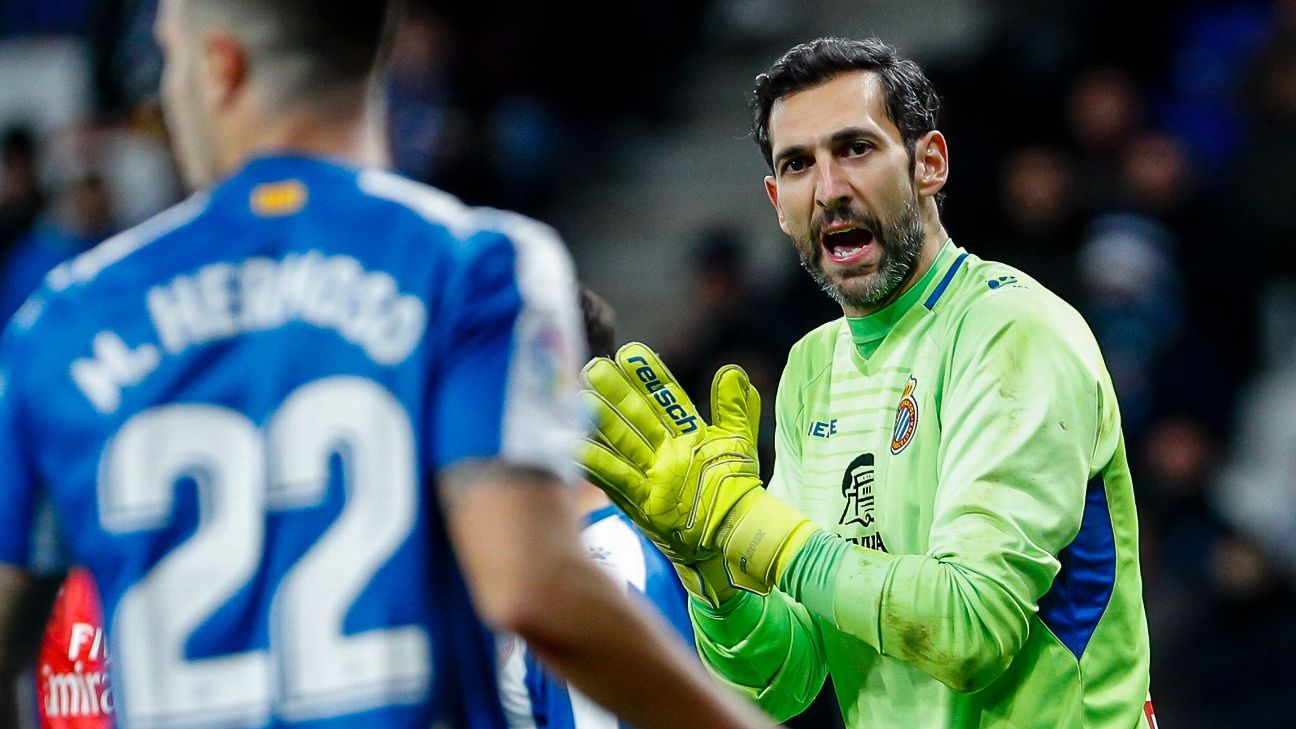 Ballon d'Or winner Luka Modric put both hands to his head in complete disbelief. Benzema just stared with that ultra-expressive "What just happened?" face of his. Improbable doesn't begin to describe it.
What about Asenjo?
A couple of weeks ago, after Villarreal conceded two to Real Madrid at the Ceramica stadium, the 29-year-old whose life has been blighted by injury, was forced to take to social media to defend the fact that he'd not been slack while trying to prevent Benzema and Varane from scoring.
"I just want to remind everyone that I've spent the last six years giving absolutely everything to Villarreal, a task which has required my body needing more than one refit," he said.
He was talking about the fact that his latest (the fifth) brutal knee ligament injury that he suffered left him more worried about being able to walk freely and, in due course, play with his kids, than play professionally for the Yellow Submarine again. The injury was that bad, that agonising.
But on Saturday, with his team already 1-0 down to local rivals Valencia, and starting to realise that they have a genuine relegation battle on their hands, Asenjo showed what he meant.
Valencia's move reached the penalty area, Rodrigo neatly teed up Denis Cheryshev, who was to Asenjo's right and the Russian World Cup star thrashed his effort towards the top corner. Asenjo is smaller, younger and possibly more lithe than old Lopez at Espanyol. But, in this instance, the absolute screaming power of the shot, added to the angle it was sent towards the top corner, meant that it shouldn't have been savable. However, Asenjo got a deflecting touch to it -- you'd imagine that even through a thick keeper's glove that save erased a few of his fingerprints -- and Cheryshev wore the same look of disbelief that Benzema was forced to copy against Espanyol 24 hours later.
Neither of these moments were sufficient to win points for their teams, but they were nevertheless easily the equal, individually, to what we glorify when Messi spots an unseeable pass or Neymar dances through four or five tackles -- with the key difference that these bits of outstanding artistry aren't the product, solely, of innate genius. They are automatic, gunslinger reactions that are honed by thousands and thousands of cold, lonely, often soaking-wet or windswept hours with a keeper coach, or junior striker, firing the ball at them over and over and over again.
Given how much work in so many different aspects of their game those saves require, arguably they deserve more merit than the goals we eulogise -- not the scant attention they actually get. But that's not my central point.
Simply by looking northwards, to the Premier League, there's evidence that we are in a true golden age for goalkeepers. Perhaps an unrivalled era.
There's fierce debate whether Alisson, Ederson or David De Gea is the best in the world. Meanwhile, it's inarguable that Chelsea's Kepa Arrizabalaga, who's still only 24 and had played just over 50 times in La Liga before moving to Stamford Brige, is the most expensive goalie in history. Moreover, the next three on that all-time most costly keepers list either play in the Premier League or just left it. Elite clubs in England are now fully willing to spend as much on the guy who was, not long ago, an adjunct, one of the lowest-budget-outlay items as they would on a top striker.
Times, and priorities, have changed. Partly that's to do with the increasing and intelligent need for keepers to start the play brilliantly with the ball at their feet, to read the game as if they were Paolo Maldini and to intervene with tackles made in advanced areas of the pitch that require the nerve and timing of ... Maldini.
But part of the reason that keeper investments have gone upwards is that we do, truly, live in a time when it feels like there have never been so many absolutely outstanding players in that position. Club A invests in some expensive brilliance between the sticks and benefits, wins things, restructures its playing style and gains both attention and plaudits for how its keeper is playing -- and Clubs B, C, all the way to W, X, Y and Z do the same.
What's genuinely outstanding about La Liga is that every single week you'll see a superfluity of thrilling technique, ninja reactions, bravery, one-v-one sangfroid and soaring leaps of which Clark Kent would be proud.
For many people's taste, that English-media-assembled list of De Gea, Allisson and Ederson automatically forming the elite trio of world football must be challenged by some of La Liga's finest. Jan Oblak's name goes without saying. There are arguments that he may be the best out-and-out keeper around -- albeit that perhaps there are two or three whose ball-at-their-feet skills surpass his.
One, for certain, is Marc-Andre ter Stegen, who made a couple of match-winning saves against Girona and who's had purple patches throughout this season. The lad can pass. Thibaut Courtois, on his day, can certainly mount a plausible argument for being rated world No. 1.
But beneath them, let me assure you, Tomas Vaclik, bought for a steal, at Sevilla is world class; Neto, who replaced the Brazilian Diego Alves (who himself happened to boast practically a 50-50 rate of saving penalties) routinely produces shockingly good saves. Pau Lopez is stubbornly aggressive and reliable at Real Betis, while Bono at Girona and David Soria at Getafe are having the seasons of their lives. It's a long list of exceptional footballers who happen to play between the sticks.
What's happening in Serie A, Ligue 1, the Bundesliga or the Eredivisie -- although Andre Onana looks most interesting -- and other important leagues isn't my area of expertise. What is true, I'm convinced, is that La Liga is the shining beacon of an age when goalkeeping has never been so well trained, so important, so demanding, so fascinating to watch and, in due course I hope, so meriting of proper recognition in the Ballon d'Or assessments.