Suarez the star vs. Real Madrid as Barcelona rally in Messi's absence
BARCELONA, Spain -- The beauty of the Clasico is that it always delivers. If DHL or UPS could hit that rate of success, they'd be a billion times richer.
The beauty of football is that no matter how this thrashing is celebrated in Catalunya and no matter whether Julen Lopetegui lasts in his post another day or another week, the hard fact is the team that won so handsomely was utterly and completely on the ropes for most of the second half, until they made a tactical change. Time will erode that fact.
Some pundits, who might celebrate a Clasico win as if it were a cure to all social, political and economic rows between Catalunya and Madrid, will ignore the fact that it was not only when Luka Modric hit the post instead of scoring that the European champions were infinitesimally close to equalising or even taking the lead. In how many sports can you say that? The beaten team had a spell when they looked like winning, but in the end, they finished on the end of an absolute mauling and were clinging on, praying that the referee would blow the whistle, by which time Barcelona looked like they could, and would, score a sixth or seventh goal.
Obviously, the man of the moment, the man of the match was Luis Suarez.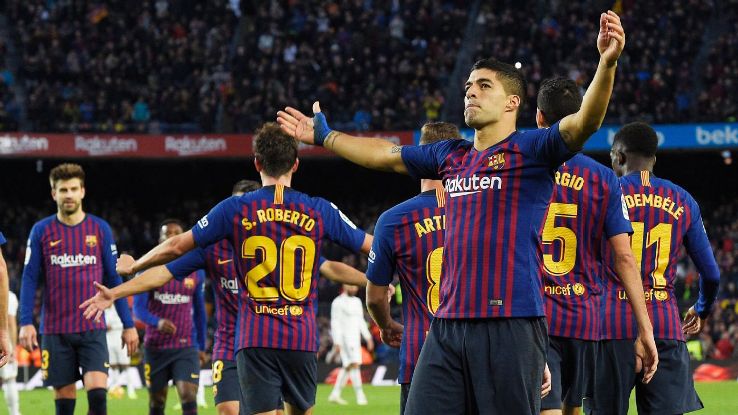 Babies are seemingly en vogue in Spanish football right now. Iago Aspas watched the birth of his daughter Friday night into Saturday, and before destroying Eibar with a superb hat trick, he slept on a couch in the hospital to be near his wife.
Luis Suarez and his wife were fortunate enough to have their third child, Lautaro, in the early hours of the morning Tuesday. The Uruguayan missed training on the eve of Barca's Champions League match with Inter Milan but stormed out and gave a brilliant leader's performance regardless, including a luscious assist for Rafinha in their 2-0 win.
Then came his heroics on Sunday. He made the penalty that he converted to put Barca 2-0 up, scored the third to, as Julen Lopetegui confessed afterward, "kill the match for us" with probably the best header of his career and then slotted home for a hat trick after a second assist from Sergi Roberto. Oh, and he hit the post and tried to ludicrously chip Thibaut Courtois from 35 metres when he had several teammates on the charge, unmarked, to his left. He also merrily celebrated his penalty goal by lifting his Barca shirt to show a T-shirt with the faces of his three kids printed on it.
It was Suarez's day, no question, but part of that was to do with the attitude Barcelona have shown in the two-and-a-half games since Lionel Messi's injury.
When Messi rolled around in absolute agony against Sevilla last week, the kingdom of Barca groaned. The king was injured. Would there be sufficient Dauphins? the fans wondered. In a way, that's the point. Against Sevilla, Barcelona added two goals once Messi went off and tucked away a Liga challenger with emphasis and confidence. No sign of shell-shock at their injured captain.
In midweek, without Messi, they put on one of the most firm, convincing, energetic and tactically sound performances of the season in unpicking a cleverly planned, physically superior Inter Milan. Rafinha and Jordi Alba got their first and second goals of the season, respectively. The hour came, and the heroes stepped forward.
In the Clasico, Luis Suarez scored his first hat trick since last winter against Girona at the Camp Nou and only his second since August 2016.
In short, he stepped forward. Had he stepped forward into Jordi Alba's lovely cross late in the first half instead of trying to raise a boot to it, he'd have had another goal to his account, too.
It might be coincidence, of course. Doubters will point out that it was more or less at this stage last year that the beast awoke. By mid-November, Suarez had scored just three of his 25 Liga goals. From there until the end of the season, he cut loose. But I think it's much more than the arrival of darker nights and colder temperatures, as autumn creeps into winter, that inspires him.
Suarez patently loves a Clasico. These goals mean he has played Real Madrid 11 times since joining Barcelona and has scored nine goals. That's prolific.
Furthermore, from the moment he knew that Messi, the genius to whom he has been the best footballing foil of the Argentine's life, would be absent, Suarez has adapted his play. Barring that one aberration -- when he wasted possession horribly just before half-time when a Barca overload down the left needed to be finessed by him instead of that ludicrous idea to try to chip Madrid's goalkeeper -- Suarez made great decision after great decision.
His movement isn't always designed to put him in scoring spaces. It's about ensuring that everyone participates in the best type of move that can lead to a goal or a goal chance. His sharpness led to him edging in front of Raphael Varane (who never saw him coming) in the first half, so the Frenchman ended up clumsily bumping into him and committing a penalty. Well, when I say committing a penalty, I mean committing the error of letting Suarez totally out-think him.
Now, it's impossible to ignore that several weeks ago, I detailed that Suarez is in a difficult part of his career, turning 32 next year and fighting a constant battle to keep his robust frame lean enough to counteract the effects of Father Time on his pace. Whether it's winter or autumn in Suarez' career, the fact is that Barcelona were shrewd to try to add Antoine Griezmann up front, and their failed effort leaves them with a problem to solve in the coming 12-18 months.
Suarez isn't the primary solution for the next season or two, not if this club expects to be competing to win the league and the Champions League. But for the current moment, Suarez has shown his appetite to step into the breach and provide exceptional football leadership just at the time Barcelona needed it.
They needed it too partly because Madrid made such a superb job of the 30 minutes between starting the second half and the 75th minute, when Ousmane Dembele, Sergi Roberto and Suarez combined to kill off the European champions once and for all.
What it looked like at the time was that Lopetegui had brilliantly rolled the dice and made an inspired tactical change. At the back, Casemiro was patrolling between Nacho and Ramos. Marcelo and Lucas (the half-time sub) were playing daringly high and wide, stretching Barcelona to their breaking point and allowing space for Isco and Modric to dart at the edge of the penalty area.
Time and again, Barcelona didn't know whom to mark because they felt that Madrid had superiority of numbers; they very nearly had superiority on the scoreboard, too. Karim Benzema's criminal miss from a headed chance before it went to 3-1 stands out as much as Modric hitting the post.
As this match marks the end of Lopetegui's reign as Madrid manger, it's ironic that he didn't have the shrewdness or the street smarts to claim the tactical victory after half-time. Instead, he admitted that he altered things because Varane had a minor injury.
Lopetegui would have been well-served to hide that fact, instead claiming tactical vision and taking what credit he could possibly salvage from a horrible scoreline, albeit one that could have been so different.
Well, had it not been for an impressively improved Barcelona and that man Suarez.