Real Madrid succession plan for Sergio Ramos, Pepe must start now
In several instances of modern Real Madrid history, "the curse of the centre-back" has haunted the Santiago Bernabeu. After the end of iconic centre-back duos, such as the one formed between Fernando Hierro and Ivan Helguera, the effort to replace them has seen a number of theoretically able and skilled defenders fail miserably in the white jersey.
Even though the bulk of the cash has obviously been devoted to high-profile signings of forwards and strikers, such as Cristiano Ronaldo or Gareth Bale, since the mid 2000s, the Madridistas have also spent big on central defenders. For example, in 2004, Real Madrid forked out €25 million for Walter Samuel, nicknamed "The Wall," when it was obvious that the "Pavones" half of president Florentino Perez's "Zidane and Pavones" policy wasn't quite delivering on their promise of qualified, homegrown labour.
In that same season, Perez also decided to hire the unforgettable Jonathan Woodgate, bought from Newcastle for another €22m. As it's widely known, Samuel went back to Italy after a handful of embarrassing performances at the Bernabeu, while Woodgate suffered so many injuries that he spent his first season doing rehab with the physios and could play only nine La Liga matches in the second. He was duly sent to Middlesbrough the following season, and was later sold to Boro for good.

Real Madrid

Atletico Madrid
Game Details
In 2006, the Madridistas decided to go for a sure bet at the centre-back position and signed World Cup-winner Fabio Cannavaro. Mind you, the Italian was a well-seasoned 33-year-old at the time, hardly a long-term prospect. Cannavaro would win the Ballon D'Or that season, and two consecutive La Liga titles with Real Madrid, but in all fairness during his three seasons in Madrid, he would get far more from the club than what he in fact brought to the Bernabeu.
In 2007, and probably foreseeing a likely slump in the production of the otherwise likeable Cannavaro, Real signed a younger Kepler Laveran Lima Ferreira, aka "Pepe," from Porto to the tune of €30m. This signing would initiate a curious Real Madrid tradition, continued by the signings of Fabio Coentrao and Danilo da Silva in later seasons.
That same year, Real Madrid also brought Gabriel Heinze from Manchester United for €12m. The Argentine, a left full-back, would at times play as a centre-back as well. In 2009, it would be Ezequiel Garay's turn -- €10m paid to Racing de Santander -- and Raul Albiol, signed from Valencia for another €15m.
The following season, already under Jose Mourinho's management, Ricardo Carvalho joined the club from Chelsea for €8m. And in 2011, Zinedine Zidane convinced Raphael Varane to sign for Real Madrid, with a price tag of €10m paid to his club Lens. Varane was the last centre-back who cost the Madridistas money.
Among all those hirings and all that money invested, only a couple of them performed as expected. But the fact is that, ever since Sergio Ramos decided to move from his old right full-back position to left centre-back in 2009, Real Madrid fans have stopped worrying about centre-back curses. With Ramos and Pepe, the Madridistas had a young, fast, threatening pair who could face top strikers one-on-one without many reasons for concern.
The third centre-back, be it Carvalho or Varane, was an additional piece that would cover for injuries and especially suspensions -- quite necessary in the case of Ramos, the most-sent-off Real Madrid player of all time. However, that extra centre-back was the cherry on the cake: Ramos and Pepe were young and had plenty of seasons ahead of them.
Fast forward to 2016. Pepe will celebrate his 33rd birthday on Feb. 26. After 12 seasons in the top flight -- including Spain and Portugal -- and more than 500 official matches, the athletic Pepe isn't as physically imposing as he used to be. In the past 18 months, some unprecedented plays have taken place, such as a small striker winning an aerial duel over the Portuguese centre-back, or an obviously slower forward getting to the ball before him in a 50-50 play.
The precocious Ramos, who had his La Liga debut match at age 17 and will turn 30 at the end of March, has already played more top-level matches than Pepe. His body has begun to feel the effects of so many demands. And Ramos' knocks that didn't keep him out a few years ago now have become too burdensome to be ignored.
It's been months, maybe a whole season, since we last saw one of those dominating displays in which Ramos leads the back-four line almost in midfield, controls the opposing forwards for the whole match and even ventures forward on a couple of occasions, remembering his old days as an attack-minded full-back.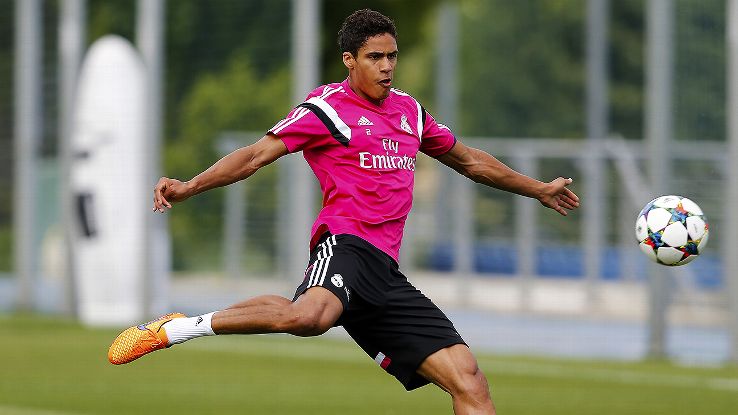 Given their ages and the importance of physicality in their respective games, the decline of the two was bound to happen. What was expected, of course, was that Varane would step up, but that has not occurred yet.
Four-and-a-half years after he signed for Real Madrid, the 23-year-old Varane looks eerily similar to the player he was when he first joined the team. His speed and elegance still catch the eye of any football enthusiast, but the Frenchman keeps making the same judgment mistakes with the ball.
Even if Varane manages to make the necessary mental leap to become a full-blown starter for Real Madrid, the deterioration in the physical conditions of Ramos and Pepe make it mandatory to find two other centre-backs in order to have three solid performers in the squad.
Given that Nacho Fernandez does not seem to have the full package to start for Real Madrid, new blood is required sooner rather than later. We've seen how difficult it is for top centre-backs in world football to perform at the Bernabeu, so coach Zidane and president Perez might as well start the renovation process now.
If not, Los Blancos fans might be heading for another prolonged ordeal with "the curse of the centre-back."
Eduardo is one of ESPN FC's Real Madrid bloggers and has been a socio since 1995. Follow him on Twitter @alvarez.