Guillermo Ochoa's Mexico career suffering as Malaga exile continues
With its beaches, Mediterranean climate and cosmopolitan vibe, Malaga isn't a bad place to live. For the next few months at least, Mexico goalkeeper Guillermo Ochoa will be a resident in the Andalusian city, after the winter transfer window closed in the majority of European leagues without a serious murmur about the 30-year-old.
But while the environs of the Costa del Sol are undoubtedly attractive, Ochoa remains Malaga's number two, as he trains every day and then warms the bench on the weekend. The only realistic change to that status quo would come if injury or poor form strike Malaga's current number one, Carlos Kameni.
Still awaiting his La Liga debut -- 17 months after he signed off the back of a memorable World Cup in Brazil -- Ochoa's career has stalled in spectacular fashion, considering the high esteem in which he was held by Mexico in the summer of 2014.
Ochoa's numbers for Malaga make for difficult reading. In total, the former Club America stopper has played just eight Copa del Rey games for Malaga, with the side knocked out of this season's edition by second-division outfit Mirandes. In La Liga play, Ochoa has been an unused substitute in 58 matches.
After missing out on French citizenship when he joined Malaga from Ligue 1 side Ajaccio, Ochoa could become a Spanish citizen after two years living in the country, which perhaps explains his reluctance to leave. If he gets his Spanish passport by the end of the summer, more doors could open, with each La Liga side allowing a maximum of three non-European Union players per squad.
Certainly, it seems unlikely Malaga -- a club not known for its financial might -- would've thrown a spanner in the works, should a decent offer have been made this past transfer window.
The repercussions for Ochoa's national team career with Mexico are significant. Coach Juan Carlos Osorio has been careful to leave the door open to Ochoa "in a difficult moment in his career."However, the Colombian has been full of praise recently for Toluca goalkeeper Alfredo Talavera and said he has all the required attributes to play in the Premier League.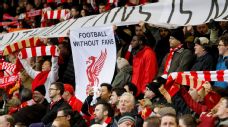 It is worth remembering that Ochoa was called up to Osorio's first squad for World Cup qualifying but wasn't used in either game. The bottom line is it is difficult to see Ochoa back starting games for El Tri as long as he is wilting on Malaga's bench.
Elsewhere in the European transfer market, there were rumored deals to bring Mexicans Carlos Vela and Alan Pulido to Major League Soccer. Neither happened, and neither looks likely, at least before the end of the season, especially with Osorio's latest comments revealing his feelings about when a player should commit to the American league.
Vela's agent categorically ruled out a winter transfer -- though there was a story that a deal could be resurrected with Real Sociedad in the summer -- following reports of interest from the Colorado Rapids.
As those Vela rumors subsided, the same MLS franchise was linked to 24-year-old striker Pulido, though his revival at Olympiakos -- the former Tigres player has featured in each of the club's past three league games -- perhaps combined with his dubious contractual situation to put the brakes on the move.
The only January transfer to Europe from the Liga MX was Marco Fabian, who finally left Chivas for Eintracht Frankfurt and has started reasonably well in the Bundesliga.
Perhaps the summer will bring more business for Mexican players and Ochoa in particular, with this January not generating the excitement many were hoping for.
Tom Marshall covers Liga MX and the Mexican national team for ESPN FC. Twitter: @MexicoWorldCup.