Barcelona vs. Atletico Madrid rapidly becoming the biggest game in Spain
"For years now, Atlético vs. Barcelona has been the most fun, most enjoyable match in Spain." So said Atlético Madrid president Enrique Cerezo this week, but for once he might have been underselling something.
Atlético vs. Barcelona is probably beyond that now: it might even have become the most decisive, too. Gracia and salero were the words Cerezo used, words that don't translate brilliantly, and there is something of the backhanded compliment about them. Fun, amusing, attractive, charming -- all of which tends to mean these games are a bit of a sideshow at heart.
Not any more.
Atlético vs. Barcelona was always a guarantee of goals and there was always a story; there was always entertainment. For a while, it was also a guarantee of points -- for Real Madrid. In more than 150 games, there have only ever been five 0-0 draws. People breathlessly recalled the 4-3 in 1993-94 and the Copa del Rey game in January 1997, when Milinko Pantic scored four at the Camp Nou and Atletico still lost. 3-0 down at half-time, Barcelona came back to win 5-4 and when asked what had happened, their coach Bobby Robson responded: "God knows."
"I have never seen anything remotely like it," said the manager who had seen it all. The thing was that they kept seeing things like it, if not quite that extreme.
Everyone looked forward to these games, Real especially. Atlético hate their city neighbours but just couldn't help helping them. Unable to beat Real in 25 games from 1999 to 2013, Atletico seemed to have something over Barcelona. Fernando Torres scoring goals at the Camp Nou was constantly on the cards; Cerezo once noted: "We give Real nine points a season: the six we lose to them and the three we take off Barcelona." This was a match made for madness: Barca-Atlético always had something that made it special.
There were always storylines and this time is no exception, from this being potentially Torres's last game at the Camp Nou, to Luis Suarez facing Diego Godin in a Uruguayan battle and Arda Turan up against his former club. But there's a tangible importance too, as there has been in recent years. There will be gracia and salero, but there will be more than that. "This is not the key game and it is not decisive," Luis Enrique insisted. "But, yeah," he conceded, "it is important."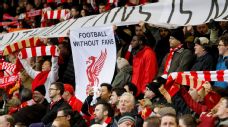 Torres will be heading back to the Camp Nou this year, if he can get fully fit; he's been training this week. But "The Kid" (32 in six weeks' time) has been stuck on 99 Atlético Madrid goals for 19 games and this weekend may be his last visit: It appears unlikely that he will end his career at the Calderón after Diego Simeone admitted to him that the club are not planning to buy out his AC Milan contract. By the summer, when Torres will be a free agent, Atlético are likely to be unable to sign, banned by FIFA.
Suárez and Godin will be a significant battle; the Barca striker will finally rejoin the Atletico defender in the national team when his ban ends in March. It was Godín's goal that sent Uruguay through to the last-16 at Italy's expense in the 2014 World Cup; Suarez's bite that same day sent him home. When he faced Atlético last season, he and his other countryman at Atlético, José María Giménez, kicked lumps out of each other. The insults were flowing and the recriminations too, so don't expect them to hold back. After all, Uruguay is the country where Suarez says: "for b---s, no one can beat us."
And then there's Arda Turan, 29 on Saturday, who will face his former club -- the 36th to play for both teams -- after four years in which even if he did limp off the day they took the league title and sit out they day they lost the Champions League, he won almost everything at the Calderón; especially the Calderón. The beard. The smile. The skill. The hair, shaved off at the Bernabéu after winning the Copa del Rey. The class. The cool.
Only leaving -- and leaving the way he did -- could make him unpopular there. Now, after a six-month wait he said was worth it, here they are together again but with Arda on the other side. He says he "loves" Atletico but the feeling isn't mutual any more. He knows they will kick him; it is what they do. He kicked Messi when he wore red and white, even if he said he felt bad about it.
Beyond the individuals, this game is vital. Over the past two seasons, this has been arguably the most significant game of the season. In 2013-14, Atlético won the league at the Camp Nou. 365 days later, Barcelona won the league at the Calderón. And yet rather than May, it might have been their meeting on Jan. 11, 2015 that most marked Barcelona's season. That night, everything changed.
Barcelona came into the game in crisis: Their sporting director had just been sacked and the manager was next, or so it seemed. Almost 70 percent of fans wanted the manager sacked. Reports (yes, including this correspondent) said that, at best, the manager would last until the end of the season. But Luis Enrique is still there. Supporters chant his name and no wonder: He led them to a treble that seemed utterly impossible and now they're chasing another. Top of the table and in the semifinal of the Copa del Rey. They're already club world champions.
It all started that January night; this Barcelona was born against Atlético. It was the week after a 1-0 defeat in San Sebastián and Lionel Messi, the best player in their entire history, was unhappy. But that night they were hyperactive, boasting what Diego Simeone described as an "intensity that we could not match." They scored as many goals as they had in their previous six games against Atlético put together.
Asked if he thought the crisis was over, Luis Enrique said "no," that it would return as soon as they lost again, but they barely lost again. They won six, lost one, won another six, drew one, won another six -- and took the title at the Calderón. The Champions league and the Copa del Rey followed.
There is a photo from that night of Luis Suárez, Messi and Neymar celebrating together: it became symbolic, the first real expression of the front three on the first night in which they all scored. It seems obvious now, but it still wasn't then. Now, they are arguably the three best players in the world, perfectly complimenting each other. Messi is the Ballon d'Or holder, the trophy recovered with a landslide: four of every five votes were for him.
Meanwhile, Jorge Valdano recently insisted that Neymar will be in the next three years.
The reaction to Madrid's interest in Neymar -- He's not like Luis Figo! He's happy! He's not interested in money! He loves Messi! And anyway, there's no beach in Madrid! -- underlines how terrifying the prospect of losing him is and why they would want him in Madrid. Right now, his form is probably the best in Spain. Yes, better than Messi's. And Messi is Messi.
"They're the best two in the world," Suárez says. "I'm just one of a pile of players." If so, he is on the top of it: He has 30 goals in 31 games this season. He should have been on the Ballon d'Or podium, Neymar and Messi agreed, which perhaps they would.
Asked this week which of them he would sign, Cerezo said: "Couldn't I have them all?" He has Antoine Griezmann, whose €80 million buy-out clause will be only the smallest of deterrents come the summer and who says he can "still improve." His contribution has been gigantic already: He scored 22 league goals last season and 12 so far in the current campaign across 10 different games. There is an argument that says that they're still waiting for Griezmann to dominate a big match, and there is one overwhelming problem with him: There's only one of him.
So far, 14 players have scored for Atlético this season, but more was expected from their other strikers; the load was supposed to be shared. Luciano Vietto has scored three, Torres two, Angel Correa five. Jackson Martínez has only three: he played 14 minutes against Sevilla last week, none at all against Celta. It's not that Atlético aren't taking shots -- it's that the chances they are creating are rarely clear ones and their finishing has been poor, with barely a fifth of their shots ending up on target.
Atlético have an impressive record for signing strikers -- Christian Vieri, Jimmy-Floyd Hasselbaink, Sergio Aguero, Diego Forlán, Diego Costa, Griezmann -- but maybe not this time. Though perhaps it doesn't matter too much.
"We don't know how to play like Barcelona," Griezmann says and nor do they have the money to buy that front three, but they do know how to play their way. Barcelona's tridente have 71 goals already this season, 45 of them in the league; confronting them is a defence that has conceded just eight in the league, keeping 14 clean sheets. No one in Europe has a better record. Yet this is Barcelona and like Gerard Piqué, Sergio Busquets and Jordi Alba, Neymar is available and fit again. Luis Enrique summed up his joy in his pre-match press duties: "If I don't play Neymar tomorrow, he'll grab me and kill me."
There's a small hint of vulnerability about both Barcelona and Atlético coming into this weekend. Barça were fortunate to defeat Málaga last weekend and struggled with Athletic Bilbao's pressure in midweek -- albeit that's not a tactic Atlético often employ. Meanwhile, Atlético's 0-0 draw with Sevilla underlined the concern that something's missing in attack even though there were chances. They then suddenly conceded three against Celta in the Cup. Before that, they had only once let in more than a solitary goal -- and that was against Barcelona.
And that's the thing. If there is a hint of vulnerability, it is a small one. Barcelona are unbeaten in 25 matches; Atlético's defeat on Wednesday was only their second in 23. Together, the past two league champions stand top of the table level on 48 points, four ahead of Real Madrid. They are "direct rivals" for the title, Luis Enrique says, however much Simeone insists that Atlético's objectives lie elsewhere. After all, he said that back then, too. Back when Atlético went to Barcelona and won the league, exactly a year before Barcelona went to Atlético and won it back.
This time, they can't, but only because this game comes too early for that. FC Barcelona vs. Atlético Madrid kicks off at 4 p.m. on Saturday, week 22 in Spain. It should be fun, and it will be important.
Sid Lowe is a Spain-based columnist and journalist who writes for ESPN FC, the Guardian, FourFourTwo and World Soccer. Follow him on Twitter at @sidlowe.