Barcelona, Atletico Madrid learning from each other in race for La Liga title
We're accustomed to La Liga being a two-horse race, but this season it's Atletico Madrid, rather than Real, challenging Barcelona at the top of the table. On Saturday the two title rivals, locked together on 48 points, will meet in European football's first genuinely huge game of the 2015-16 campaign.
While the rivalry lacks the historical significance of Real vs. Barca or Real vs. Atletico, this has become a truly fascinating battle boasting huge drama: Atletico won the league title at the Camp Nou on the final day of 2013-14, before Barcelona got revenge as Lionel Messi's lone goal clinched last season's title at the Calderon. This weekend's game won't decide the destination of the title, but it's nevertheless probably the most important game of the season in Spain.
Barcelona and Atletico's rivalry has been particularly intriguing because of the stylistic difference between the sides. Barca, of course, traditionally insist on playing beautiful football, dominating possession and playing deep inside the opposition half. Atletico are the opposite, priding themselves on a compact defensive block and quick counter-attacking, excelling at transitions. Their clashes are all about which side can impose their favoured type of football; a pretty, open game favours Barcelona, while a scrappy, ugly battle plays into Atletico's hands. Perhaps, however, the difference is becoming less pronounced.
Barcelona's previous weakness was their inability to win ugly. When their default game plan wasn't working, they sometimes struggled to get over the line against inferior opponents. Atletico's shock title success in 2013-14 perhaps forced Barcelona to learn lessons, adapt and introduce some of Atletico's style into their own football.
Barcelona's final La Liga game ahead of the crucial Atletico clash was a scrappy 2-1 win away at Malaga. It was notable for Barcelona entirely failing to play their preferred style of football, and in particular, the passing out from defence was atrocious. Claudio Bravo's distribution was wayward, and it didn't help that Dani Alves, Gerard Pique and Jordi Alba were all missing, with Aleix Vidal, Thomas Vermaelen and Adriano playing instead. Vermaelen was particularly hapless, making a series of errors before being withdrawn at half-time.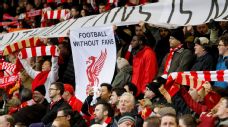 That was only the first problem, though. The second issue was Barca's inability to find Messi in dangerous positions. He spent the majority of the game floating around the right without truly influencing much, while six others played more passes, and he lacked his typical sudden bursts of intensity.
Between defence and attack, not much was happening either. Sergio Busquets is usually the man to wrestle control of the game in these situations, but his passing was sloppy and he failed to regain possession swiftly. It was, all-round, a terrible performance; Barcelona were clearly inferior against a midtable La Liga team.
Yet they won 2-1. Barca can now win ugly.
The goals typified this feeling. The first, scored by Munir El Haddadi (which came so early that Malaga hadn't even touched the ball yet) came after Luis Suarez bustled his way past defenders in behind.
The second arrived -- unusually -- from a Barca cross into the box, finished impressively by Messi. Otherwise, Barca created few chances through their usual routes: midfield invention or mazy dribbling.
The player who typifies this approach is Suarez, a proper hustler. The Uruguayan is the personification of nastiness, a striker who loves physical contact and winding up opponents. He often scores brilliant goals, but equally scores goals that owe more to persistence. His greatest single quality is his ludicrous ability to bundle past opponents with his dribbles, often appearing to be tackled but somehow maintaining control of the ball and ploughing on. Messi and Neymar are excellent at bending the ball into the net with finesse, but Suarez's trademark finish is a toe poke, traditionally the scruffiest of shots.
Suarez has always been good at setting an example -- in pure footballing terms, at least -- for his teammates. At Liverpool, the rest of the team looked up the pitch to see Suarez pressing intensely, so they backed up and followed suit. At Barca, the rest of the team see him throwing himself around and bumping into defenders, and they're more physical than usual. It's a typically South American approach, doubtlessly admired by Atletico coach Diego Simeone, the Argentine who was famously an expert wind-up merchant himself.
The clearest sign of Barcelona's evolution in style, though, is their purchase of Arda Turan from Atletico. An excellent technical player, he also epitomised the intensity, work rate and physicality Simeone demanded, and it's fascinating that Barcelona wanted to add the Turk to their squad. He isn't a typical Barcelona player for several reasons, chiefly the fact that he doesn't naturally fit into a 4-3-3 formation. Against Malaga he started on the right of the midfield trio, before moving into a left-wing position midway through the second half. His purchase is not simply evidence that Barca admire Turan's qualities, it's evidence they admire Atletico's qualities.
At the same time, incidentally, Atletico have become more open, more expansive and more Barcelona-esque in the past couple of seasons. Now considered a true title contender rather than an also-ran, Atletico have been afforded less space to counter-attack into as opponents have become less willing to push forward. Their average possession share has risen in the past three seasons, and now they're seeing more than than 50 percent of the ball for the first time.
The styles of the two sides have merged slightly, with Atletico realising they can't rely upon reactive football, and Barca realising they need more aggression, more of an edge. There's still enough difference to ensure an interesting tactical battle between two different approaches, but they're clearly learning from each other.
Real Madrid, meanwhile, could learn much from both, but are still wrapped up in their obsession with individuals. They might be only four points behind both, but in wider terms, they have plenty of ground to make up.
Michael Cox is the editor of zonalmarking.net and a contributor to ESPN FC. Follow him on Twitter @Zonal_Marking.