Zidane renews Merino battle as Real Madrid travel to Real Betis
The early 2016 calendar has been favourable to Real Madrid manager Zinedine Zidane. This weekend's match comes in the shape of Real Betis, the worst -- or best, if you ask their satisfied visitors -- host of La Liga.
After nine matches at home, Betis have managed to obtain a meagre six points, with one win -- back in September -- three draws and five defeats to their name. In those nine home games, they have scored just six times and conceded 15 goals.
The Beticos have seen Deportivo la Coruna (2-1), Espanyol (3-1), Athletic Bilbao (3-1), Atletico Madrid (1-0) and the surprising Eibar (4-0) win convincingly at their home turf, four of them in sequence. This terrible streak of results provoked the dismissal of manager Pepe Mel 10 days ago.
Betis have avoided the relegation zone thanks to decent performances away from the Benito Villamarin stadium, as they have earned 15 points in 11 matches. But former player and interim coach Juan Merino has a remarkable challenge ahead of him: this team can't score (13 goals in 19 matches so far, with their last six encounters gone scoreless) and look terrified when they play in front of their supporters.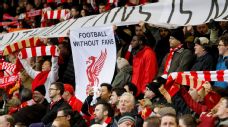 That said, this could all change on Sunday. Merino's debut last weekend ended up with a decent goalless draw at Villarreal and, similarly to what happened with Real Madrid's two outings under Zidane, the match proved that Betis desperately needed a change on their bench to recover some of the spirit required to compete in La Liga. The players' attitude improved and they even had a few chances to surprise fourth place Villarreal at their own stadium.
The hosts have some good news coming from the infirmary. The talented Algerian Foued Kadir is back in the team; they were looking forward to his return as he can offer the kind of passing in the final third that Betis have been missing all season. Depleted by Rafael van der Vaart's poor form -- the Dutchman has played in just seven La Liga matches -- Merino's midfield seems unable to find their two strikers, Ruben Castro and Jorge Molina, in scoring positions, and Kadir can help.
Castro has scored eight times this season, although he last found the net at the end of November. Molina, with only one goal so far, looks painfully far from his best shape. Manager Merino tried to sound optimistic: "If we work like we did against Villarreal, the goals will come".
Even if the atmosphere should feel less charged at the Benito Villamarin with Merino on the bench, Betis appear like another excellent occasion for Zidane to keep building his own Real Madrid. The Frenchman indeed has good memories of the stadium, as he scored a beauty back in December 1995 when he visited the Villamarin for the first time with Girondins de Bordeaux. Amazingly enough, Betis No.6 on the day was none other than Merino himself.
With the exception of Gareth Bale, trying to recover from an injury on his right calf, Zidane can count on the whole squad for Sunday's match, including Karim Benzema. Even Sergio Ramos, struggling all season with niggling injuries, has trained normally with the team this week, which probably means that Nacho Fernandez will not even make the bench for the third time in a row.
Replacing Bale at the Benito Villamarin will be Zidane's biggest challenge. In one of his best spells with Real Madrid, the Welshman had scored four times in the last two matches and looked genuinely motivated both offensively and defensively before picking up another muscular injury.
If we judge by Zidane's previous decisions, his most likely choice to replace Bale will be Jese Rodriguez, one of his favourite players among the youngsters. The Canary Islands-born forward can open up play and exploit Betis' flanks well, providing plenty of service for Benzema and Cristiano Ronaldo.
Another option for Bale's spot would be James Rodriguez, but Zidane obviously prefers to use the Colombian in Isco Alarcon's position, and James seems to have lost that fight so far. The left-footed midfielder clearly had the upper hand in his media battle against Rafael Benitez , but that is no longer the case under Zidane.
After the Frenchman's first two matches on the bench, one thing is clear: he is not too fond of the summer signings. Carlos Casemiro, Denis Cheryshev, Danilo da Silva, Lucas Vazquez and Kiko Casilla have not played a single minute yet under Zidane. The only reinforcement who enjoyed some playing time -- 25 minutes against Sporting Gijon -- was Mateo Kovacic.
To be fair, most of those players had their chances under Benitez when Real Madrid underwent a remarkable injury plague that has apparently passed. But the fact that he hasn't even used Casemiro a few minutes to give the starting midfielders some rest, or how he's opted for Daniel Carvajal instead of Danilo, seems like a clear statement of support towards the Carlo Ancelotti unit. Zidane wants to recover the record-breaking side of the last couple of months of 2014, and he seems to have started by using the same personnel.
On Sunday evening, he has a date with Merino, 20 years after they first met at the same Benito Villamarin stadium. Both have had to step up to help their respective teams, replacing the previous coaches and quickly improving the atmosphere that surrounds both squads.
Similarly to that evening in 1995, Zidane has the upper hand, in this case because of the huge amount of talent at his disposal against an offensively challenged side. However, if Merino had a clear characteristic as a player, it was that he never gave up easily. We shall see if he manages to convey that attitude to his players.
Eduardo is one of ESPN FC's Real Madrid bloggers and has been a socio since 1995. Follow him on Twitter @alvarez.