Barcelona boosted by key Athletic absences but Luis Enrique still wary
A run of three heated city derbies in the space of two weeks meant Barcelona weren't treated to a quiet start to 2016, and the tempo won't slow down any time soon.
January culminates with a huge home fixture against league leaders Atletico Madrid and in order to arrive at that game in a position to open up a head-to-head advantage at the top of La Liga, Barca will need to negotiate two tricky rounds beforehand. The first of those big fixtures takes place on Jan.17, when Ernesto Valverde's Athletic Club visit the Camp Nou.
If Luis Enrique could choose the opponents he wants in the run up to squaring off with Atletico, Athletic would be somewhere near the bottom of the list. The always physical Basques have played the Catalans three times in all competitions this season, and the aggregate score stands at 5-2 in favour of the red and whites.
The biggest cause of that was a 4-0 Supercopa thrashing dealt to Barca at the San Mames last August, the Basques then sealing the deal by taking a comfortable 1-1 draw from the return game at the Camp Nou. In those two matches, Athletic produced their best all-round displays against Barcelona for many years and proved that they can compete with the defending league champions on their day.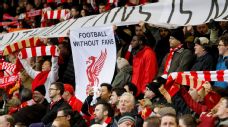 A repeat of the Supercopa defeat would be a disaster for Barca at this delicate stage of the season, but while the choice of opponent on Sunday isn't ideal for the home team, the blow has been softened significantly. Athletic's chances of a repeat upset have been severely dented by a combination of suspension and injury. Ernesto Valverde will be forced to pick a team without the presence of two of his best forwards. That makes his task of taking something from the Catalan capital much more difficult.
The first of the absentees is Aritz Aduriz, scorer of four goals against Barca in last year's Supercopa. It is impossible to overstate the importance of the veteran to his side. Though pushing 35, he is in the finest form of his career and with 22 goals in 32 games, he is the Bilbao club's top scorer by a 12-goal margin this season. Someone who excels at dragging opponents out of position with sneaky movement acquired from over a decade and a half of experience, Barca's central defenders will be extremely relieved to avoid facing him.
They will also be relieved about the absence of Aduriz's biggest partner in crime. Raul Garcia hit it off instantly with the striker after joining Athletic last summer, the former Atletico Madrid man's high-intensity style suiting his older teammate's game well. The two have combined in five goals to date and constantly look for one another while in possession. Above all, they are a nightmare to mark in the air. In Aduriz, Athletic already had the finest header of the ball in La Liga, but adding Raul Garcia's own imposing aerial presence made them even more difficult to cope with. Without the need to tackle the duo, Barca's chances of defending crosses and set-pieces increases exponentially.
That's the positive side of things for Luis Enrique. The negative is that another forward is emerging in Bilbao who is more than capable of causing problems and he will be available this weekend. If Aduriz is one of the finest Athletic academy products of years gone by, then Inaki Williams is shaping up to be one of the finest from the present. The 21-year-old scored a perfect header in the Copa del Rey final against Barca last May, and since then has continued to grow at an exponential rate. Inaki's ability to beat players for pace was already apparent prior to this season, but what has really stood out lately is his quality as a finisher. Flicks, volleys and moments of brilliant invention have featured strongly among his 10 goals in 2015-16.
Not only blessed with the hunger of youth, Inaki is even more of a threat to Barcelona because of his confidence. He has just played a key part in settling the most evenly balanced of the Copa del Rey last 16 fixtures, scoring in both legs of Athletic's 4-2 aggregate elimination of Villarreal. Barca's high defensive line will need to be wary and accurate when moving forward. If they make a mistake on the ball, their opposition attacker has the legs and technical quality necessary to capitalise and hurt them on the break.
Keeping Inaki quiet is a much simpler task than keeping Inaki, Raul Garcia and Aduriz quiet however, so Barcelona should count their blessings. Valverde's selection problems make Luis Enrique's job much easier in principle -- ensure his defenders and midfielders avoid unnecessary mistakes in possession and Athletic will struggle to create clear attacking opportunities.
As for the other end of the pitch, patience will be important. In last year's La Liga meeting between these two teams at the Camp Nou, it took 79 minutes to break the deadlock but after the first goal, the second quickly followed. Los Leones are never ideal opponents but Barcelona will fancy their chances more against a wounded lion than otherwise.
Lee Roden is a European football writer based in Barcelona. Follow him on Twitter: @LeeRoden89.