Real Madrid and Atletico Madrid face up to their future under a transfer ban
Opinion is free, so neither Real Madrid nor Atletico Madrid will be able to prevent people looking at their recent investments -- Martin Odegaard, Marco Asensio and Danilo for Real and Mattias Kranevitter and Augusto Fernandez for Atletico -- and concluding that both clubs were aware the risk existed that they would be hit with a transfer market ban by FIFA.
The same goes for Atleti renewing the contracts of central defender Jose Maria Gimenez and striker Angel Correa, while also working on ring-fencing another forward, Antoine Griezmann, with a lucrative new deal.
Astute planning but also moment-sensitive.
Both clubs say they intend to appeal Thursday's ruling, with each of the 2014 Champions League finalists having stated their innocence.
Thus, neither is likely to admit any time soon that they've been preparing for this news.
But the idea that Madrid and Atleti were under microscopic scrutiny concerning the same alleged offences that prompted Barcelona's recently ended sanction has been widely aired for months now.
More, if you recently tried to suggest to either club that it should sign, or even take on trial a talented youngster, then there would have been a distinct chill in the air.
Neither club has wanted to step even a millimetre out of the most conservative "safe zone" in respect of the rules concerning juvenile footballers until this issue was resolved one way or another.
Too late, it appears.
The first thing on which it's possible to sympathise with Spain's two capital clubs is how high Barca have set the bar.
Perhaps one or both Madrid sides will win on appeals, which are likely to go all the way to the Court of Arbitration for Sport as Barcelona's did, and thus not suffer what the Catalans have just been through.
But in the hypothetical case that each is banned from two transfer markets, they'll inevitably be faced with unfair expectations from fans, media and sponsors, who will point out that "Barcelona were punished, couldn't sign and still won the treble!"
Ergo, for those who don't pay close attention, this might appear not such a harsh punishment with which to cope.
That, though, is not true.
It's important to focus on two things which have been distinctly overshadowed by Barcelona's trophy glut.
The first is the impact of the ban on youth systems. As soon as their ban ended, Barca immediately registered 77 young players, but others of great talent have been shorn of the chance of a future with the club.
It may take time to show itself, but there will be a "staggered" effect on Barcelona's youth development, where gaps in quality are going to appear as a particular generation in the Barca Futbol Base isn't as talent-filled or successful because the club wasn't allowed to incorporate the footballers it wanted or needed.
Madrid and Atleti will look with dismay at their youth systems being undermined in this manner. The ban includes the demand that all young players who were identified as having been wrongly incorporated must be disconnected from the club. That is draconian for those concerned.
The other interesting side effect concerns the need for squad turnover and the degree to which Luis Enrique has insisted, over and over again, that he urgently needs to add players to a winning squad.
Barcelona won the treble but then signed both Arda Turan and Aleix Vidal even though they couldn't play for six months. Right now, despite Barcelona looking, to all external judges, to be in rude health, "Lucho" is insisting that he must have Nolito to add to a forward line already bulging with talent.
The Barca boss is ultra-focused on the idea that, unless you challenge winning players with new talent who can threaten their place, then the threat exists of mental/sporting rust.
This is something that will face the two Madrid clubs over the length of their ban. It's feasible for existing players under contract to think "Great! No new challenges to my position" and to relax, whether consciously or subconsciously.
Madrid and Atleti are currently in a mode of building to overhaul Barcelona, building to try to conquer Europe.
If this ban were to disappear then you could count on Madrid making significant moves to sell strategically, as well as buying to change the squad's age and talent profile and to meet the specific demands of new manager Zinedine Zidane.
As for Atleti, in Diego Simeone they have the benefit of a coach who has been in charge for years and working hand-in-hand, strategically, with the same director of football, Jose Luis Caminero.
Thus their planning, their investment and the equilibrium of their squad are ahead of their cross-city rivals.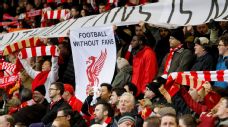 The terms of this ban, if it is upheld after the various appeal stages, dictate that each club can recall the various players who have been put out on loan, so long as there's no contractual impediment in the paperwork with the "borrowing" club and so long as they request his return prior to the summer.
Barcelona's streetwise reaction to their own ban indicates that, if Manchester United, Bayern Munich and Juventus fans are currently breathing out relieved sighs and saying "Good! That means Madrid won't be able to buy David De Gea, Robert Lewandowski or Paul Pogba," they are wrong.
Barcelona appealed their sanction and, in the interim, signed in that self-created window of opportunity Ivan Rakitic and Luis Suarez, both of whom became fundamental to their success last season and scored in the Champions League final.
In terms of sales, there's also an impact: Under this ban both Madrid clubs may still offload players as they wish.
But unless a major departure were to be planned and a replacement bought before the appeals are heard, then Madrid selling Gareth Bale or Cristiano Ronaldo or Atletico selling Koke or Antoine Griezmann now seems enormously unlikely, unless that were to happen this month.
With the ban not set to kick in until this summer's window, regardless of what happens with any appeal, the two clubs have options.
For example, they can sign players this month and they can promote from their youth system as they please.
Moreover, as Barcelona proved, it's feasible to time an appeal such that the summer window stays in play and the ban is deferred until January 2017.
That Machiavellian tactic would require some clever administrative timing and thus is not a guarantee, but you can bet that both Los Blancos and Los Rojiblancos have been through every feasible concoction of reactions aimed at ensuring that they can restock in preparation for the long, cold year in which their noses will be pressed against the transfer-market window.
Graham Hunter covers Spain for ESPN FC and Sky Sports. Author of "Barca: The Making of the Greatest Team in the World." Twitter: @BumperGraham.