Real Madrid's win helps Rafa Benitez but does not ease the pressure
MADRID -- Three things from Real Madrid's 3-1 win over Real Sociedad in La Liga.
1. Benitez safe for now as Madrid win
Two goals from Cristiano Ronaldo and one from Lucas Vazquez brought Real Madrid a 3-1 win against Real Sociedad on their return to action following La Liga's shortened winter break. But neither the result nor the performance will ease the pressure on under-fire coach Rafa Benitez, although the victory should at least mean he is in charge for Sunday's trip to Gary Neville's Valencia.
The talk before the game was all about Benitez's position, with the consensus around the Bernabeu press area being that he could not survive a defeat. Benitez himself spoke yesterday about a media campaign against him over the winter break, when local reports were of either Jose Mourinho or Zinedine Zidane coming in to replace him.

Real Madrid
Real Sociedad
Game Details
There were whistles for the under-pressure coach before the game and growing grumbles throughout the first half whenever a Madrid player misplaced a pass, which was quite often. Jeers followed during the second period when La Real looked the better team with the score at 1-1.
Ronaldo's double strike, the first a debatable penalty after he had earlier missed from the spot, and the second a superb strike from 15 yards at a corner, kept the stadium from going into open revolt. A lovely finish from substitute Vazquez, off Gareth Bale's assist, made it 3-1 and sealed things with just four minutes to play.
A measure of Benitez's standing among the crowd was the angry reaction to the decision to remove James Rodriguez and send on Lucas with the scores level and 20 minutes remaining. That the coach seemed to pointedly ignore the player he had just removed also did little to suggest his relationship with his superstars is as good as Benitez himself continues to claim.
2. Ronaldo the match-winner
As so often in the past, Cristiano Ronaldo made the difference for Madrid, with his eye for goal just about doing enough to cover issues elsewhere in his game and his team's performance.
The game did not start too well for the Portuguese forward, who skied a penalty over the bar midway through the first half -- his first spot-kick miss of the season -- but he soon got a chance to make amends, following a controversial decision by referee Jose Luis Gonzalez Gonzalez, who penalized La Real's Yuri Berchiche for handball.
Ronaldo's first miss had brought loud whistles from around the stadium, which were duly challenged by equally loud supportive chants from club-sanctioned ultras. According to the well-respected El Larguero radio show Ronaldo, who openly gestured to fans to get behind the team during the 10-2 win against Rayo Vallecano before Christmas, has said he will leave club if he keeps getting whistled.
After he had scored the debate among the crowd continued over the Portuguese's merit. Some cheered ostentatious sprints to press visiting defenders, while others groaned as he regularly coughed up possession. What is clear is that there was none of the unanimous adulation which Ronaldo himself clearly feels is his due.
There was, though, widespread celebration around the ground when Ronaldo hooked in his second goal on 67 minutes. A corner fell to him about 15 yards out and while his first-time contact was not the cleanest, the shot passed low through a crowd of players and into the corner of the net.
Now almost 31, Ronaldo is clearly not the player he was but he does have 25 goals in all competitions this season and is finishing 2015 with 57 goals in 58 games for club and country. That might be his lowest tally in four calendar years but, without him, Madrid would really be in trouble.
3. Madrid issues shown up by unlucky visitors
Everything which could go wrong did go wrong for Real Sociedad during the opening 45 minutes.
Two very soft penalties were given against them, while two decent penalty claims of their own were rejected. Further, two key players -- top scorer Imanol Agirretxe and creator Sergio Canales -- were stretchered out of the action. The initial reports were that Canales has suffered yet another very serious knee injury and faces another long spell on the sidelines.
The Basque side showed great resilience to keep battling and got their reward when substitute Bruma curled in a beauty of an equaliser just after the break. The winger was then denied by Madrid keeper Keylor Navas as the visitors continued to press and some lovely keep-ball frustrated both Madrid's players and fans at 1-1.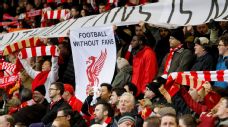 The issues running through Benitez's side made things easier for a side that had shipped four goals on each of their last five visits to the Bernabeu. Madrid's lack of shape was obvious from the off, when Canales and centre-forward Jonathas were easily able to find space and time on the ball. Left-back Yuri was regularly able to stroll forward with nobody challenging him, although his final pass was poor too often.
Madrid's superstar attackers, led by Ronaldo and also by a decent Bale showing, were keen to show they wanted to win the game. There was no sense though that they were playing to an agreed tactical plan, though. Both the players and the coach claim they are working together in harmony at training, but the results were not on show here.
At 2-1, the visitors might have equalised for a deserved draw, with substitute Carlos Vela going close. Vazquez's late clincher ended those hopes, but there was nothing that suggested Benitez and his players are on the same page.
Dermot Corrigan is a Madrid-based football writer who covers La Liga and the Spain national team for ESPN FC. Follow him on Twitter @dermotmcorrigan