Four key areas of Barcelona's minor 'crisis' that Luis Enrique must address
It's a useful litmus test as to how things stand at FC Barcelona when you hear Luis Enrique release a huge sigh of welcome at the arrival of the international break.
Many coaches and players yearn for it. At smaller, less-successful clubs, it's a chance for a mini-holiday. Players get to muck around, spend time with their families, meet sponsorship commitments (aka make more money), and there's a regular European exodus for four or five days to the beaches of Doha.
At the largest, most successful clubs, however, this pause in proceedings is normally regarded with suspicion. Why? Because the elite coaches at leading clubs view the standards, rules and atmosphere their stars encounter on international duty as largely and directly in opposition to the "mood" and routine that is optimum on a weekly basis at club level.
In other words: the international break is a threat, like putting a bug in an otherwise fully functioning system. The international team coach will train differently, the player will often be a mega-star and welcomed as such by his national fans and media. Egos can be inflated, daily discipline distracted. Completely different strategic or tactical tasks may be asked of players who need to shed their "club mode."
Only this week I listened to Juan Sebastian Veron admit that whenever he was playing for Sven-Goran Eriksson at Sampdoria, he'd quite freely add an extra "holiday" day to his return from Argentina duty to Genoa. Literally, a gratuitous "day off" in Buenos Aires after which he'd report back for training in Italy and never a word would be said. In due course, Eriksson took him aside and said "I always knew you were 'pinching' a day off me, but I regarded it as something you thought you needed so I let you away with it because you always gave me something extra on the pitch."
To this day, that impresses Veron in terms of a liberal manager knowing how to manage a rebel, non-conformist footballer. But modern leaders in the industry -- Luis Enrique, Pep Guardiola, Rafa Benitez, Louis van Gaal, Jose Mourinho -- are very specifically not built that way. International duty introduces the threats of jet lag, injuries, important defeats and the psychological cost after them. Or, it brings important victories and the possibility that there will be euphoric "fiesta" time thereafter.
I have a friend who recently travelled on a private plane with one of the world's leading international sides after a big away win in a prestige friendly. To say that drink was taken is an understatement.
Once more, it's not the kind of risk that the leading clubs and managers like to run. So the fact that the Barcelona manager exclaimed "Hallelujah!" about his squad heading off to the four corners of the world tells you something.
The first thing it should tell close observers of matters at the Camp Nou is that for Enrique at least, it's a matter of pure rejoicing that neither Luis Suarez nor Neymar will travel on World Cup qualification duty. Injuries in training are not unheard of but injury in a full-blooded international match is a far more likely problem percentage-wise. It gives the two men a chance to let limbs, lungs and minds refresh between now and next Wednesday when full club training resumes with all available personnel.
It may seem to you, the reader, that the 10-day gap between Oct. 5 and Oct. 14 isn't a great window of opportunity, but time is almost more precious than talent in the football industry. Especially time to think, plan, reflect, reboot and recalibrate, which is what the Spanish and European champions urgently need to do right now.
Here are some points upon which they have to focus.
1. Reducing the level of expectation on Neymar
On occasion I've been constructively critical of the Brazilian during his time at the Camp Nou but there's no escaping either his exceptional talent or his growing maturity -- unless you work in some branches of the Spanish media, that is.
There's a school of thought (and I want to rail against it) that unless Neymar scores, he's not had a good game and "isn't stepping up to the plate." It's a sentiment that seems to have grown in many branches of the nation's football media since Lionel Messi's injury.
On that infamous "1 + 1 = 3" line of thinking, too many people immediately turned to Neymar and Suarez with the media verdict that they'd have to instantly give more because the club's genius was absent.
First, it ignores the primary responsibility that all of the other Barcelona players had once Messi was injured. The responsibility for each of them to react, to raise standards and, specifically, to address the central fault that had dominated even before Messi's injury. Namely, the current trend that opponents are converting about 90 percent of the clear-cut chances they generate against Barcelona. The European champions continue to generate enough goal opportunities to win six or seven matches while they concede an improbably high ratio of goals to chances conceded.
Second, in Neymar's case particularly, the idea that the Brazilian must immediately start doing "Messi-esque" things ignores the facts that he's not yet near the Argentinian's level either in his basic football armoury or his experience and maturity. Also, this demand for Neymar to instantly "become" Messi ignores just how much Neymar did contribute in Saturday's defeat at Sevilla.
If you view it as his responsibility to "be" Messi in Messi's absence, then of course the Brazilian will fall short 90 percent of the time. View the game with clear eyes and it's obvious that Neymar very nearly produced a match-winning performance, did by far the most damage to Sevilla's game plan and, for neutrals, produced moments of sublime skill and vision which make watching football worthwhile.
Neymar put Suarez clean through twice, forced two exceptional saves from Sergio Rico, hit the post from a superb free kick, converted the penalty and produced one particular moment of skill -- when he came away from tight pressing by Steven N'Zonzi, Coke and Grzegorz Krychowiak before nutmegging Marco Andreolli -- that verged on the miraculous.
Barcelona lost and Messi's absence was noted but don't let anyone fool you: Neymar produced a significant display of brilliance, team spirit and intelligence. His main fault, apart from a smattering of bad luck, is that he's not Messi, possibly the greatest footballer ever.
2. Refocus Jeremy Mathieu
One of the most emblematic images of Barca's treble was a couple of red-haired kids gambolling around the Camp Nou after the last league match, after the Copa del Rey final and on the green grass of Berlin's Olympic Stadium once the treble was clinched.
They were Mathieu's kids and while of course they were thrilled to be part of an experience like mucking about on the normally forbidden territory with the children of Dani Alves, Luis Enrique, Gerard Pique and Messi, they also had the right to be particularly proud of their dad.
Mathieu started life uncertainly at Barcelona, reaching a nadir in the 3-1 defeat to Madrid in the first Clasico and admitting that he wasn't comfortable playing left-back at such short notice. Or, indeed, at all.
But his second half of the season was pretty special. Tests proved he was pretty much the quickest sprinter in the squad and from roughly December to June, he began to show it. Athletically sound, his judgement about where to be and when to launch into tackles improved dramatically. Instead of looking ropy, he was suddenly anticipating the play, producing a safety net for colleagues and even scoring big goals. Take away his game-winners at home to Madrid or away in Vigo and Barcelona don't win the league and, as such, don't win the treble.
However this season has been extraordinary. His woeful "step-up," having already played Sevilla onside, that allowed Vitolo to get the decisive goal on Saturday was emblematic of his work since the European Super Cup.
In Tbilisi that night, both he and Dani Alves were run ragged by Sevilla down the wings. The fact that it was a nine-goal thriller owed much to their failings. In the Spanish Supercup second leg, not only was Mathieu hugely at fault for Athletic's equaliser, he ended the game looking like walking was an effort for him, never mind sprinting several sets of 20 metres.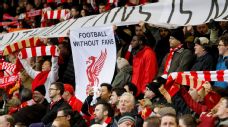 Mathieu has started two La Liga games and lost them both with a 6-2 aggregate score. In the 2-1 win over Atletico Madrid, it was the Frenchman who was wildly out of position so that Tiago's pass could rocket straight through to the run of Fernando Torres to score.
The take-home message is that Mathieu doesn't resemble a treble-winning defender right now. Not all of Barcelona's problems stem from his work but he's repeatedly making them worse.
Is it physical tiredness? Mental burnout from such an amazing season? Is it Father Time knocking at his door even though he's only 32? Is it confidence -- either too much of it or too little?
Whatever it is, particularly while Barcelona's squad is suffering so badly from repetitive injuries, Mathieu has to pull his weight, and Luis Enrique (or his coaching and medical team) needs to diagnose and cure whatever it is that ails the Frenchman.
3. Accentuate the positives regarding Sandro
It's not hard to define the two young strikers currently in Barcelona's first-team squad having made their way up the famous Camp Nou academy.
Munir El Haddadi looks like a teenage waif and is too physically undercooked to impose himself on first-team football in the short term, but he oozes terrific class. Technique, vision, passing talent, creative imagination -- they are all there. Four of Barcelona's last five goals bear some significant Munir "fingerprints" on their construction.
Given the previous cases of young waifs like Guardiola, Xavi, Andres Iniesta and Messi, if Munir's not at the right club to "wait" for him to mature physically and to trust his ability irrespective of his physique, then he never will be.
Sandro, on the other hand, might be less exceptional technically but he's strong, aggressive, quick and blessed with a terrific ability to get himself into scoring positions. It's innate. Also, he is better prepared to assume the bumps and bangs that accompany a 20-year-old striker in a top league.
Currently, Sandro is also better equipped to add an intensity of pressing up front but he presents a case where, again, Luis Enrique has work on his hands.
In Barcelona's last three games, he's had four clear-cut one-on-one scoring chances, the type of which a good striker would score three and an elite one would score four. He's scored none. Two of them count as "sitters," and only one of the four was a top save (produced by Bayer Leverkusen's Bernd Leno).
So, ipso facto, Sandro's not top class and not Barcelona class. Right?
I don't think that's the conclusion here. As with Neymar, the current mini crisis at FC Barcelona means there's a magnifying glass on every minor flaw. Sandro's lack of efficacy cost nothing against Las Palmas or Leverkusen, thanks to others, but hitting the post from close range did cost a point in Seville.
Ultimately, the impression is that due to his work rate, positional awareness, pressing and notable ability to be just as eager to take the ball and to find the right space irrespective of just having missed a chance, this is a guy it will pay Barca back to be patient with. Let him find his feet, his shooting boots and in due course there will be a return.
Top, top class? Perhaps not. Made of the right stuff? I think so.
4. Restore their aerial presence
It must frustrate the heck out of the coaching staff that they took a glaring weakness (which dates all the way from Barcelona's rise in 2004-5 until 2014-15) and turned it into a strength... only to see that weakness rise to the surface again this season.
The Achilles' heel I'm referring to is the manner in which Barcelona defend the ball into the box from open play and set pieces.
When Juan Carlos Unzue arrived at the club with Luis Enrique, the improvement was both clear and continuous. Unzue dedicated more time to teaching the Barcelona defence what to do; he made their work more strategic and suddenly, it became a badge of pride for the Blaugrana players not to concede in that manner.
I commented last season that this type of defending is as much a mental thing as it is a physical skill -- concentration, alertness and attitude all form vital components in facing a free kick or corner into the area. But so does winning and maintaining the ball high up the pitch. There's no better defence than keeping possession of the football 50 metres from your own goalmouth.
That too has diminished but Unzue, Enrique and their players need to get back to the drawing board. Both from open play and set plays, Barca have lost focus, intensity, sharpness, organisation and, as a result, confidence. Watching Marc-Andre ter Stegen and Suarez snarling at each other after Bayer Leverkusen went 1-0 up at the Camp Nou last week and then losing to a free header in Sevilla are all the evidence you need.
Graham Hunter covers Spain for ESPN FC and Sky Sports. Author of "Barca: The Making of the Greatest Team in the World." Twitter: @BumperGraham.