Are Barcelona suffering from an identity crisis under Luis Enrique?
The moment Barcelona's players left the Camp Nou last Saturday, they were on holiday. Some of them departed the stadium after the 5-0 win against Córdoba and headed straight for El Prat airport. Their 4 p.m. kickoff, the earliest of the weekend's games, suited them; the previous weekend's result, a 0-0 draw at Getafe, did not.
Barcelona's Europe-based players will return on Dec. 30, the Latin Americans on Dec. 31, and Leo Messi and Neymar on Jan. 2, just two days before facing Real Sociedad -- on the grounds that they have the Copa América at the end of the season.
(Unlike, say, Claudio Bravo, Javier Mascherano or Dani Alves ...)
When the players underwent the typical bartering with their club, trying to wangle an extra day or two, one of the suggestions made was a deal where their break would be extended if they managed to finish 2014 at the top of the table. It was a cunning ruse but there was one small flaw. Because of the World Club Cup, Real Madrid played a game fewer than Barcelona, meaning that finishing top was probable, or so they thought ... but then Barcelona managed only a 0-0 draw at Getafe. They have played a game more than Madrid and still trail them by a point.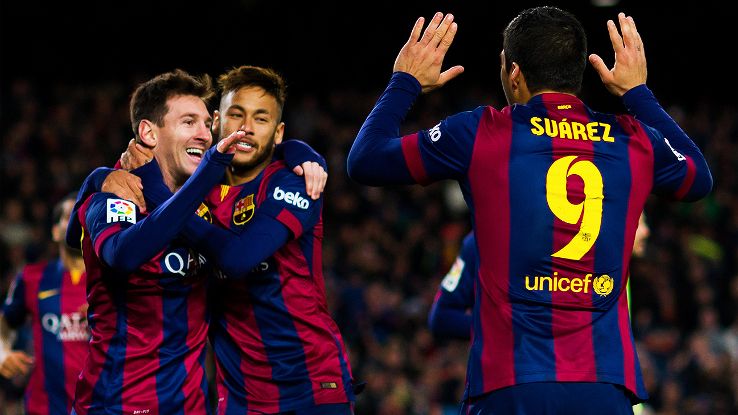 "We're not going to cut off our arms or legs because we're not top," Luis Enrique said. "There's no need to self-harm or flagellate ourselves because we're four points behind Madrid, assuming they even end up winning that game [against Sevilla]." He had a point, of course. And some of the alarmism is, well, alarming. The talk is of this being the best Madrid team in history and Barcelona are, for now at least, only a point behind, which doesn't sound so bad. Yet the pessimism is not really about the points; it is deeper than that. It is about style, identity, about being.
Results condition everything, but they are not everything, especially at the Camp Nou. And that is why there is so little cheer at the Camp Nou this Christmas. At the end of the Getafe game, Luis Enrique said that if they had won, "we would be talking about an excellent performance." The response was obvious: no, we wouldn't. He then said that Barcelona had played the "same system" as in every other game so far this season, which came as quite a surprise -- not because they had played a different system against Getafe, but because no one had realised there was a system.
As one commentator put it: "the best thing we can say about 2014 is that it is over." The problem is that, right now, 2015 doesn't look likely to be much better. Last season ended without any trophies; the fear is that next season will too. Worse still, some have decided, Barcelona are just not Barcelona.
For a long time Johan Cruyff's "Dream Team," which won the 1992 European Cup and four consecutive league titles, existed as the idealised image of what Barcelona were, or at least what they aspired to be. Cruyff's side provided a model to follow, an identity that grew more perfect the more distant it got -- flaws were forgotten, virtues varnished. But it also served as a Sword of Damocles, hanging over every team that followed.
No one could live up to it until Pep Guardiola's team emerged and bettered it almost two decades later. Success under Guardiola, and the style with which it was achieved during a period where talk of a "philosophy" felt right, helped to create the idea of continuity -- even if it was an idea that, while it contained a kernel of truth, was exaggerated. It elevated Guardiola's team to the status held by Cruyff's: a road map and a gleaming blade, a future and a past.
There were some prejudices bound up in that, of course. Gerardo Martino would complain that his chances were limited by being neither Dutch nor "in-house." Luis Enrique at least was "from" Barcelona: an asturiano who left his hometown club Sporting Gijón to join Real Madrid and went from there to Barcelona, where he ended up with the captain's armband. This week he was asked how his 2014 had been. "The business," he said. "I managed Celta and survived comfortably then I came home, to paradise, to Disneyland."
It has been far from a fairy tale, though; there is trouble in paradise. The backdrop is a club adrift on uncertain seas and losing sight of land; as a result, there's also little sense of identity at an institutional level. Ever more, people are asking if Barcelona really are still any more than a club. Those asking most insistently are among their own fans. Do those who run the club know what it represents? And do they represent it? There is a lack of clarity and some of the decisions taken have been bizarre.
Fault lines are opening up, political pressure grows, widening the divide. Cruyff called it the "entorno"; the surroundings, that swirl of pressure, politics and self-interest. A poll this week in El Mundo Deportivo showed that a majority of fans would like the return of Joan Laporta as president. But because that newspaper is very firmly on the side of the current board, seemingly twisting and propagandising to order, the story didn't appear on the front page.
All of that feeds into and feeds off the football. This was always going to be a transitional season for Barcelona, different to previous years and, in all probability, more difficult too. Barcelona made six signings in the summer and a shift in style appeared inevitable, quite apart from the other problems faced -- like Thomas Vermaelen, who was signed injured and is still injured despite the sporting director declaring he was ready to play. Luis Suárez and Ivan Rakitic were not going to play like Pedro and Iniesta.
It was also the end for Xavi Hernández, or so it seemed; he was the architect and ideologue, more than anyone else the defender of the club's footballing identity. And even when he finally decided not to go to the U.S. -- "it would have been a hell of a mistake," he said this week -- Luis Enrique's response was to say: "Great, but don't break my b---- if you don't play." He had scrawled the writing on the wall.
As it turns out, Xavi has played rather more than expected. But that's still only eight starts in 16 league games. And this is a different Barcelona. Coaches who arrive at the Camp Nou know that there is an idea, an ideal, and that there are obligations that go with it. Anything that did not follow the same route, that was not the "Barcelona Way" -- even if the notion that there is a permanent "Barcelona Way" is flawed -- was likely to provoke rejection. Luis Enrique can certainly vouch for that. Increasingly he is digging in, seeing himself as under fire.
In part, he is right. Yet the problem is not necessarily that Barcelona have a different style -- although the constant, almost obsessive comparison with Guardiola's team, Pep's permanent presence, is far from helpful. Also, anything other than a reincarnation of the recent past was bound to bring debate and criticism. The problem is that Barcelona do not have a style at all.
It is not that they are playing in a certain way ... and why shouldn't they evolve to suit Luis Suárez, for example? Or that they play a little more directly. Or with two deep midfielders, however much of a heresy that is. No. It is that whether they win or not, they are too often playing badly or simply not playing at all. It is that the question "what are you playing at?!" can be levelled at them literally.
"I don't see any reason to be worried," Luis Enrique said after the win over Córdoba, and that was the most worrying thing of all. Every time he responds in a pugnacious way (he seems to have embarked on something of a spiral) instead of convincing or putting minds at rest, it leaves you feeling that he does not see the flaws. Or does not want to see them. That maybe he really does think that they are playing well. It's hard to avoid the conclusion that if he does have an idea, he has not succeeded in conveying it, either to the players or the public. Above all, he has not displayed it on the pitch.
At times it is all a bit baffling. Xavi was going, his time at an end. Now he's playing again. Martin Montoya was told to leave. He has started the past two games. And while Luis Enrique's openness and honesty is laudable -- he had always said that he is willing to let players prove him wrong -- the sense that the plan, if there was one, has fallen apart is concerning. Some days Barcelona apply pressure, some days they don't. And anyway, said one Catalan paper, "what's the point of pressuring to get the ball back if you don't know what to do with it?"
The talk for much of the campaign was of a new approach, and then when the clásico rolled round, there they were again: Busquets-Xavi-Iniesta. That day Jeremy Mathieu played at left-back. "I was surprised," he admitted. "If he's surprised, let's turn off the lights and leave," Luis Enrique replied. And so they continued in the dark, waiting for Messi to illuminate them. It is their good fortune that so often he does.
At the start of the season, Luis Enrique said he wanted his team to be unpredictable. He has achieved that, at least. Barcelona have played 22 games and there have been 22 different starting XIs. The defence changes by the game. So does the midfield. And while the front three is more or less clear now, the way it functions is not.
Messi started the season behind the strikers as a No. 10. It seemed perfectly suited to accommodating Suárez, the system set up in readiness, but when Suárez returned from his ban Messi returned to the forward line, sometimes on the right, sometimes in the middle. So, it hadn't been a plan after all?
This week, Gerard Piqué revealed the team he had chosen for his online football game "Golden Manager." It was supposed to be a bit of fun but there was something a little pointed in the exchange that followed. Piqué had Van Persie, Ronaldo and Messi up front. His wife, Shakira, could not believe her eyes. "Love," she said, "what are you doing with Messi on the right? He is a centre-forward. Wake up!" Piqué replied: "I know what I'm doing, babe! I've got my strategy, wait and see!"
Luis Enrique surely has a strategy too. But the wait goes on and so far, no one can see what it is.
Sid Lowe is a Spain-based columnist and journalist who writes for ESPN FC, the Guardian, FourFourTwo and World Soccer. Follow him on Twitter at @sidlowe.