Martino planning for Messi and Neymar
Gerardo "Tata" Martino said he will have failed in his role as new Barcelona coach if he is unable to get Lionel Messi and recently signed Brazilian star Neymar to play to the best of their ability in his starting lineup.
Martino, speaking at a news conference to announce his arrival at the Camp Nou on a two-year contract, has the task of accommodating two of world football's biggest stars next season -- one of them from his hometown of Rosario, Argentina.
But he is certain that Neymar, who arrived this summer on a five-year deal, and four-time Ballon d'Or winner Messi will complement each other perfectly on a Barca team that he believes can go on winning for many years to come.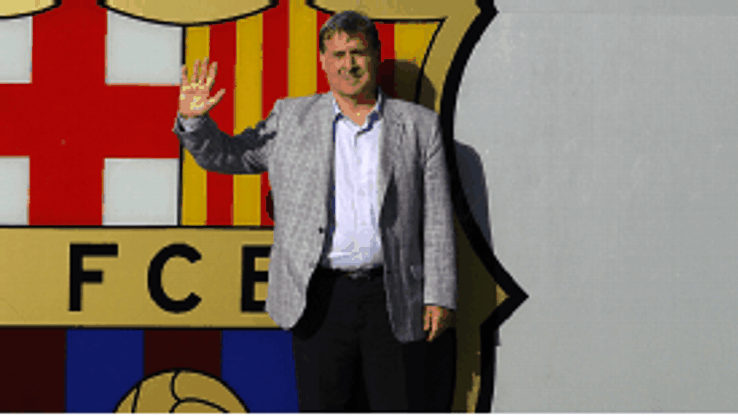 "I find it hard to believe two great players like Messi and Neymar won't be able to play together. It is not going to be a problem," Martino said. "If I can't make them play together, it is a deficit on my part as coach."
Martino said his first goal is to make sure the players are focused on winning.
"I think Barca getting this has many great years ahead. My goal is to get the players to know me and trust me and to help form a technical group," he said.
The 50-year-old Martino has never coached in Europe before, and after five trophy-laden seasons with coaches who had come up through Barcelona's youth programs, his signing represents a break from the line of in-house managers.
Martino considered it "normal" that he was relatively unknown in Europe. His greatest coaching achievements are leading Newell's Old Boys to the Argentine league title last season and Paraguay to the quarterfinals of the World Cup in 2010.
"I see it as a natural thing that people need to get to know me," he said. "If I had been working in Europe, then I would have been more well-known, but it was part of my life to coach in Argentina."
Martino said he would tweak the team he has inherited, looking to improve on something that was already working well.
There has been speculation that Messi's role in the Barca side could be changed to accommodate Neymar's arrival. However, Martino insists that Messi's importance to the cause is not in question.
"The ideal would be to have a team that helps me with all the options," Martino said. "Messi has played in different positions, but he is scoring more than ever. Lionel Messi will play at the same position. We want him to feel comfortable on the team as he has been."
Reports suggested that Messi, who is from the same region of Argentina as Martino and has connections with Newell's Old Boys, had helped his countryman secure the role.
Messi distanced himself from these claims, saying "I don't know him personally, and I never met with him," which Martino backed up.
"[Messi] said something that is really true," he said. "We are from Rosario and basically from Newell's, and we didn't know each other. In Rosario, we always said that he is the best player in the world and we always say that as we are coming from another place."
Martino said he would be happy to work with the team as it was. About Manchester United's bid for Cesc Fabregas, he had this to say: "I am not going to get into the economic interests of the club. If the club rejected the bid twice, they will reject a third time."
Martino confirmed that he had spoken to outgoing coach Tito Vilanova and took time to send his best wishes to him as he continues to receive treatment for throat cancer.
"I want to thank him for everything," Martino said. "We want to send him lots of strength. We don't know him, but we all know the situation and we have to understand. Fundamentally, we wish him the best."
Barcelona sporting director Andoni Zubizarreta said hearing the news of Vilanova's decision to step down was particularly difficult for the team.
"From the time we heard the news, the days felt so long, like 72 hours each because we were processing a lot of information, we were worried about Tito, and we wanted also to respect his space," Zubizarreta said. "I don't think I slept. The phone conversation [with Tata] was only an hour and a half, [but] the process felt like an eternity."
Martino will travel to Oslo, Norway, on Friday as Barcelona are getting ready to play a friendly against Valerenga on Saturday. The Spanish league is set to begin Aug. 17.
Information from The Associated Press was used in this report.