Three Points: Atletico Madrid vs. Real Madrid
Here are three quick thoughts from Atletico Madrid's 2-1 aggregate victory over Real Madrid in the Spanish Super Cup.
1. Simeone has no excuse for getting sent off again
Diego Simeone as usual epitomised Atletico's fighting spirit from the sidelines, patrolling his technical area with menacing strides and jabbing hands. That was until he was sent to the stands midway through the first half by referee David Fernandez Borbalan for twice tapping (or slapping, depending on your view) the head of fourth official Antonio Santos Pargana.
The Argentine was enraged -- as were most of the home fans inside the stadium -- as Fernandez Borbalan had not allowed Juanfran back onto the pitch quickly after the right-back had received treatment for a knee in the face from Fabio Coentrao. Madrid almost scored with Atletico a man down in defence for about three minutes.
But while the complaints were understandable, Simeone's reaction was not. Putting a hand on an official is just not done, and the taps (or slaps) showed a real lack of respect for Santos Pargana. Atletico often put pressure on officials during games, and their physical and aggressive approach forces referees to make many decisions, but their coach went too far here. Just as he did with his immature jousting with Madrid's Raphael Varane late in the Champions League final.
- #FCdebate: Are Ronaldo's injuries cause for concern?
- Ledwith: Barca hope to tick with Rakitic
- Lowe: Can Atleti repeat as champions?
Atletico's fans do not seem to care, and the Calderon regularly sang his name throughout the second half. He will have improved his image among the Colchoneros faithful even more by going to stand among them during the second half to watch the game.
There are potential further disciplinary issues if he was directing his assistant Mono Burgos from that position. But more importantly, Atletico's players seemed to be adversely affected by Simeone's actions -- their worst period of the game came directly after the sending off, when James Rodriguez and Gareth Bale missed Madrid's best two chances of the night.
2. Mandzukic stepping into Costa's shoes
The start was reminiscent of Barcelona's visit here in the Champions League last spring. Atletico roared out of the blocks with fearsome intensity. There were huge cheers as Simeone's side had their first corner and first shot on target both inside 60 seconds. The Calderon roof, if it had one, would have lifted off less than two minutes in when Atletico hit the front. This was the Rojiblancos of last season, all about power and aggression, with their centre-forward running riot.
For the rampaging Diego Costa then, read the powerful Mario Mandzukic tonight. The Croatian banged home his first goal on the volley from the edge of the area, having seconds earlier beaten Varane in the air to flick on the initial long ball forward. He was all power and menace and the Calderon crowd loved it, especially as he physically overpowered both Varane and Sergio Ramos. Those wondering how Atletico would do without last year's top scorer had an initial answer.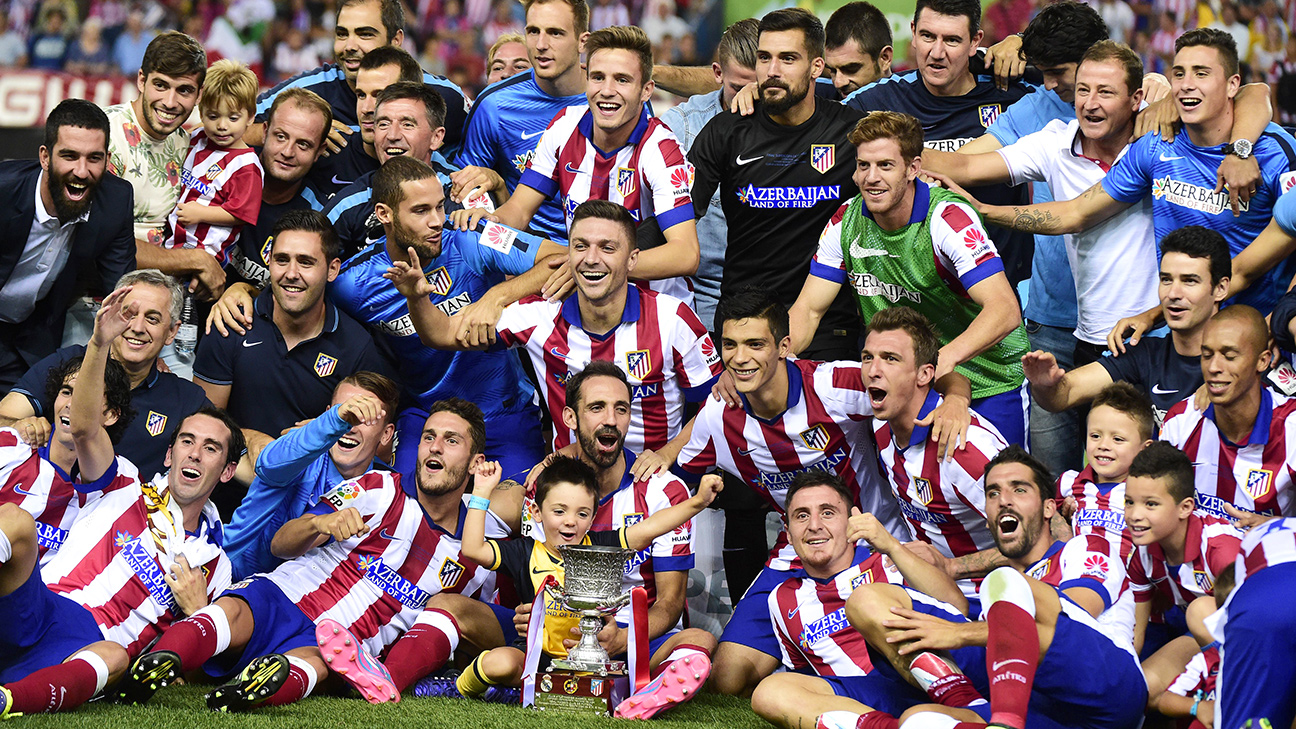 While clearly a good target man and decent finisher, Mandzukic does not have Costa's pace, though, an asset that was so useful for Atletico on the break last season. That came through particularly in the second period when the new No. 9 appeared to be clear behind the defence, only for Dani Carvajal to outsprint him and clear. His work rate off the ball was also a reminder of David Villa's herculean efforts last season even after his goal-scoring touch was missing.
But that might not matter so much. Antoine Griezmann spent most of the game right up alongside Mandzukic in a 4-4-2. And the former Real Sociedad man does have Costa-like pace, and especially in the second half he was regularly able to get on the ball and carry it forward, lifting the pressure off his teammates. Atletico's new front two are not exactly the same as the players they are replacing -- but the combination is potentially even more exciting.
3. Madrid not clicking
The flip side of Atletico's excellent start was how rocky the Madrid defence looked. The central pair lost two aerial duels for the first goal. First Mandzukic beat Varane in the air from the long ball forward, then Griezmann got up over Ramos to flick the second ball back toward his strike partner. Varane in particular looked rocky, and was regularly outmuscled by opponents, while Ramos was again sloppy in possession and almost handed a second goal to Griezmann after the break. Carvajal, who rushed in to make a necessary block on Raul Garcia and then outpaced Mandzukic when it seemed the new man was clean through, was the only Madrid defender to impress.
Collectively there were again issues defending set pieces. Early on the entire defence was caught out by a quick free kick, too, leading to another chance with Miranda's volleyed cross going just over the far post. Raul Garcia also could have had two or three goals as nobody in white could deal with his movement and strength from dead balls. Just before halftime he got free six yards out but headed over. Early in the second half another header from the former Osasuna man hit the crossbar, with only an excellent scrambling save by Iker Casillas stopping the loose ball being bundled in by Mandzukic.
Madrid's problems were not just at the back -- there were plenty of issues up front, too. Los Blancos had scored in their past 21 visits to the Estadio Vicente Calderon, but rarely troubled new Atletico keeper Miguel Angel Moya here. Their best spell came just before halftime, when James and Bale came close, with Toni Kroos to the fore in midfield.
Carlo Ancelotti's changes as the game went on did not help. James was less of an influence when he dropped deeper and Kroos came off at halftime. A not fully fit-looking Cristiano Ronaldo had little impact when he entered for the second period, and Karim Benzema has now scored just once in his past 15 club games. Bale looked red-hot through preseason but was off-colour here. Plenty to think about all round for Ancelotti ahead of the new La Liga season.