Real Madrid must be open about Bernabeu use for Copa final - Gaspart
Ex-Barcelona president Joan Gaspart says if Florentino Perez does not want the Santiago Bernabeu to host this year's Copa del Rey final then the Real Madrid chief should "have the guts" to say so.
Barcelona are to face Sevilla in this year's showpiece event, which is scheduled to be played on May 21, with the venue yet to be decided.
The final is usually played at a neutral ground, but in recent years Madrid have appeared to be against offering up their 81,000-seater stadium, even reportedly claiming in 2012 that it would be unavailable due to maintenance work in the toilets.
Barca president from 2000 to 2003, Gaspart told Esports Cope that this unwillingness appeared to be due to Madrid fans' fear of watching Blaugrana supporters celebrate a victory in the home of their rivals.
"Real Madrid are afraid that Barca will lift the Copa [in their stadium]," Gaspart said. "If that is the reason, well they should say it, they should explain very well to everyone what the reason is.
"Florentino, if you don't want Barca to play the final there, have the guts to say it publicly. For the distance from Barcelona and Sevilla, Madrid is the ideal place. [Atletico Madrid's] Calderon is very good, but the Bernabeu is better.
"The Copa final is a party for Spanish football, and the clubs and the federation should try so the most people possible can attend. If you want to hurt 10 or 12,000 Barca socios, and 10 or 12,000 from Sevilla, say so."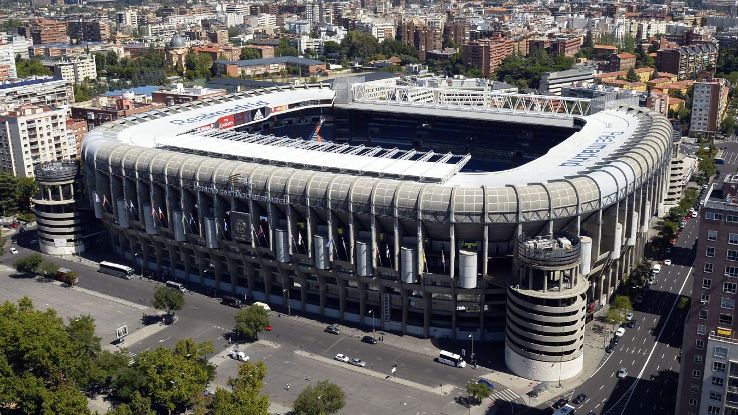 Barca's last Copa del Rey final win at the Bernabeu was in 1997, when Real Betis were beaten 3-2 in extra-time by a team coached by Bobby Robson.
Gaspart was then club vice-president and was said to have been involved as the Catalan side's anthem was played over the stadium speakers, with then-assistant coach Jose Mourinho singing along on the pitch.
"If Florentino says he doesn't want to hear again, four times, the Barca anthem, and see me with the scarf, I can tell him to relax, I will not go to the stadium," Gaspart said. "I will make the sacrifice and stay at the bar across the street and watch the game with my friends."
The Royal Spanish Football Federation's decision on the venue is due next week, according to Mundo Deportivo.
Last year Barca beat Athletic Bilbao 3-1 in the final held at their Camp Nou, but the stadium may be booked for a Bruce Springsteen concert on May 21 this year.
Sevilla coach Unai Emery, speaking after Thursday's 2-2 draw at Celta Vigo secured a 6-2 passage to the final, said he definitely did not want to play the game at Barca's ground.
"I hope it is not at the Nou Camp, I would even prefer to play it in China," Emery said. "You cannot give them another advantage, or give them a second [Lionel] Messi. I would like to play it where the Sevilla fans are most comfortable."