Denis Cheryshev shrugs off Barcelona chanting on Valencia debut
Denis Cheryshev has said he was unfazed by Barcelona fans mocking his time at Real Madrid during his debut for Valencia on Wednesday night.
Cheryshev, 25, joined Valencia on loan from Real in the January transfer window after having made an appearance in the Copa del Rey for Los Blancos that saw the Spanish giants expelled from the competition.
The winger was ineligible to play for the Madrid side in the Copa del Rey as the result of a suspension he picked up during a loan spell at Villarreal last season but was given the green light to feature in this week's match for Valencia against Real's rivals Barcelona.
The match ended in a 7-0 win for Barca, while some fans chanted "we love you Cheryshev, we do," according to AS.
Cheryshev said: "I don't listen to any of that. I tried to do my job as best I could, concentrating on that. I just want to do my job, the rest doesn't affect me."
Asked about Valencia's loss and their poor form under manager Gary Neville, the Russia international added: "I understand people are angry, I'm hurting too, we know Valencia can't play like this.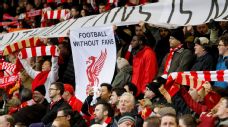 "We need to be united, now more than ever. After a result like this, we have no other choice.
"We're hurting for the way the game went. Not just because of the goals, but for the awful account of ourselves we gave.
"We were never in this game. We gave a very poor image of ourselves but we have to get back up quickly, Liga is up next".
Speaking in his postmatch news conference, manager Gary Neville denied he would resign after such a heavy defeat.