Lionel Messi incident played down by Espanyol goalkeeper Pau Lopez
Espanyol goalkeeper Pau Lopez has denied he deliberately stepped on Barcelona star Lionel Messi's leg during Wednesday's bad-tempered Copa del Rey derby at the Camp Nou.
Barcelona won the Copa round-of-16 first leg 4-1, in a physical encounter which saw eight Espanyol players booked and two sent off during the 90 minutes -- and then an incident between the teams in the tunnel after the game.
TV pictures appeared to show the Girona-born keeper putting his right boot down on top of Messi's left ankle as he got back to his feet after the two came together in the six-yard box during the second half.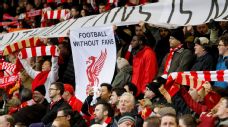 After the alleged stamp made headlines in Spain and elsewhere, he said he had wanted to take Thursday's post-training news conference to say that all the "noise" around the incident was wrong as he would never deliberately hurt a fellow professional.
"I am coming out here because of the reaction," Pau said. "There has been a lot of noise about everything. I want to clear up that I never go onto the pitch to harm a fellow professional. It was just one more action in the game. They also faced up to me -- these are things that happen in a game."
An incident after the match was mentioned in the official report filed by referee Juan Martinez Manuera, with Blaugrana forward Luis Suarez said to have taunted the Espanyol players.
This led to a confrontation in the Camp Nou tunnel, and may bring a punishment for Suarez from the Spanish authorities. Pau, 21, said he had not witnessed all the events, but was sure the officials' version was correct.
"The referee's report tells what happened," he said. "I don't know exactly how it all went, I arrived late as I had been speaking to someone from Barcelona. The fourth official must know what happened, and if he wrote that, then it's what happened."
After the match, Barca defender Gerard Pique questioned Espanyol's ability to fill their 40,500-capacity Cornella-El Prat stadium for the return game next week.
Pau said he had not been surprised by the remarks from Pique, but neither he nor his Espanyol teammates were interested in responding.
"We all know Gerard, someone who likes that people talk about him," he said. "He will not get a response from us."
Despite Espanyol having been well beaten in the stop-start game -- with Barca's goals coming from Messi (two), Pique and Neymar -- former Espanyol youth-teamer Pau said he had enjoyed the 90 minutes and held no hard feelings afterwards.
"It is the game I most enjoyed on the pitch," he said. "I enjoyed it like a kid. When the official blows the final whistle, the game is over and we are all colleagues. If there are Barca players who did not want to shake my hand, that's their problem. It is good to shake hands as we are all fellow professionals."