Valverde and Solari, producing diamonds under pressure of Barca and Madrid, are brothers in arms
In many ways Ernesto Valverde and Santi Solari -- vastly different as men, footballers, in ages, nationalities and experience levels -- are as alike as peas in a pod right now.
At Barcelona and Real Madrid respectively, the amount of actual coaching they need to do is in directly inverse proportion to the amount of man management, problem solving and team-spirit building. As the two men prepare to face each other in a Clasico for a first time, try to analyse and outguess what their rival will be planning, I'll bet it sinks into their consciousness that they are brothers in arms.
The Copa del Rey semifinal -- the first leg at Camp Nou this week, the return in the dog days of February -- highlights that Los Blancos and the Blaugrana are steered by two men who've had to develop and apply the wisdom of Solomon.
Take Valverde. It's a matter of fact that a hardcore segment of Barca fans still don't much rate him as a coach. By "coach" I mean his tactical nous, his strategic ideas, the brand of football he espouses, when he is and isn't willing to take risks -- particularly in promoting youth and opting to try to turn a 2-0 lead into 6-0 ... rather than maintain the winning margin.
I emphasise, these are a rubric of his critics' criticisms; not mine. But I contend that only the stupid, biased, obtuse or liars would argue that Valverde doesn't profoundly understand his troops, understand precisely what he has to do with them. The fact that he's won Lionel Messi's trust and compliance should be blindingly obvious. Not only has Barcelona's resident genius played well under Valverde, he's even accepted the idea that he can rest in the Copa without his world ending. For any Camp Nou coach, winning Messi's respect is paramount.
Then there's Ousmane Dembele. How Barca lost Neymar, how much Dembele cost, what state of maturity and mental readiness the Frenchman possessed on arrival -- none of these were within Valverde's control. Nor was the lengthy injury Dembele sustained no sooner had he joined last season.
A short showreel of his subsequent problems include a lack of football awareness on the pitch, a distinct need for gym work to make his upper body capable of withstanding the slightest contact from bruising defenders, an immature tendency to stay up too late in his lovely apartment and then either miss deadlines or miss training the next day.
When a kid has cost upwards of €120 million, looks like he's that atrocious mixture of immaturity and arrogance, and is wealthy beyond belief, most managers would run a mile. These problems are the blight of modern football.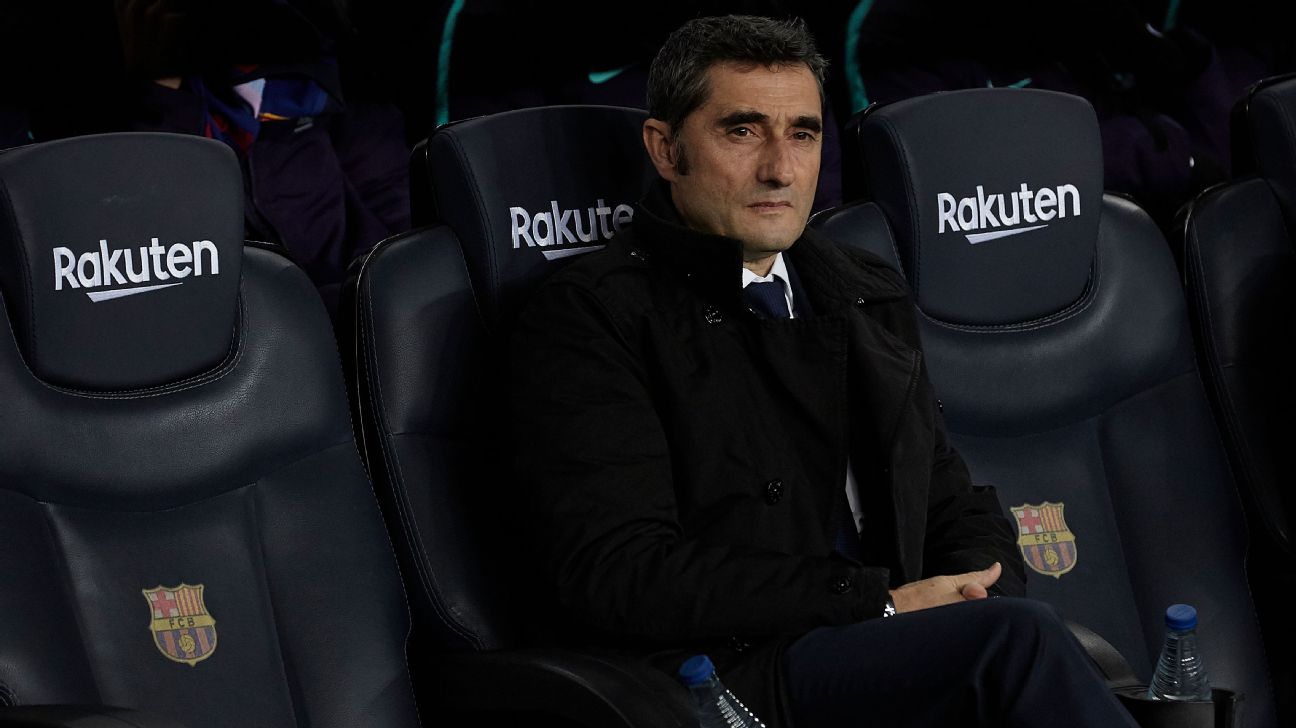 So, let's take stock.
Albeit that Dembele unquestionably deserves praise for smelling the coffee, listening to Messi and Luis Suarez, apologising for his tardiness and, basically, giving himself a right good shake -- Valverde's management of the young buck has been superb.
Tolerant when some bosses would have dropped and humiliated the winger. Patient with the on-pitch learning that asks him to think-pass-move instead of improvise-juggle-lose the ball -- Valverde has been rewarded. Team tactics and team strategy bear very little part in the huge advance Dembele has shown, to the extent that his recent absence through injury makes Barcelona look slightly lame without him.
Valverde has coaxed him, taught him, given him space, but also pushed him. He's played the Frenchman in the right games, shown trust in him and not felt personally challenged or undermined by the kid who can't set his alarm clock properly.
Arturo Vidal's another example.
He arrived thinking of himself as "King" Arturo and was ready to unsheathe his sword and go on the attack when Valverde, initially, used him sparingly. Now, thanks to another mix of stick and carrot, patience and firmness, Valverde has made this self-anointed football royalty humble and effective.
Vidal's attitude on arrival was "Ancient Regime," now it's "Winning Regime." The Chilean, having moaned on social media, spoke to national media in his home country to say: "Of course I'm not happy not to be playing." He was dropped, re-educated and has come out the other side a one-man raiding party who's going through prodigious amounts of ball-robbing and opponent ruffling.
Valverde has improved Nelson Semedo, immensely, has trusted young Arthur, brought Carles Alena not only into the first team squad but into match action. This kid is a gem, but now he's also trusted and given responsibility.
I'm not saying Valverde's not tactical. The system he's devised to try to minimise the amount of running and turning Sergio Busquets is forced to do has been a benefit to the Spanish champions. But Valverde's calling card -- including how to solve the problem of Messi's injury absence in the autumn -- has been to not only put out fires, but to toast some delicious marshmallows on the flames first.
Chapeau to the Basque.
Solari? He's physically different from Valverde, a different kind of player, from another continent, another age, more successful in terms of trophies as a footballer, younger -- and under far more pressure.
There are many who, having seen the paucity of Madrid's play in their humiliation at Eibar and their inability to cope with Real Sociedad at the Bernabeu still doubt Solari's tactical, coaching and strategic capabilities. But, like Valverde, he's completely imposed his man-management skills on situations that were hindering the team's progress. Having solved them, Solari's made Madrid the rising force in La Liga right now.
Prime examples are Isco, Vinicius, Marcelo, Sergio Reguilon, Thibaut Courtois and Karim Benzema.
Once Isco came back from his appendix operation and found that his benefactor, Julen Lopetegui was but a golden memory, he slacked. Whether more in his diet, his training or his attitude matters little now. What began looking like a bit of in-house bullying, Isco disappearing from squads and team sheets, has turned into a salient lesson for the gifted midfielder, the other players, the media, the fans and, dare I say it, Real Madrid's president.
Solari, although it didn't initially look this way -- certainly to me -- was right in sending a thudding warning shot into Isco's ribs. The message? Time for him to put in the work, to slim down, to follow house rules, to get back to basics -- or to miss out.
Precisely the same ideals have been applied to Marcelo. And how long that has been in coming. The Brazilian is both brilliant and iconic of Madrid's European domination, but he's overweight and defensively lazy.
It took Solari, a debutant senior coach who can't afford to put a foot wrong if he in any way expects to keep this job beyond June, to lance the boil. Marcelo dropped, Reguilon justifiably promoted, and the Brazilian given a choice: "Shape up or don't play." It was overdue, and totally applaudable -- plus it made the Isco situation look less personal at the same time. Marcelo has been treated the same way, and deservedly so. And Reguilon, clearly on the evidence since being promoted at Marcelo's expense, moved up on merit.
Marcos Llorente was promoted and trusted, to the extent that Madrid now have a dynamite central midfielder who can either take Casemiro's place, play alongside him in a 4-2-3-1 formation or breathe down his neck so that the Brazilian bucks up. Vinicius, increasingly looking like the football world's most exciting young player, was also promoted and trusted, and is now adored and flourishing in the most remarkable way.
Kudos to Solari.
That's not team tactics, that's not coaching per se -- it's management. Team management, situation management, risk management -- problem solving. Now each of these under-pressure coaches is faced with more problems to solve this week.
Valverde -- who's tried to listen to Carles Puyol's summer complaint that Barca must put less emphasis on the Copa so as not to crumble in the Champions League in March or April -- needs to decide whether risking Messi, who sustained a slight muscle strain on Saturday, is the right thing to do when Europe's elite competition is just around the corner again. Don't let anyone tell you that the Champions League isn't the priority of every last man at the Camp Nou. It is.
Then there's Solari. His team is on the rise, it's quite feasible that they can knock Barcelona out of the cup over two legs, and their Catalan rivals looked leggy, a bit foggy when drawing 2-2 against Valencia. So, front foot for Los Blancos. All out. Charge!
Right? Well, perhaps not. It's the Madrid Derbi this weekend, a must-win game for bragging rights, for his personal future in the job, for any slight chance Los Blancos have of winning the title now that the point gap has been reduced from ten to eight.
Dilemmas, decisions, delights, all lying in front of the brothers in arms who are sporting enemies, but peas in a pod, this week.