Alaves' fairytale season continues with deserved Copa del Rey final berth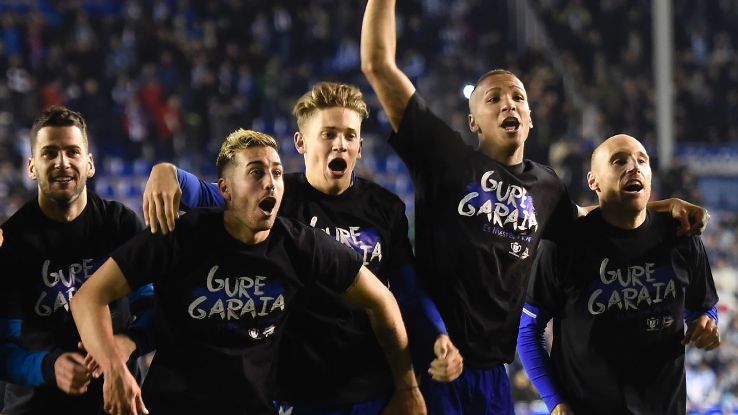 Mara knew. When Edgar Mendez woke from his siesta on Wednesday afternoon, his girlfriend told him: "You're going to score tonight." Not just any goal, and not just any night either. This was the night, the biggest Alavés had experienced in 16 years, some even said their biggest ever, although that may now still be to come. As for Edgar, he was going to score the biggest goal. History made, a hero for the ages.
There were 11 minutes left when he came on as a sub; two minutes later, he raced through into the penalty area, one-on-one with Sergio Álvarez. As he cut across, for one brief moment, 20,000 people held their breath ... and then let it out again when he put the ball past the Celta de Vigo goalkeeper and into the net, just as Mara had predicted. That collective breath came out in a roar, louder even than before. Mendizorroza, where the noise already made your ears bleed, songs belted out and still bouncing around your head the next day, found a way to rise a decibel or two.
There was still suffering to come. It was only 1-0, and an away goal would have put them out. The injury time board went up with six minutes on it. Alavés' goalkeeper went up, too, the ball pumped long. There was no one on the bench anymore; they were all on the touchline, leaping up and down, waving their arms frantically. Blow your whistle, will you! Eventually, he did. They'd done it. Edgar had scored the goal that took Alavés to the final of the Copa del Rey.
Players collapsed on the pitch and embraced. Piles of bodies built up. Many of them approached their fans to hug them and share this moment. Alaves striker Deyverson went to the Celta fans instead. He shook their hands, embraced some of them and said sorry. They had come a long way, and many were in tears. Celta's players went across too, then headed down the tunnel, sunk. Alavés' players stayed out. All around the noise was relentless, song after song. They went on a lap of honour round the pitch, regaled with the full repertoire.
When they reached the dressing room, one player sent a text message to someone he knew was waiting for him: "Hang on, I might be some time...." Well, of course. There were celebrations to be had. And rightly so.
At the final whistle, there had been fireworks racing from the roof, exploding in the cold, wet sky. Players were handed T-shirts to wear. "Gure garaia," it said on the front. "Our moment." It was that, alright. "A gift," the manager said.
The fireworks and the celebratory T-shirts had been prepared. Someone somewhere had thought this possible. By Wednesday night, at least. Not before. This was, their manager Mauricio Pellegrino admitted, "unthinkable." Recently promoted Deportivo Alavés, outside the first division for a decade, had just reached the Copa del Rey final.
Celta defender Jonny said, "They had more balls than us." Pellegrino put it differently: "The heart this team has shown is incredible."
Heart, work and intelligence too. And lots of it. Hope. "Team sports always give you the hope that you can compete with the best," Pellegrino said. "One of the lovely things about sport is that it's there for those people who really want it. Yes, prestige matters, but for those that really want it, those who have desire and passion for something, those who can grab it and hold on with all their strength, working daily for it, you can do it."
Alavés had done it. Can they do it again? they were asked. Can they really beat Barcelona? "Well," replied Ibai Gómez, scorer of two goals in the last five minutes of the quarterfinal having just come off the bench, "we already have." A team that went into administration less than a decade ago and only came up this summer beat Barcelona at the Camp Nou and, on Wednesday night, they beat Celta too. That team has reached the cup final.
Alavés, the team that was in the regionalised, four-division, 80-team, theoretically amateur Segunda Division B four years ago -- not so much Spain's third tier as anywhere between third and seventh. The team whose central midfielder and captain thought he was not good enough for the top flight but has now played in the Second Division B, the Second Division and the First Division for the club. The team whose striker was relegated last season, just like the guy playing to his left. The guy to his right played just five games for Athletic. Together, they had made it to the cup final.
As for Edgar, the man whose goal had gotten them there, his teams have been relegated in two of the last three seasons, and only a "miracle" meant Granada didn't make it three from three. He had scored just six goals over those three seasons; he has more than that this season alone, including the goal that took Alavés to the cup final, quite literally sparking fireworks in Vitoria. More than that: It took Alavés to the first Copa del Rey final in their history, at the "age" of 96. They have never won anything.
Alavés have only ever been in one final before, the 2001 UEFA Cup against Liverpool in Dortmund. They lost 5-4, but once the initial pain went away, they knew that in a way they had won anyway, their name booming out from the Liverpool end as they collected their medals. It was a moment that would never, ever be repeated. Or so they thought. In fact, not long ago, they thought they might never, ever play again, so bad was the situation. Now look at them.
In 2001, Alavés marked the occasion by wearing a special shirt that carried the names of every member, fans woven into the fabric of the club. Right in the middle of that shirt, worn in the only final they have ever played and amid the sea of names, it says Manuel García. His name appears just below that of his father. In May, his name will be on the shirt that Alavés wear in the Copa del Rey final too, only this time it will be written in much, much bigger letters, and it will be on the back, not the front. Below it will be No. 19. Over the sleeve will be the captain's armband as he leads Alavés out of the tunnel.
Sid Lowe is a Spain-based columnist and journalist who writes for ESPN FC, the Guardian, FourFourTwo and World Soccer. Follow him on Twitter at @sidlowe.