Lionel Messi and Neymar back to their best as Barcelona ease past Espanyol
Lionel Messi produced a faultless performance as Barcelona beat Espanyol 4-1 in the first leg of their Copa del Rey last 16 clash at the Camp Nou.
The Argentine was directly involved in all four of Barca's goals, scoring two and assisting two more, and was a constant source of frustration for Espanyol with his precise passing and rapid movement.
Fellow forward Neymar also tormented the Blaugrana's city neighbours with his quick feet, and the volleyed finish for the fourth home goal was among the best in his catalog. In the midfield, Andres Iniesta continued to roll back the years with another majestic showing, while Arda Turan offered plenty of encouragement in his first start since signing from Atletico Madrid last summer.
The only negative for the home side was the first goal of the night, scored for the visitors through Felipe Caicedo after a sloppy mistake from Dani Alves and lightweight defending from Javier Mascherano. That will likely matter little, as two red card suspensions as well as a 4-1 deficit should be too much for the Periquitos to battle back from in the return leg.
Espanyol
Barcelona
Game Details
Player ratings (1-10; 10 = best. Players introduced after 70 minutes get no rating):
GK Marc-Andre ter Stegen, 6 -- Tasked with adjusting to a tricky winter wind when Espanyol played a few high balls toward him in the opening stage of the game, the German adjusted well, and after that was largely a spectator. Great with his feet as always.
DF Dani Alves, 4 -- Made a fatal error by giving the ball away needlessly to Marco Asensio when he had little cover behind him, helping Espanyol to break, then score the opener. A subdued night, which was brought to a close in the 67th minute.
DF Gerard Pique, 7 -- Made an important headed block to snuff out one of Espanyol's best opportunities in the first half, then finished like a true poacher three minutes into the second, following a well-weighted cross from Messi.
DF Javier Mascherano, 4 -- On one of the few times the centre-back was asked to defend, he was all over the place, being wrong-footed by Caicedo's touch, and allowing the Espanyol man to shoot unopposed. Tidy on the ball, otherwise.
DF Jordi Alba, 7 -- Worked hard in defence to prevent Espanyol from counterattacking effectively down his flank, and also got involved regularly in attacking moves further up the pitch. Miles ahead of any other option Barca have at left-back at the moment.
MF Sergio Busquets, 6 -- Showed shades of his upbringing as a street footballer by getting stuck in to the more physical aspects of the derby, and was typically precise in the more delicate matter of playing the ball, though not as influential as in recent games.
MF Arda Turan, 7 -- The Turk's passing and dribbling was much better than was to be expected on his debut, driving several attacking moves from both the middle of the pitch and the final third. The only sign of his lack of competitive action came in his poor finishing, with two decent chances to score not taken, as well as the odd movement which was out of sync with his counterparts. Otherwise, an excellent start for the summer signing.
MF Andres Iniesta, 8 -- The veteran was in vintage form, producing jaw-dropping dribbles and spraying a range of passes around the pitch, including a perfectly weighted assist for Messi's initial equaliser.
FW Lionel Messi, 10 -- Back to his unstoppable best. Scored the initial equaliser with a neat left-footed finish after a clever diagonal movement into the box, then put Barca ahead with an unusually powerful free kick just before the break. After half-time he whipped in a great assist to Pique, before signing off with a lovely wall pass that teed up Neymar for the fourth home strike. Perfect.
FW Luis Suarez, 6 -- The Uruguayan wasn't at his best in front of goal, but away from it his touch was sound. A few lovely first-time passes helped to accelerate the pace in the final third. Almost lost his cool on a few occasions, however.
FW Neymar, 9 -- The No. 11 was key to Barcelona's first goal when he won possession back high up the pitch before feeding it on to Iniesta. He should have won a penalty 10 minutes later, beating Javi Lopez to the ball only to see his foot dragged away. Finally found the net in the 88th minute after linking up with Messi, then unleashing a sweet volley on the outside of his boot. Quick feet, quick on the ground, and quicker in the mind than most.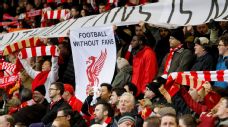 Substitutes:
DF Aleix Vidal, 5 -- On for Alves to make his debut with just over 20 minutes left to play. The Catalan managed a shot on goal, but not with enough power to beat the goalkeeper.
MF Ivan Rakitic, 5 -- Replaced Turan in the 67th minute, but was unfortunate enough to coincide with the game descending into chaos thanks to Espanyol's two red cards. There weren't many opportunities to impress as a result, though the Croatian did force one of many good saves on the night from Pau.
Lee Roden is a European football writer based in Barcelona. Follow him on Twitter: @LeeRoden89.