Pogba happy at Man United despite Real Madrid 'dream' comment - Solskjaer
MANCHESTER -- Ole Gunnar Solskjaer insists Paul Pogba is happy at Manchester United despite a public flirtation with Real Madrid.
Pogba said a move to the Bernabeu is "a dream for anyone" while manager Zinedine Zidane has said he likes the French midfielder "a lot."
Sources have told ESPN FC that United are determined to resist any big money bid that might arrive in the summer and Solskjaer is planning on having the 26-year-old in his team next season.
"I don't like to talk about other teams' players of course but this is another challenge with international breaks players are available all the time as well and it's a different environment," Solskjaer told a news conference on Monday.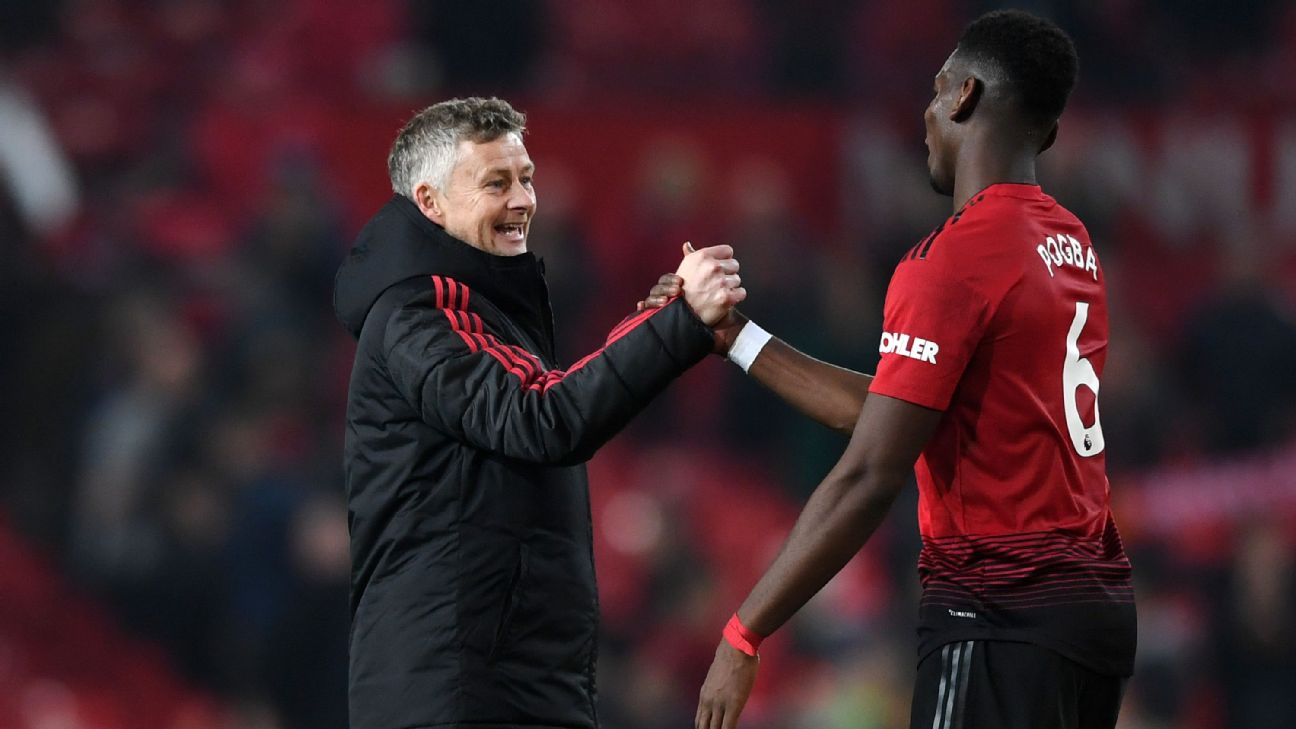 "Paul is a very nice and polite man who then answered a general question on Zidane, who is an icon in France -- a fantastic manager and used to be a fantastic player.
"He's just politely answered that question but Paul is happy here. He is going to be a big, big part. You like to build your team round him and that hasn't changed at all."
Pogba will be part of United's squad for the trip to Wolves on Tuesday as Solskjaer's team look to take another step towards finishing the season in the top four.
Romelu Lukaku and Anthony Martial are fit while Victor Lindelof is ready to be recalled after missing the win over Watford on Saturday because of what Solskjaer described as off-field "issues."
Solskjaer said: "Anthony will be fine, he's going to be okay. Victor has had a good few days of training now so he'll be ready. Apart from that, [Matteo] Darmian and Eric [Bailly] are still out. [Antonio] Valencia is still out and Alexis Sanchez is still out. But it's a good strong squad."
Following the game at Molineux, Solskjaer will have more than a week to prepare his players for Barcelona's visit to Old Trafford in the Champions League quarterfinal.
The Norwegian says the break will give the club a chance to talk to assistant Mike Phelan about following Solskjaer in extending his stay and take his place in a new set up that will also include a newly-appointed technical director.
"I think Ed [Woodward] and Mick will get things sorted very soon, he's a key part of the club," Solskjaer said.
"Football has changed and the structure at football clubs has changed, me and Ed and Joel [Glazer] for that matter are looking to how can this club be ran as smoothly and as well as possible so we'll see what the club will end up with.
"I'm happy discussing football with knowledgeable people in the right positions anyway."