Marco Asensio happy at Real Madrid, 'would not go to PSG'
Marco Asensio says he has no intention of leaving Real Madrid and was surprised to see Neymar join Paris Saint-Germain from Barcelona this summer.
Asensio, 21, has emerged as one of the best young talents in world football over the last year, earning a regular place in Zinedine Zidane's side and making his first senior start for Spain in the recent 3-0 World Cup qualifier win at home to Italy.
He had been linked with clubs including Paris Saint-Germain, Arsenal and Barcelona earlier this summer, with the clubs said to have been ready to trigger his €80 million release clause.
Mundo Deportivo has since reported that he is likely to increase that clause to €150m with a new deal in the coming weeks, and the attacker told radio show "El Partidazo" that he has no plans to leave the Bernabeu.
"I have a release clause although I don't think I'll be leaving here," Asensio said. "With how well I have been playing, I have earned the love of the fans. My idea is to stay. I would not go to PSG. I am happy here."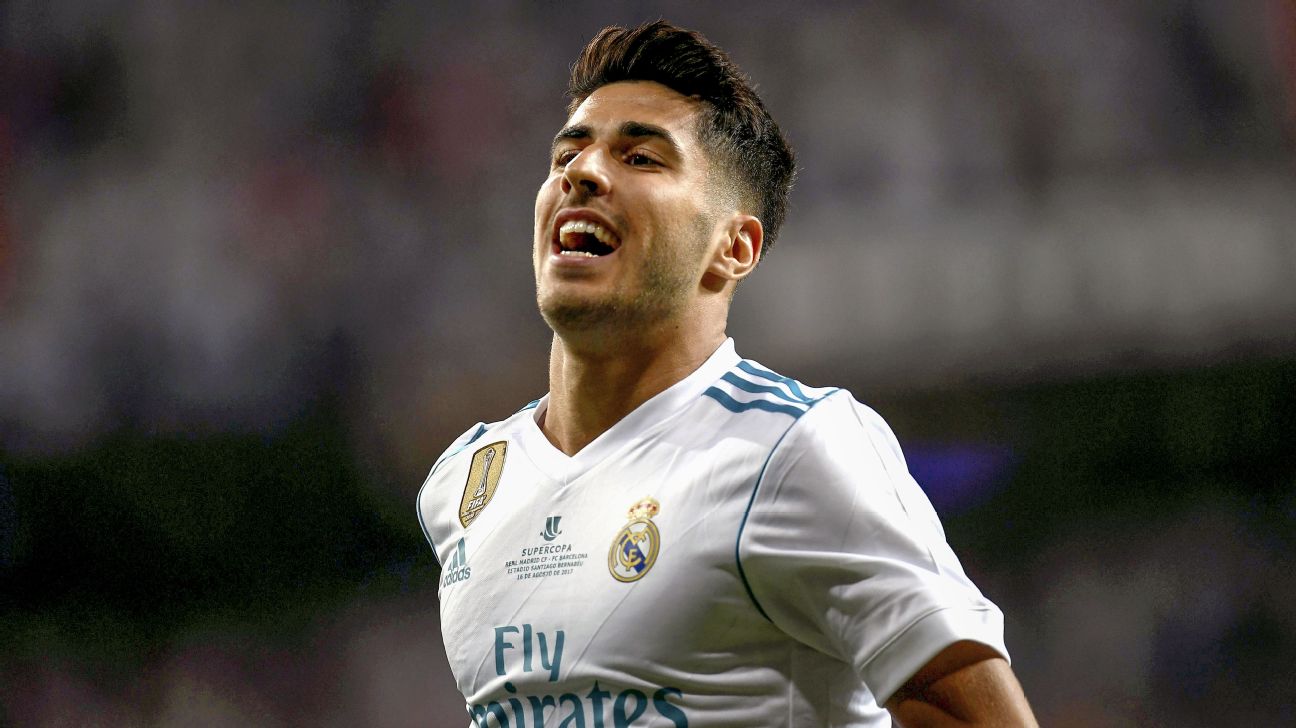 Asensio said former Barcelona star Neymar's world-record €222m move to PSG this summer had surprised the Madrid dressing room.
"It seemed strange to us that Neymar left Barcelona," he said. "He was an important player for them. It was a bit strange that they could not keep him, but that is their business."
Asensio had been close to joining Barca in 2014 only for the deal to fall through when the Camp Nou hierarchy could not agree a payment schedule, with Madrid agreeing a €3.9 million transfer a few months later.
"In the end it is about fate," Asensio said. "The Barca deal was not done, and I am delighted to be at Real Madrid and to be able to defend this shirt. They were difficult days. When [agent] Horacio [Gaggioli] called and said Real Madrid were interested in me, I told him I only wanted to play there."
Asensio also said that Zidane had drawn comparisons between him and Barcelona star Lionel Messi.
"Zidane told me that, since Messi, he had not seen a left foot like mine," he said. "I was a bit shocked. Messi is a great player."
Asked to compile a player from the assets of other world stars, Asensio included Madrid teammates Cristiano Ronaldo, Sergio Ramos and Toni Kroos.
"Left foot: Messi ... well, no, mine," he joked. "Right: Cristiano. Heading: Ramos. Thinking: Kroos. Long balls: Kroos. And leader: Sergio Ramos."
Asensio was named after former Netherlands striker Marco van Basten by his late Dutch mother, the player said former Madrid striker Ruud van Nistelrooy had tried to convince him to play for the Oranje.
"Van Nistelrooy called me to come and play for Holland," he said. "I was speaking with him for a bit, and then he put on the national coach and he told me he wanted me at all costs. The truth is I never doubted though. I decided to play for Spain."
Dermot Corrigan is a Madrid-based football writer who covers La Liga and the Spain national team for ESPN FC. Follow him on Twitter @dermotmcorrigan