Striker Negredo 'top of City wishlist'
Manuel Pellegrini has said he hopes Manchester City will make a signing in the next few days – and ESPN has been told that Sevilla striker Alvaro Negredo is his top target.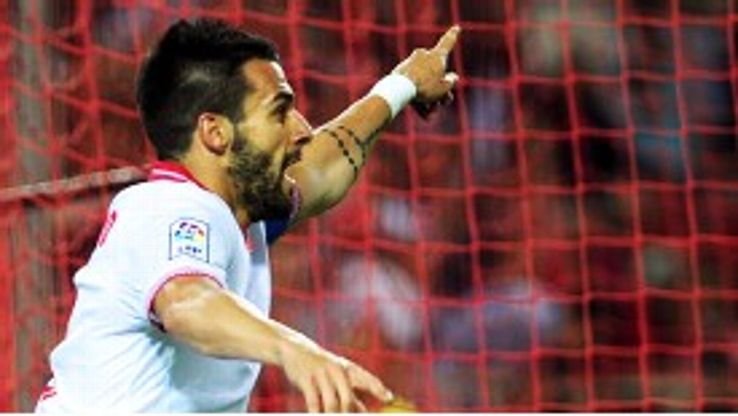 - McMath: Time right for Negredo
City are looking to find a replacement for Carlos Tevez, who was sold to Juventus and Negredo, 27, who scored 25 goals in La Liga last season, fits the bill.
Pellegrini has said his main priority in the transfer market is another forward, with Sergio Aguero and Edin Dzeko currently the only specialist attackers in the City squad.
The manager and his players have flown to South Africa to begin a pre-season tour, facing Supersport United in Pretoria on Sunday and AmaZulu FC in Durban on July 18.
He told the Manchester Evening News: "We will try to have a very good squad this year so, as you say, we are in the market. We don't know at this moment who is going to come here, but we are trying to get the best players for us to add to our squad.
"I don't know if, before we finish here in South Africa, other names will arrive to our squad. Maybe, in the next few days, we can have fresh news."
On Thursday, Negredo said his future could lie away from Sevilla, and the Spanish club, seem to have already signed a replacement in the shape of Colombian forward Carlos Bacca.
City are also interested in Fiorentina's Stevan Jovetic, but Negredo, who has scored 70 goals in four years for Sevilla, tops their shortlist.