Real Madrid's Raphael Varane: Zidane helping improve my attacking game
Raphael Varane says Real Madrid coach Zinedine Zidane is teaching him that attack can be a good form of defence.
Varane, 22, has already emerged as one of the best young centre-backs in the world during the five seasons in which he has been involved with Madrid's first team.
But the France international says that since Zidane took over from Rafael Benitez in January, he has been giving him tips on how to improve his attacking game.
"For a start, he explains to you that a defensive player should play offensively -- to look forward," he told L'Equipe. "The intention should be there from the outset.
"He made me understand that passing the opposition lines is a protective gesture. You also defend by clearing the danger in a constructive manner."
Being aware of how you can help build an attack, Zidane believes, is just as important as the basics of defending.
"To anticipate, read the trajectory [of the ball], put myself at the service of the collective defensive balance -- I knew how to do all of that," Varane said.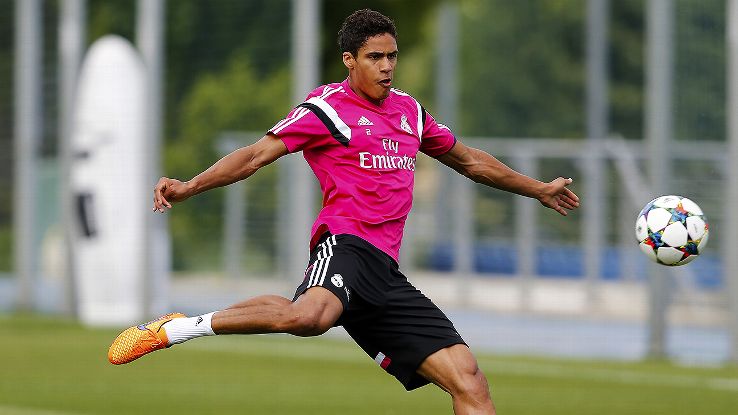 "Now he expects the same finesse from me in my offensive anticipation. If I know where to play before receiving the ball, it's more simple, more fluid."
Varane says he often receives advice from Zidane before games and that his manager's previous experience as a former France and Madrid player is telling.
"He repeats to me that, whoever the opponent, you have to play with the same intention, the same philosophy -- always looking forward," he said.
Varane's club and international teammate Karim Benzema is currently suspended from playing for France after being charged with conspiracy to blackmail over an alleged attempt to extort money from Lyon winger Mathieu Valbuena using a sex tape.
While Varane says the controversy involving the two France internationals has clearly been "negative" for the national team's image, he does not believe it will have long-term consequences on the Euro 2016 hosts.
"You have to be able to disregard certain events," Varane said. "Some people have more difficulty keeping things in perspective or thinking positively but it's nevertheless essential.
"We know that there will be huge pressure on us at the Euros at home in France. If we start to be destabilised by what's said on the outside, we won't pull through. On the inside, it's vital that there are only positive feelings and a good atmosphere."