Zinedine Zidane coaching Real Madrid seemed unlikely in playing days - Raul
Former Real Madrid striker Raul Gonzalez said he did not expect his former teammate Zinedine Zidane to become a coach when they were teammates together.
Raul and Zidane spent five seasons together at the Estadio Santiago Bernabeu, winning the 2002 Champions League and 2002-03 La Liga title, and then suffering through three trophyless seasons until the Frenchman retired in 2006.
Since leaving Madrid for Schalke in 2010, Raul has not returned to the club in an official role. But Zidane stayed close to club president Florentino Perez and was an assistant coach under Jose Mourinho and Carlo Ancelotti, then Castilla [B team] boss, before being appointed to succeed Rafa Benitez as first team coach last January.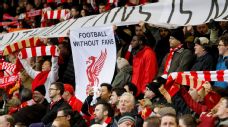 Speaking in his current role as La Liga ambassador, Raul told Beinsports, as quoted by AS, that it had not always been clear Zidane would become a coach, but he knew know that his friend had dedicated himself to learning the ropes with Castilla before taking the top job.
"If you had asked me when we were players... I would have said no, there was not much chance, but now he is there," Raul said. "I was with him a few months ago, and he was very happy, very dedicated to Castilla's season, beginning his second year there."
Raul said that having been a world-class player, who won a World Cup and European Championship with France, as well as many honours at club level, would help ensure that Madrid's players took his message seriously.
"[Zidane's] message will reach the players as he has been a world class player," he said. "For how he played, what he did, what he won. I believe he knows how to transmit his message to a squad with enormous quality. He knows what the fans want, so why not dream that this year can have a happy ending. If not, he should get time so that next season all this can bear fruit, all the work he can do."
The interview was conducted by Jorge Valdano, who as Madrid coach gave a 17-year-old Raul his debut back in 1994, and was sporting director in two spells under Perez, and most recently leaving in summer 2011 after falling out with Mourinho.
Raul said he believed that patience was key to sporting success, and it was sometimes lacking at Madrid.
"I believe that patience is fundamental in football," he said. "It is difficult as sometimes patience is not there. You must have a clear idea and a path you want to take. Projects run for two or three years.
"But this is Real Madrid, and sometimes there is no patience. I hope things go well with Zidane, the same as I would have said about Benitez. Because what we all want is for Real Madrid to win trophies."