Cristiano Ronaldo to stay at Real Madrid for 'a few more years'
Real Madrid star Cristiano Ronaldo says he will stay at the club until the end of his current contract before making a decision over his future.
Ronaldo, 31, spoke to Marca as he received the Pichichi award as La Liga's top scorer in 2014-15 with 48 goals and insisted that he would see out the five-year deal he signed in 2013.
"This is the best league in the world, although I have been in the Premier League," he said. "It is stupendous, competitive and with great players. It is a privilege to leave my mark here.
"I want to stay on a few more years and then we shall see what my future is. The two years that I am referring to are what are left on my contract."
SEÑAL TV | @Cristiano: "Me quedo un par de años más. Luego veremos" ▶ https://t.co/tTV5kbRLYQ #FiestaPichichi pic.twitter.com/GTbdhUXa9i

- MARCA (@marca) February 8, 2016
Ronaldo dedicated his award to his teammates, saying: "I dedicate this award to the team, to the coaches, the staff and everyone at Madrid. Without them, I wouldn't have been able to score so many goals last season.
The Portuguese also asked the Real Madrid fans "to keep doing what they are doing, to keep supporting us. We will give it our best on the pitch and we will try to win Champions League."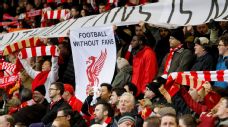 Ronaldo is one goal behind Barcelona's Luis Suarez, and tied with Madrid teammate Karim Benzema on 19, at the top of La Liga's scoring charts this season.
However, he is confident that he will walk away with the prize again next season, saying: "I'd tell the person who engraved my name on the [Pichichi] trophy to be ready next year as well. And I would tell Marca to give out an award for best dressed."