Zinedine Zidane an 'idol' to Real Madrid playmaker Luka Modric
Real Madrid midfielder Luka Modric says that every piece of advice from former Los Blancos galactico and new first-team coach Zinedine Zidane is "like gold dust."
Zidane replaced Rafa Benitez as Madrid coach in January, after the former Liverpool, Chelsea and Napoli manager had suffered a difficult six months in charge.
The team have appeared liberated during the new regime, scoring 16 goals in three games at the Estadio Santiago Bernabeu, although they did slip further behind La Liga leaders Barcelona by drawing 1-1 at Real Betis in their only away game so far under their new coach.
Speaking about France legend Zidane in an interview with FIFA.com, Modric said as a youngster he had looked up to the 1998 World Cup and 2002 Champions League winner as "an idol."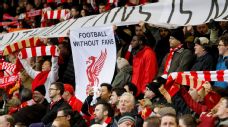 "Every piece of advice he gives you is like gold dust and it helps you improve on the pitch," the Croatia international said. "Zinedine was an idol, one of the players I admired as a child. I think every young player admired him because he was one of the best of his generation."
One of the widely reported issues which led to friction with Benitez was his tendency to correct their technique at training, with Modric, 30, reportedly reprimanded for hitting too many passes with the outside of his foot.
Cristiano Ronaldo, also 30, was also said to be unimpressed at the way sessions were regularly stopped so that the coach could give more instructions, and also at the suggestion he speak with a specialist to improve his free-kick taking.
At a news conference before last weekend's 6-0 home win over Espanyol at the Estadio Santiago Bernabeu, Zidane was asked specifically about how he communicates with players such as Modric on the training pitch.
"[Modric] brings a lot of things to the table," the Frenchman said. "He is a top-quality player. I don't want to weigh him down with a load of instructions. He knows what he has to do. I only ask him for a bit of work in defence. They are all high-quality players, and that is very lucky for me. Specifically, Modric uses the outside of his foot in a way that greatly impresses me."
Also in the FIFA interview, Modric spoke of his admiration for Ronaldo, saying he had learned from seeing the Portugal captain's desire and hard work at first hand.
"He's an amazing teammate and to my mind the best player on the planet," the ex-Tottenham player said. "Sharing a dressing room with him is fantastic. You can learn so much from him: his desire, how hard he works every day, the effort he puts in. It's incredible."