Ronaldo: Real Madrid's hard work under Zinedine Zidane showing
Cristiano Ronaldo says the hard work at training under new Real Madrid coach Zinedine Zidane is paying off, and expressed his belief the Frenchman's methods have been better for the team than those employed earlier in the season.
The Portuguese forward scored his latest hat-trick in Sunday evening's 6-0 La Liga win over Espanyol at the Estadio Santiago Bernabeu.
Ronaldo moved to 19 goals in La Liga for the season with an early penalty, a superb solo effort and a late diving header to join Barcelona's Luis Suarez at the top of the latest pichichi top scorer standings.

Real Madrid
Espanyol
Game Details
Karim Benzema, James Rodriguez and Espanyol debutante Oscar Duarte [a late own-goal] were the other scorers as Madrid strolled to their third easy win in front of their own fans since Zidane replaced Rafa Benitez as coach in early January.
Speaking on Canal Plus after the final whistle, the Portugal captain said that the Frenchman had been working his players hard through recent weeks, and such extra physical work was paying off.
"The team are working very well," Ronaldo said. "Zizou has done phenomenal work, we feel better, fitter. You can see the results on pitch, we won well. It has been a positive month. We needed it as the preseason was not very good, a lot of travelling. Zizou has a different idea of work, and it is better for the players. We must continue like this."
With Madrid 4-0 up by half-time, the second half was more relaxed, with the visitors even forcing a few saves from the previously-underworked home keeper Keylor Navas. Ronaldo said it was "normal" for his team to ease off, and they had showed they were physically strong when coming back to equalise in last week's 1-1 away draw at Real Betis.
"I think that when you have a big lead it is normal, the team feels good," he said. "We saw in second half against Betis, when we needed it, we were intense and ran more. We were 4-0 up, players were relaxed, less intense, but we still scored two more."
Eight of Ronaldo's 19 La Liga goals have come in the two meetings against Espanyol, but Ronaldo rejected the idea that there were weaker opponents in the Spanish top flight.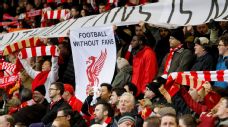 "I am very happy, another hat-trick," Ronaldo said. "But the most important is the team to keep going, keep playing well, and goals come naturally. In my opinion there are no weaker opponents. It goes well, when you are intense, and play well."
The result still sees Madrid in third position in the La Liga table, four points behind leaders Barcelona [who have a game in hand], and one behind Atletico Madrid in second place.
Ronaldo admitted that Barca were doing well at the moment, however he maintained that there was a long way to go until the trophy would be handed out at the end of the season.
"We must continue like this," he said. "We must not think about Barcelona or Atletico Madrid. They are doing well, winning, but we must keep working. A lot of La Liga is still to go. We know we are a bit back, but accounts are done at the end of the season."