Real Madrid's Cristiano Ronaldo knew he was going to be a star at 11
Real Madrid's Cristiano Ronaldo says the moment he knew he was going to be a star came during his first training session at Sporting Lisbon when he was just 11 years old.
Ronaldo, 30, has won three Ballon d'Or trophies and four Golden Shoe awards, as well as two Champions Leagues, three Premier League titles, two Copas del Rey, one La Liga crown and an FA Cup over his career with Sporting, Manchester United and Madrid.
Speaking to website UNSCRIPTD, the forward recalled the day back in 1997 when he was called to the Portuguese capital and immediately wowed his new Sporting teammates and coaches in the club's youth setup.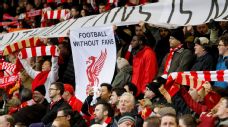 "I was 11," Ronaldo said. "I remember when I was in Madeira and Sporting Lisbon said, 'Listen, we want to see you better. You should come to Lisbon because we want to observe you.'
"And I remember my first training I did something and the players looked at me like 'Woah, can you do it again?' Even the coach! A step-over and I scored a goal.
"And after training I did some tricks with the balls. Since the beginning I could see this was easy for me, but for the other guys very complicated. The people were so excited when they saw me. It was cool, as I felt so proud, so big, that people appreciate my talent."