Luka Modric wants to play out his contract at Real Madrid
Real Madrid midfielder Luka Modric said he is eager to learn under new coach Zinedine Zidane and denied rumours that Carlo Ancelotti is targeting him for a future at Bayern Munich.
Bayern Munich have confirmed that former Real Madrid boss Ancelotti -- the only manager to have ever won three Champions League trophies -- will become their new coach at the end of the 2015-16 season after Pep Guardiola opted not to renew his contract with the Bundesliga champions.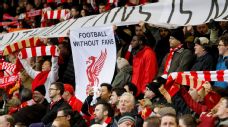 "I only saw that in the media. Those are just rumours," Modric told Croatian newspaper Sportske Novosti. "With Ancelotti, he had a great relationship with all the players. During his stage we had great results. I am in contact with Ancelotti but he has never said anything to me about going to Bayern.
"My plan is to stay here until the end of my contract [2018]. All my plans are with Madrid and I am not thinking about any other club."
FIFA last week handed Real Madrid a transfer ban for the next two windows and will only be able to register new players in this current window.
Modric said the players are eager to learn under Zidane.
"The first year with Ancelotti was great and now with Zidane it is this way too," Modric said. "He doesn't waste words and he gets right to the point.
"Now it is different because he has his own ideas and his methods. This is only the beginning but he has made it clear that he wants compact lines. He wants us close to our rivals and he wants us to press when we lose the ball so we can recover it quickly."
The Croatia international voiced his support for Rafa Benitez, who was sacked after just seven months before being replaced by Zidane two weeks ago.
"We didn't give him the expected results. People may have their opinions about the results, but I think that we weren't fit," Modric said. "We had a quick preseason. We traveled more than we trained going to Australia and China. That is a problem because then there is not time to train to recover what has been lost.
"There was a lot of mutual respect. Everything was very professional from the first day. He has done everything possible for the team. I feel bad for him but that is life. I wish him luck."
Modric said that losing 4-0 to Barcelona in November was embarrassing, but added that he is confident that the club can turn their fortunes around.
"It was the first Clasico at which I felt humiliated. It is difficult to live after losing a Clasico, but it happened and now we have to rise above," he said.
"We have been close in the past two years [to the league title]. It is a long season and we have a chance to win it this year."