Real Madrid's Zidane on Gareth Bale injury: 'Hope it is a small one'
Real Madrid coach Zinedine Zidane said he is "hopeful" Gareth Bale's latest calf injury is not too serious after the Wales international scored but then limped out of Sunday's 5-1 La Liga win over Sporting Gijon at the Estadio Santiago Bernabeu.
Bale opened the scoring with his 11th goal in his last eight games with a header just seven minutes in -- and was heavily involved as Cristiano Ronaldo and Karim Benzema both notched quick doubles as Madrid went 5-0 ahead before the break.

Real Madrid
Sporting Gijón
Game Details
The Wales international did not make it to out for the second half, however, as he appeared to suffer another calf muscle problem, while Benzema was also substituted during the second half after suffering a bang on his ankle in an accidental collision with teammate James Rodriguez.
Asked about the injuries at his postgame news conference, the Los Blancos coach said Benzema appeared to be fine -- but there was concern the €100 million Galactico had suffered what would be a fifth calf muscle injury in his two-and-a-half years at Madrid.
"Karim is just a bang, thankfully," Zidane said. "Gareth's is a bit more difficult, calf muscle, on the left, another problem. But we will see the scans tomorrow, and hope it is a small one."
Madrid raced into a 4-0 lead after just 18 minutes, and Zidane said he was very happy with the focus his players had shown from the first whistle, while suggesting he was not over satisfied with how they had relaxed and taken foot off the pedal in the second half.
"We played a very good first half, very plugged in, very focused from the start," he said. "We prepared well. We are happy with how the game went. First half was spectacular, but we are going to improve. We have to improve a lot, and we will do that. What we want is to win games, but above all at end of the season, as that is when all is decided."
Madrid have now scored 10 times in their two games since Zidane replaced Rafa Benitez in early January, but the Frenchman said he was well aware stiffer challenges were still to come.
"Obviously it is a fantastic start, to score five goals twice is not easy at all," he said. "But I know the team we have, what we can do, what we will do in the future. I expect a lot from this team. To win many games and to win a trophy at the end of the season. This was against Sporting, we will have difficult games, as the season goes on, for sure."
Ronaldo and Benzema are now joint-leaders in La Liga's "pichichi" top scorer race with 16 apiece, one ahead of Barcelona, with Bale also in the running on 13 so far. Zidane said the most important for him was the hard-work the 'BBC' strikeforce was currently putting in.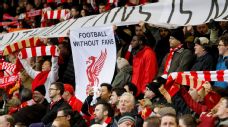 "The three are going very well, there is no surprise," he said. "I am very happy with the work of the three, not just with the ball. Defensively they worked a lot for the team. That is the most important for me. Offensively, when we have the ball, we will always be able to hurt the opponent."
After Isco had again been preferred to James Rodriguez in midfield, Zidane said there was nothing special the Colombia international must do to win a starting place back.
"Keep doing what he is doing," he said. "Working all week to arrive well at the games. We are all in the same boat here. At the moment Isco is playing ahead of James, next game could be different. The most difficult for me is to pick the team. I have 25 very good players, training well. But that is my responsibility. I must take decisions. They all want to play, I understand that, but in the end the most important is the team, the group."
Zidane was not asked about a second half incident where TV pictures appeared to catch Ronaldo kicking-out off the ball at Sporting midfielder Nacho Cases. Sporting coach Abelardo claimed not to be aware of it during his postgame news conference.
"I don't know what you're asking me about," Abelardo said. "I didn't see anything, and I'm not getting into that for sure. I never talk about referees anyway."