Zinedine Zidane hails Real attitude, Gareth Bale's finishing after debut win
New Real Madrid coach Zinedine Zidane hailed the attitude of his players and the finishing of Gareth Bale after the Welshman's hat trick along the way to Saturday evening's 5-0 stroll past Deportivo La Coruna at the Estadio Santiago Bernabeu.
Zidane's fellow Frenchman Karim Benzema started and finished the scoring -- with the other three goals from Bale, who had been reported this week to be upset at his dressing room ally Rafa Benitez being replaced earlier in the week.
The mood in the Bernabeu stands was much more positive than during the last few months of Benitez's ill-starred and short time in charge, with the players on the pitch looking more liberated and confident than in some recent games.
Saturday's La Liga results sees Madrid stay third, two points off leaders Barcelona, one behind second placed Atletico Madrid, with a game more played than both title rivals.

Real Madrid
Deportivo La Coruña
Game Details
The new Blancos coach said in his postgame news conference that he was happy with how his players had approached the game, but he was still sure there was plenty of room for improvement.
"What I most liked tonight was the attitude, above all," Zidane said. "Winning 5-0 it is not easy against a team like La Coruna. I am very happy with the game.
"I liked the attitude, of everyone, those who played, and those who didn't play.
"From there we will improve, we must improve in many things, and we will do that. We have time for that. We have weeks to work in and we will improve, I am convinced of that."
Bale was again among his side's top performers, roving around the Madrid attack and expertly finishing three of his four attempts at goal.
"I am happy with what [Bale] did today," Zidane said. "It is not easy to score three times in one game. Now he can continue like this.
"The work Gareth must do is the same as everyone. When we don't have the ball we must be compact and defend. When we have the ball, to open up the pitch, and to play."
Bale said he was "very happy" to play under Zidane, and that his role had not changed from Bentiez's tenure.
"I don't feel I need to make a statement. I just want to play my football," Bale said. "Everyone knows the player who Zidane was and I think there are no doubts he'll be a really good manager too.
"I have the same freedom with Zidane that I did with Benitez. I'm happy I scored those goals but the most important thing are the three points and that we won as a team.
"I am very happy. These three points were very important. We are professionals and we must work throughout the season."
The only thing missing from Saturday's game was a goal for Cristiano Ronaldo, who had a frustrating evening and did not find the net with any of his 10 efforts.
"Cristiano always must score, as he likes that," Zidane said. "But he looked happy to me, like them all. We just think about the win, he does too. We will have other games for him to score in."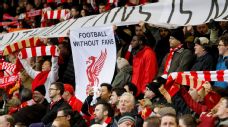 Zidane said he was happy with how his team had passed the ball, while accepting it would take time for them to take on his ideas.
"The best things was that we moved the ball well, finished well, made many chances," he said. "The objective was to try and come out with the ball, from the back, and switch play from side to side quickly whenever possible. We did that, but we know we will improve.
"What we could improve, maybe, was in pressing the ball. But bit by bit. I just arrived, and must get time. We must keep working now.
"The only thing is the coach has changed, and I will try and impose the work I want. That's it, nothing more."
The Bernabeu crowd has often recently barracked Ronaldo, Benitez and club president Florentino Perez, even when easily winning games, but Zidane welcomed what had been a positive mood around the stadium from start to finish.
"There was a good atmosphere from the first minute," he said. "This was the first game, we must see what happens in the next one. But the idea is to try, for us, to play good football and win games. The fans today were happy."