Real Madrid boss Zinedine Zidane 'not a nice guy' - ex-France boss Domenech
Former France manager Raymond Domenech says Zinedine Zidane is like a god and feels the new Real Madrid boss will be the best candidate to succeed Didier Deschamps as coach of Les Bleus.
Domenech, 63, was manager of France at the 2006 World Cup, when Zidane drove his team to the final before infamously being sent off for headbutting Italy defender Marco Materazzi.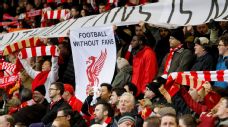 Speaking to Le Monde, Domenech said Zidane's talent and quiet nature had made him like a deity in human form.
"Zidane is a myth," he said. "A myth capable of setting off emotions in people and not only positive ones.
"He's not a smooth star, he's not a nice guy. He's capable of anything and that's what makes him a human god."
When asked if he understood why the French public had forgiven Zidane's headbutt after France eventually lost in a penalty shootout, Domenech suggested that the mystique around the former Real Madrid midfielder has shielded him from criticism.
"Forgiven?" Domenech asked. "But nobody needed to forgive him because we didn't even accuse him.
"When we returned to Paris after the final in Berlin we were received at the Elysee by the president and the Legion of Honor. The headbutting incident is part of the myth... a guy who headbutts someone who's insulted him, there's nothing more human.
"People only saw one player in this story but no one ever thought what [Lillian] Thuram, [Thierry] Henry, [Patrick] Vieira, [Florent] Malouda or [Willy] Sagnol might have felt. He made a bad move and the others lost the World Cup. Like every myth, he benefitted from a form of immunity.
"We'll see how he reacts as a manager if one day a guy blows a fuse and screws up all his plans."
Domenech feels that Zidane can succeed at Real but he also warned that he is "no longer untouchable."
He added: "From now on, Zidane will be judged on his results. If he's a champion, his legend will reinforce itself.
"But if that's not the case, it will be another story. Mourinho was a god too and we see what's happened to him. Sport is ruthless."
But the former Lyon boss believes that his former player could end up managing France if things go well.
"There's no one more legitimate than him to replace Didier Deschamps," Domenech said. "And the day that Didier stops, he will take over from him. But for that to happen, he had to go to Real Madrid."