Real Madrid's Cristiano Ronaldo: I have no plans to become a coach
Real Madrid forward Cristiano Ronaldo says he is not planning to go into coaching once his playing career comes to an end.
Ronaldo, 30, gave an interview to El Mundo in which he spoke about what is lying in store for him when he finally hangs up his boots.
The Portugal captain said he will likely retire within five to 10 years, but that he has no desire to become a coach when that day comes around.
"There is another life afterwards," he said. "I think it will be difficult for me at first, but if you ask me now will I be a coach, I would say no -- nor a club director, nor president.
"I don't want to complain, I have a great life. But I am going to enjoy it more when my career is over, when I have time to do what I like."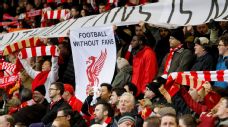 Ronaldo said he would prefer to focus on things outside of football after his retirement, such as his range of clothing, while he is looking forward to being able to "live like a king."
"[I'm] not 100 percent [sure], but I have a lot to keep myself busy," he said. "The future is built from when you are young.
"Since I was 27, I have had my line of clothing, and I want my brand to keep growing because football will end in five, six, seven, 10 years."
Ronaldo added: "I have a super job -- money, cars, houses -- but that is not everything. An example -- this Saturday there is a boxing match in Las Vegas and I would like to take my family and friends to see it. And I can't because I don't have time.
"I do not want to complain now because I am making sacrifices. But after I want to live like a king."
The former Sporting Lisbon and Manchester United man feels he has been able to go on to become the player he is today due to his tough upbringing.
"I can handle pressure better because of the difficult life I've had," he said. "I've no doubt about that. Leaving home at 11 to go to a different world, first in Lisbon and then in Manchester, was very difficult.
"From 11 to 18 years I gained stability. The person I am today is due to the time I spent without my family and in difficult times. I was a teenager, but I had to do things like a man, to the point of ironing my own clothes. I never thought that I would have to do that aged 11.
"My mental strength began in those moments. To be the person I am, to have what I have -- my life, my wealth -- after these difficulties is fantastic."
Ronaldo added: "Everyone can think what they want [about me]. I go to bed every day with a clear conscience and sleep well. We cannot live worried about what others think of us. If not, we could not live. Not even God is liked by everyone."