Cristiano Ronaldo driven by Lionel Messi rivalry - Zinedine Zidane
Real Madrid star Cristiano Ronaldo's incredible goal-scoring feats are motivated by competing with Barcelona forward Lionel Messi, according to Bernabeu legend Zinedine Zidane.
Ronaldo, 30, and 28-year-old Messi are the world's two most prolific players in front of goal at the elite level and both break various records and set new milestones on a regular basis as they propel their respective clubs to major trophies.
CRISTIANO RONALDO'S GOALS
Real Madrid - 324 goals in 310 games
Man United - 118 in 292 games
Sporting - 5 in 31 games
Portugal - 55 in 122 games
TOTAL: 502 goals in 756 games
They have also dominated the major individual accolades in football in recent years, with one or the other winning the World Player of the Year award or its successor, the FIFA Ballon d'Or, in each of the past seven years.
Portugal captain Ronaldo has won the latter prize two years running and has since gone on to become Real Madrid's all-time leading scorer in La Liga as well as level Raul's club record of 323 goals. Zidane, who is now the boss of the club's B side, Real Madrid Castilla, believes that the former Manchester United attacker benefits from having Messi around. "Fifty to 55 goals per season is just not human," Zidane told French TV programme Canal Football Club.
"But you should see him at training. At training, he's a guy who every ball, every match, every corner... he wants to score, he wants to win.
"And when he scores he does the same thing he does in a match. He's happy and he falls to his knees [to celebrate]... it's incredible.
"There's a feature in all of that and it's that there's another player opposite who pushes him. That's to say the rivalry he has with Messi.
"He doesn't need that [to perform]. But what keeps him scoring 55 to 60 goals a season is the fact that he says to himself 'this year I have to score one more than the other guy every time.'"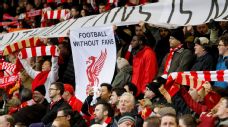 Former Real manager Carlo Ancelotti said last week that he does not think Ronaldo will leave Madrid for Paris Saint-Germain, as reports periodically suggest, next year.
Zidane, himself a former European and World Player of the Year, agrees. "He's the best player in the world so it's normal that you'd want to sign Ronaldo," the 1998 World Cup winner said.
"But he's comfortable at Real... since Raul left he's really become the other legend of the club."