Real Madrid's narrow win against Galatasaray doesn't worry Benitez
New Real Madrid coach Rafael Benitez said there was room for improvement after his side unconvincingly beat Galatasaray 2-1 in Tuesday evening's Trofeo Santiago Bernabeu, their last friendly before the La Liga season starts next weekend.
A Nacho Fernandez first half headed goal for Madrid was cancelled out by Wesley Sneijder's classy strike against his old side, and the game seemed headed for penalties until Marcelo waltzed through the visiting defence for a late winner.
Benitez's side looked particularly rusty in attack, with Gareth Bale putting in a mixed display as a No. 10, and Cristiano Ronaldo looking slightly off as he returned from the back problem which saw him miss Madrid's previous three warm-up games.

Real Madrid
Galatasaray
Game Details
The Los Blancos coach told his post-match news conference that he had not been fully happy with how his team played, but was sure they would improve during the season, which starts in Sunday evening's trip to newly promoted Sporting Gijon.
"If it was at the point I wanted, the way we played today, I would be worried," Benitez said. "We need to improve, made some chances, had some good play, but lacked control. They are a good team, tried to play, made it difficult for us. There were lots of positives, but we have plenty of margin to improve."
Asked about forwards Ronaldo, Jese and Bale barely bothering Galatasaray keeper Fernando Muslera during the 90 minutes, Benitez said he was happy to see his team creating plenty of chances, and more concerned about his attacking unit working together to pressure opposition defenders on the ball.
"Cristiano had many chances today, not worried, same about Bale, James, Jese," the former Liverpool, Chelsea and Napoli coach said. "They will score goals, of course, I have no problems.
"Most important is to make the chances, today we had 22 shots at goal. I am not worried about that at all. I am thinking more about [the forwards] closing off the opposition bringing out the ball from the back, stopping them making chances."
Bale was again whistled by some in a Bernabeu crowd which grew increasingly disgruntled as the late evening game brought little second half excitement, and Benitez admitted he was still looking for the right blend in the line of three attackers behind his centre-forward.
"Logically, that is the debate, with Isco, with James, with Bale, all of them in this zone," he said. "What we look for is to blend the qualities the different players have. Gareth does not have the touches between the lines of Isco or James, he is more direct, but they can complement each other. I am not looking for what is ideal for any one player. The movements Bale makes can be very good for the team."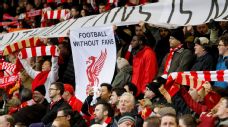 Benitez said he was optimistic that currently injured Karim Benzema and Pepe would soon be available for selection, without specifying if they would make the trip to Sporting on Sunday.
"Benzema and Pepe are going pretty well, we can shorten their expected time out, but we need to see if they will be ready," he said. "The physios are pretty optimistic about them both."
Another technical playmaker is joining the Madrid squad, with a €30 million deal for Mateo Kovacic from Inter Milan announced earlier on Tuesday. Benitez was clear that the Croatia international's initial role would be as back-up for his fellow countryman Luka Modric.
"Kovacic is a quality player -- you all saw how team suffered when Modric was out last year," Benitez said. "He is a player who can take that place. He is not a holding midfielder, he is very good technically, a playmaker. He will be a great player for Real Madrid."
Asked whether Madrid retained any interest in signing goalkeeper David De Gea from Manchester United this summer, Benitez batted back the question.
"Keylor [Navas] had a very good game," he said. "I have very good goalkeepers, Keylor did well, [Kiko] Casilla and Ruben [Yanez] are very good keepers. I will work with the three of them to the maximum."