Ancelotti denies Di Maria departure
Real Madrid boss Carlo Ancelotti has denied reports that Angel Di Maria was left out of Friday's Spanish Super Cup 1-0 second leg defeat at Atletico Madrid because the Manchester United target is about to leave the La Liga club.
- Three Points: Atletico Madrid vs. Real Madrid
- Lowe: Can Atletico repeat as champions?
But the Blancos boss did admit that Sami Khedira -- who might also be of interest to the Old Trafford outfit as well as fellow Premier League club Arsenal -- was being allowed to leave the Estadio Santiago Bernabeu.
Ancelotti was speaking after a lacklustre Madrid side were outbattled and outplayed by a super-spirited Atletico team, who went ahead early through new centre-forward Mario Mandzukic and deserved to hold on to win 2-1 on aggregate even after coach Diego Simeone was sent to the stands.
The Italian coach told his post-match news conference that it had been a sporting decision not to include Di Maria in his 18-man squad, but Khedira had not been selected as he was close to leaving the club.
"It was a technical decision not to play Di Maria," Ancelotti said. "I did not need him today. Khedira has permission to leave. I am not interested in where he goes."
Some speculation has suggested that Madrid might use any money raised through player sales to sign another centre-forward -- with Monaco's Radamel Falcao a long-time favourite of club president Florentino Perez. However Ancelotti said he did not want another No. 9 as he was happy with current striker Karim Benzema, despite the French international having now scored just once in his last 15 club games.
"I am very happy with Benzema," Ancelotti said. "Although he did not score he is useful for the team. We do not need another solution at centre-forward."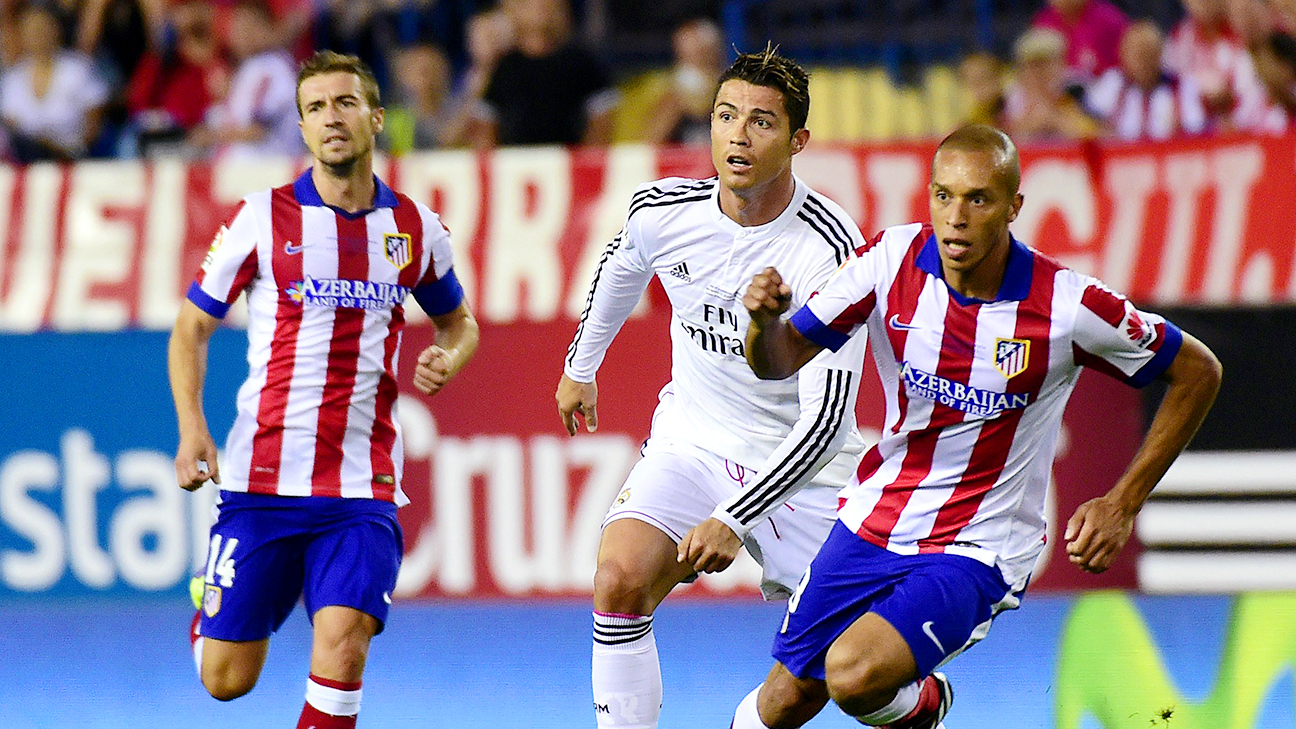 Benzema had made more of an impact on the game than a not fully fit-looking Cristiano Ronaldo, who made little impression after being introduced from the bench at halftime.
"Cristiano could not play 90 minutes so I thought to put him in for the second half when the pace of game had dropped," was Ancelotti's short answer when questioned about the Portuguese.
Ancelotti went on to say that while he was disappointed with not winning the Super Cup, he viewed the competition as a part of last season which was not too important now.

Atletico Madrid

Real Madrid
Game Details
"We can consider the Supercopa a game from last season, when Real Madrid won three trophies," he said. "Now with this game I am judging last season over. For that personally I want to thank all the players as we did something important. If I have to lose a game I would prefer to lose this one than the final in Lisbon."
The former Milan and Chelsea manager accepted that James Rodriguez had been his side's best player when on the left wing in the first half, and that Madrid had struggled to control the game after Ronaldo had replaced Toni Kroos at the break.
"In the first half James did very well," Ancelotti said. "He was our most dangerous player. In the second half, with Cristiano's entrance, he had to play further back. We lost control of the play, played a lot of long balls, and we needed more possession. What we did well in the first part in the second gave them more chance to defend as they wanted."
Despite the disappointment Ancelotti said he was looking forward to the real stuff starting, with Madrid's La Liga opener coming up against Cordoba at the Estadio Santiago Bernabeu on Monday evening.
"We have a very competitive team like Atletico, for La Liga and for the Champions," he said. "Barcelona too. So it will be a difficult season, we are very excited and motivated. We have never spoken about the 'sextuple'. I have not heard the players talking about that. Now a new season is starting, a very interesting season. We have a team with a lot of quality and will try and repeat what we did last year."