| | | |
| --- | --- | --- |
| | ESPNsoccernet: MLS | |

Thursday, April 22, 2010
Despite solid play, Dallas stuck in doldrums

---
Jeff Carlisle

Three games do not a season make, especially in MLS, where the ups and downs of a campaign are lessened somewhat by the league's parity-driven nature.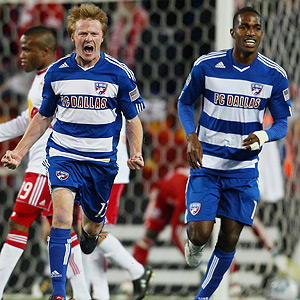 Yet the manner of FC Dallas' start to the season is worthy of a raised eyebrow or two. Ahead of Thursday's home encounter against Seattle Sounders FC, an obviously talented Dallas side currently finds itself at the bottom of the Western Conference table with just two points from three games. League-wide, only D.C. United has fared worse. What's peculiar about FCD's first month, however, is that the club hasn't necessarily played badly. There have been no heavy defeats to set off the alarm bells. Instead, Dallas has recorded two home draws against quality sides Houston and Columbus, along with suffering a solitary road defeat against the resurgent New York Red Bulls.But there are times when a team's failure to pick up points while playing well can be even more psychologically damaging than a blowout loss, case in point being last weekend's 2-1 loss to New York. It was a match in which many of Dallas' best traits were on display. In particular, the warp speed in which FCD transitioned from defense into attack was breathtaking at times, with Dax McCarty, David Ferreira and Atiba Harris often leaving opponents in their collective wake.The result was a near-endless stream of clear goal-scoring opportunities. Yet aside from McCarty's 10th-minute header following a half-cleared corner kick, Dallas squandered all of them, allowing the Red Bulls to hang around long enough to snatch all three points courtesy of two Juan Pablo Angel goals. It made for grim viewing when the team gathered on Tuesday to dissect what had transpired."We watched the video and that made it worse, seeing it up on the screen," Dallas captain Daniel Hernandez said. "As well as we played, and all the chances we had, it was kind of tough to swallow."Of course, the inspired form of Red Bulls goalkeeper Bouna Coundoul, who made several spectacular saves, had something to do with this. But what qualifies as stellar keeping for one side is labeled as poor finishing by the other. And the big worry for Dallas head coach Schellas Hyndman is that the disappointment of Saturday's result may bleed into Thursday's encounter -- and beyond."Here's the two things that concern me: One is confidence, because our confidence is shaken right now," Hyndman said. "The second is attitude. If you don't have the right attitude, and you question not only yourself but everyone else, that's going to have a long-term effect on you."To that end, Hyndman met with his team in order to, "drain that devastating, bad feeling. And I think we did."But Hyndman knows as well as anyone that all it takes is for a few more chances to go begging for the here-we-go-again feeling to return. One concern is the play of forward Jeff Cunningham, who lines up as the lone striker in FCD's 4-1-4-1 formation. Cunningham's career has been the epitome of the word "streak." In the latter half of 2009, the U.S. international was at risk of spontaneously combusting, notching 16 of his 17 goals after July 1. But he has also been prone to long dry spells, and so far this season his lone tally has come from the penalty spot. On Saturday, as the missed chances piled up, one could almost see his self-belief evaporate.To a man, Cunningham's teammates weren't about to point fingers, especially when players like Ferreira and substitute Eric Avila were also denied by Coundoul. But there is also acknowledgement that Cunningham's play is vital to Dallas' success."When you're giving up a lot of goals, things are going to fall on certain defenders unfairly, and when you're a striker and not scoring, you're going to get the bulk of the criticism," Dallas defender/midfielder Heath Pearce said. "[Cunningham] has been really active in games; he just needs to start making the chances fall. Obviously there are other guys missing chances, but a lot of our offense runs through him, so we have high expectations of him."Yet Dallas' worries aren't limited to its finishing. Defense has never been the team's strong suit. This is due in part to FCD's run-and-gun style, although the acquisition of Hernandez last season gave the team the kind of midfield bite it had previously lacked.In 2010, long stretches of solid defending have often been undone by several mistakes that seem to hit the team within one sequence. That was the case against the Red Bulls, when an ill-advised short throw-in by Jair Benitez deep in his own half set off a series of poor decisions that ended with Hernandez being whistled for a game-deciding penalty. That marked the third time in three games that FCD has conceded a spot kick."We've given up some soft goals this year, and a few penalties as well," Pearce said. "We don't want that to become a habit. It's not good enough for us to say 'We're creating our chances.' It will be good enough when we're scoring our chances and we're holding on and making teams have to earn their goals more than we have."The fact the team isn't that far away from turning things around explains why confidence, for the most part, remains high in the Dallas camp. And had FCD managed to hang on against New York, there wouldn't be nearly as many questions surrounding the team's start."It's all stuff that's fixable, and I think the great thing is we are playing well," Hernandez said. "I couldn't be prouder of the way we're playing and the effort. Unfortunately, we're just not getting the results."At the conclusion of Thursday's match, Dallas will be hoping that the opposite will be true.

Jeff Carlisle covers MLS and the U.S. national team for ESPNsoccernet. He is the author of "Soccer's Most Wanted II: The Top 10 Book of More Glorious Goals, Superb Saves and Fantastic Free-Kicks." He also writes for Centerlinesoccer.com and can be reached at eljefe1@yahoo.com.




---
ESPNsoccernet: Help | Media Kit | Contact Us | Site Map | Tools | Jobs at ESPN | Supplier Information | Copyright ©2014 ESPN Internet Ventures.


Terms of Use

(Updated 5/6/08)

, and Privacy Policy and Safety Information/Your California Privacy Rights are applicable to you. All rights reserved.