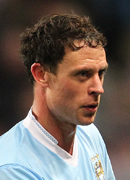 Wayne Bridge
Squad No: 18
Position: Defender
Age: 33
Birth Date: Aug 5, 1980
Birth Place: Southampton
Height: 5' 10" (1.78m)
Weight: 156 lbs (70.6 kg)
2013/14 English League Championship
| GAMES | GOALS | ASSISTS | SHOTS |
| --- | --- | --- | --- |
| 12 | 0 | 0 | 1 |
WAYNE BRIDGE
After years spent in Ashley Cole's shadow at Chelsea, Bridge made a £10 million switch to Manchester City in January 2009 and established himself as the club's first-choice left back. He remained overshadowed by Cole at international level, until his decision to quit the England set-up following allegations that John Terry had had an affair with his former girlfriend.
Bridge began his career with hometown club Southampton, where ex-Saints boss Glenn Hoddle tipped him to become a major player for England, and he went on to make his international debut in 2002. He was included in the England squad for that year's World Cup, but the starting place went to Cole, and that remained the way of things until his international retirement in 2010.
During his time at Chelsea, Bridge was considered one of the best left backs in the Premier League despite his limited playing time, and the move to City was expected to re-energise his career. However, he has struggled to find his best form since moving to Eastlands and found himself completely out of favour under Roberto Mancini.
Bridge was loaned to Sunderland in January 2012 in search of first team football.
Strengths: Skilful on the ball and can deliver a great cross - attributes that saw him pushed into midfield to solve England's left-sided problem during qualification for the 2006 World Cup.
Weaknesses: Very, very, very one-footed, not the quickest and, as a converted left winger, his defensive abilities have been called into question.
Career high: Winning the Premier League with Chelsea in 2004-05.
Career low: Besides the John Terry media storm, Bridge saw his Chelsea career derailed in 2006 when Ashley Cole arrived and the situation could yet repeat itself at Eastlands.
Style: Solid, attacking, likes to get forward and whip in crosses.
Quotes: Roberto Mancini attempted to boost Bridge's confidence ahead of the 2010 meeting with Chelsea - and John Terry and Ashley Cole in particular - by saying: "Wayne plays in the national team and he's the best left-back in England and the Premier League."
Trivia: Bridge's former girlfriend Vanessa Perroncel once bought him an Imperial Stormtrooper outfit due to his love of Star Wars.
ENGLISH LEAGUE CHAMPIONSHIP