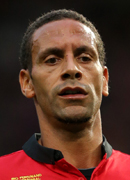 Rio Ferdinand
Squad No: 5
Position: Defender
Age: 35
Birth Date: Nov 7, 1978
Birth Place: Peckham, London
Height: 6' 2" (1.88m)
Weight: 169 lbs (76.8 kg)
RIO FERDINAND
Ferdinand has overcome numerous off-field problems to earn his status as one of the most composed central defenders in the game. The London-born player endured a torrid period including a drugs ban, a contract dispute and injury. But the Manchester United and England defender is still viewed as one of the best around.
The former West Ham United and Leeds United player joined United for around £30 million, a British transfer record for a defender, in July 2002 and has won almost everything there is to win in the club game: the Premier League, Champions League and League Cup, although he missed out on United's FA Cup win in 2004 due to a suspension for missing a routine drugs test.
At international level Ferdinand has established himself as first-choice centre back under successive England managers but it came a long time after making his debut at the age of 19 years and 8 days as a substitute in a friendly against Cameroon on November 15, 1997, making him the youngest defender to play for England at the time.
A lack of concentration curtailed his fledgling England career but, since maturing, the Peckham-born player has been to the 2002 and 2006 World Cup tournaments and was given captaincy of the side in February 2010 after John Terry's was stripped of the title. But further injury problems, which included missing out on the 2010 World Cup saw the Three Lions armband handed back to Terry.
Questions were raised about Ferdinand's ability to continue at the highest level during the 2010-11 campaign as injuries restricted his appearances, but he responded to his critics in fine style the following season as he played 38 games in all competitions. A recall to the England squad appeared forthcoming for Euro 2012 but after the racism row between his brother Anton and John Terry, Ferdinand suffered tournament disappointment again as Roy Hodgson omitted him from his squad for the tournament.
Strengths: An excellent reader of the game, he has great positional sense and shows composure on the ball.
Weaknesses: His languid style can sometimes get him into trouble and he still suffers from the occasional lapse of concentration.
Career high: Lifting the Champions League trophy after he captained Manchester United to victory over Chelsea in the 2008 final in Moscow.
Career low: Missing a routine drugs test and missing half a Premier League season and Euro 2004 due to an eight month ban.
Style: Calm, composed, a player who uses his good positional sense to make interceptions.
Quotes: "I'm going to call you Pelé, son, I like the way you play." Youth coach Dave Goodwin spots an 11-year-old Ferdinand at the district trials.
Trivia: Rio comes from footballing stock, brother Anton and cousin Les have both played for England at various levels, but off the pitch he runs a music record label, White Chalk Music, and had a prank-based TV series called Rio's World Cup Wind-Ups in 2006.