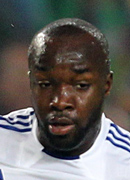 Lassana Diarra
Squad No: 85
Position: Midfielder
Age: 29
Birth Date: Mar 10, 1985
Birth Place: Paris, France
Height: 5' 10'' (1.78m)
Weight: 73 kg
2013/14 Russian Premier League
| GAMES | GOALS | ASSISTS | SHOTS |
| --- | --- | --- | --- |
| 11 | 1 | 0 | 0 |
LASSANA DIARRA
Diarra has a reputation for being a footballing wanderer, never staying at one club for too long. He did not particularly dwell at Le Havre, Chelsea, Arsenal or Portsmouth, before he was picked up by Real Madrid and then joined Anzhi Makhachkala.
A highly-effective midfield ball-winner of Malian extraction, he has had no trouble at all stepping into the enforcing shoes of national team predecessor Claude Makelele. He also shares the latter's aversion for goal scoring, so the comparisons between the two are inevitable.
He first caught the eye filling in at right-back for Chelsea in 2005-06, before establishing himself as a defensive midfielder - albeit one that needs to feel loved at his club - and cemented his place for France as well, although missed the 2010 World Cup after falling ill with sickle-cell anemia before the tournament.
Unable to make the breakthrough at Real completely, despite being in good form when given a chance, he opted to move to Anzhi Makhachkala in Russia on the final day of the transfer deadline in the summer of 2012.
Strengths: His bite in the tackle, limitless stamina and tactical resourcefulness make him a tough opponent.
Weaknesses: He lacks height to challenge when the ball is in the air and has a questionable temperament that has seen him fall out with team-mates and managers.
Career high: Winning the FA Cup with Portsmouth in 2008.
Career low: Moving to Arsenal, he played just eight games and was left on the bench before he chose to move on within six months.
Style: Tough, strong, an all-action midfielder who loves to chase down the ball.
Quotes: "I want to demonstrate that I can play in this team. Last year, I did not play at my best. I feel like a Madrid player and I know that with him [Mourinho] I have to fight everyday in training, because any player has his chance and that is something to take advantage of.'' Lassana Diarra, July 2010.
Trivia: Diarra is the same height as Anna Kournikova and Humphrey Bogart.