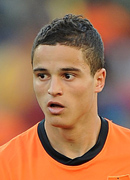 Ibrahim Afellay
Squad No: 19
Position: Midfielder
Age: 28
Birth Date: Apr 2, 1986
Birth Place: Utrecht, Netherlands
Height: 1.80m
Weight: 168 kg
2013/14 Spanish La Liga
| GAMES | GOALS | ASSISTS | SHOTS |
| --- | --- | --- | --- |
| 1 | 0 | 0 | 0 |
IBRAHIM AFELLAY
Few players are deemed worthy of joining Lionel Messi, Andres Iniesta and David Villa in Barcelona's attacking ranks, but Afellay was brought to Camp Nou to strengthen Barca's options in January 2011, just six months before his contract expired at PSV Eindhoven.
The latest import to continue Barca's Dutch tradition, following Johan Cruyff, Ronald Koeman, Philippe Cocu and Edgar Davids, Afellay has big boots to fill but demonstrated during his eight years in the Eredivisie that he is a player of real ability. Indeed, Koeman was once moved to compare Afellay to the great Cruyff himself.
The gifted midfielder made his debut for PSV in February 2004 and just three years later was named the Dutch Young Player of the Year, winning four league titles and the Dutch Cup during his time at the club. His performances in Eindhoven convinced Netherlands to introduce him to the international set-up and he won his first cap in 2007 before travelling to Euro 2008 and the 2010 World Cup. However, with his contract up for renewal at the end of the 2010-11 season, Afellay was lured away from the Low Countries and to Catalunya.
Strengths: Blessed with excellent technique, Afellay has a quick, direct style that makes him a difficult opponent. He can perform in a wide role or tucked in behind a central striker and has a tendency to score spectacular goals.
Weaknesses: Has suffered from fitness problems during his career and his unimposing frame means he can be outmuscled easily.
Career high: Winning a fourth consecutive Eredivisie title with PSV in the 2007-08 season.
Career low: Netherlands' 1-0 defeat to Spain in the final of the 2010 World Cup.
Style: Dynamic, direct, two-footed. A versatile attacking midfielder.
Quotes: "He's developed into a real class act in the past couple of years. We all knew that he's a great player, but he has taken his game to the next level recently." Robin van Persie, June 2010.
Trivia: Afellay was offered the chance to play for Morocco as his family have links with the African country, but announced on Dutch television in March 2007 that he would represent the Oranje.