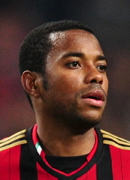 Robinho
Squad No: 10
Position: Forward
Age: 30
Birth Date: Jan 25, 1984
Birth Place: São Vicente, Brazil
Height: 5' 9'' (1.75m)
Weight: 60 kg
2013/14 Italian Serie A
| GAMES | GOALS | ASSISTS | SHOTS |
| --- | --- | --- | --- |
| 22 | 3 | 5 | 39 |
ROBINHO
First noticed during indoor games, when scoring 73 goals in one season, his arrival at Santos as a kid drew inevitable comparisons with the great Pele, but Robinho has failed to live up to high expectations during his career.
The brash, scrawny and talented midfielder played an undisputable starring role in the Santos team that ended winning their national championship after an 18-year drought and, as expected, the offers from Europe started pouring in after his mother was held hostage by Brazilian kidnappers in 2005. Real Madrid swooped, but even though he won two Liga titles, he never seemed to be at ease at the Bernabeu and left after three seasons having made his name on the international stage at the 2007 Copa America.
After a lengthy transfer saga, he was sold to Manchester City, who paid a British transfer record of £32.4 million, but at the club he failed to settle and chose prove his credentials back in Brazil with a loan move to Santos. Ultimately, his English adventure over, he chose to move to AC Milan in August 2010.
Strengths:
Skilful and attack-minded, he can make all the difference for his team when he has the ball. The famous "pedalo" is one of his trademark moves.
Weaknesses:
He can lose focus very easily and his concentration levels are poor. Work-rate is not his strong point and he doesn't bother to defend much.
Career high:
His performances during 2007 Copa America earned him worldwide praise.
Career low:
His first season at Real Madrid, where he rarely featured. Or a similarly poor spell with Manchester City.
Style:
Controlled, skilled, fast, he has some of the quickest feet in the game.
Quotes:
''Kaka has always spoken to me very well about Milan and now I know that the Brazilian players in the team will give me a great hand in adapting to the team. I will work very hard to make the fans very happy. I want to bring so much joy to them.''
Robinho, on signing for AC Milan.
Trivia:
He has an intense love-hate relationship with Pelé. The legend praised him heavily when he played for Santos, but then criticised his hasty transfer out of Real Madrid, and even involved him in a drug scandal. Robinho threatened to sue him.